Gene Clark • The Lost Studio Sessions: 1964-1982
Sierra Records SHF 1002 & SACD 7001
Two 200-gram LPs & Hybrid SACD
2017

Music

Sound

to

by Marc Mickelson | July 24, 2017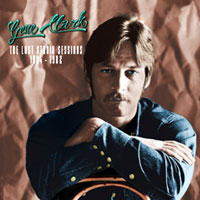 ene Clark (1944-1991) is best known for his two years as vocalist of the Byrds, but after leaving the band in 1966 he continued his career as a musician and songwriter, dabbling in serene pop, bluegrass, country rock, even prog rock. He was inducted into the Rock & Roll Hall of Fame shortly before his death in 1991 and his songs have been widely covered.

The title of this album tells all. These unreleased recordings span nearly 20 years of Clark's working life, and, aside from proving his songwriting versatility, they reveal the ways in which contemporary musical influences penetrated the consciousness of even an accomplished musician. As a songwriter, Clark was both personal and metaphysical, probing big questions -- of love, meaning and permanence. There's Byrdian jangle on "She Darked the Sun," country-rock twang on "Bars Have Made a Prisoner Out of Me" and folky serenity whenever it's just Clark and his guitar. There's also a very good cover of the Box Tops' "The Letter," which Alex Chilton and Joe Cocker also covered. Given that the cuts span a period of time from the mid-1960s to the early 1980s, the sound quality varies, but it's always good and in some instances truly exceptional. The recordings made in spring 1970, featuring Clark singing and playing acoustic guitar, display supernatural presence and will turn a high-resolution audio system into a time machine.

Sierra Records has an interesting story -- a true back story. John Delgatto, whose resume in the entertainment industry is deep and wide (he did lighting on late episodes of the original Star Trek series in addition to working as a musician, radio engineer and record producer), founded the label in 1977, shortly after establishing his mastering cred as an assistant to Bruce Leek at IAM Studios. Fast-forward to the second decade of the new millennium, and Sierra Records has found its musical time and place, first releasing Randy Meisner's Take it to the Limit on LP, followed by The Lost Studio Sessions. Delgatto has an intriguing lineup of upcoming releases planned, including Gram Parsons and Early LA half-speed-mastered LPs whose lacquers were cut in 1982. For these, original Sheffield Labs metal masters/mothers, also from 1982, will be used to create new stampers.

Lacquers for The Lost Studio Sessions were cut at Abbey Road Studios using the DMM disc-mastering process, and the LPs were pressed at The Vinyl Factory on 200-gram vinyl. Delgatto is uncompromising about source materials: "My goal in every case possible is to avoid even so-called 'safety' copies and release vinyl titles only from the original master tape." That is the case for The Lost Studio Sessions. Perhaps to underscore the point, in the album's extensive liner notes, Delgatto provides the brand and playback speed of each tape used.

Ultimately, a collection like this is an artifact of today's music industry: a trove of previously unreleased work from an important figure finally made available with class and sonic purity. It will be vital for those interested in rock 'n' roll's most fertile period, as it presents the work of someone who was part of the era's very fabric. That this music now sounds better than it would have had it been released when it was newly recorded is some thick icing on a very tasty cake.