Freddie Hubbard • Hub-Tones
Blue Note/Music Matters MMBST-84115
180-gram LP
1962/2015

| | | | | | | |
| --- | --- | --- | --- | --- | --- | --- |
| Music | | | | | | |
| Sound | | | | | | |

by Guy Lemcoe | March 23, 2016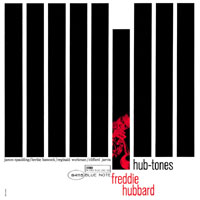 wenty-year-old trumpeter, flugelhornist and composer Freddie Hubbard burst onto the New York jazz scene in 1958 playing with some of that city's reigning stars before recording Open Sesame, his first LP for Blue Note, in 1960. Featuring a distinguished group of musicians including Hank Mobley, McCoy Tyner, Paul Chambers and Philly Joe Jones, it heralded the arrival of a new voice. That voice -- articulate, passionate and pure -- was heard on other Blue Note records, Goin' Up, Hub Cap, and Ready for Freddie, all of which were released by August of the following year.

Before his death a few days after Christmas in 2008, Hubbard had recorded over fifty albums as a leader and countless others as a sideman for a wide variety of labels including Impulse, Columbia, Atlantic and Pablo. In the 1970s, he achieved much success with a series of fusion-inspired recordings and won a Grammy for First Light on the CTI label. That commercial success came at the expense of critical approval, however. In his later years, he played behind pop superstars Billy Joel and Elton John. I still consider his solo on "Without a Song," from his 1969 MPS recording The Hub of Hubbard, one of the most perfectly executed trumpet solos in all of jazz.

In 1962, when Hub-Tones, his fifth album as a leader for Blue Note, was recorded, Hubbard had already won Down Beat magazine's New Star award and become the new young lion of bop trumpeters. This recording is typical of the post-1959 recordings made at Rudy Van Gelder's Englewood Cliffs, New Jersey, studio, with instrumental spread placing the trumpet left, piano and bass center, and sax and drums right. Hubbard's tone is captured beautifully by the microphones, its edge slightly sharper and less sweet than that of my hero, Clifford Brown. Hubbard surrounds himself on this album with other young and talented players, including pianist Herbie Hancock, saxophonist James Spaulding, bassist Reggie Workman and drummer Clifford Jarvis.

On the lead-off tune, "You're My Everything," immortalized by Miles Davis on his classic Prestige recording Relaxin' and the only number on the album not by Hubbard, everyone displays emerging bop chops. A letdown comes in the fourth chorus, though, where Hubbard, over explosive drum licks, reaches for but doesn't quite grasp the ideas obviously percolating in his head. A harbinger of things to come? I hoped not. The odd, Eastern-inspired "Prophet Jennings" features a cup-muted Hubbard and James Spaulding on flute so closely miked one can hear his gasps for air. I wanted to get more excited about this tune. The title tune, a snappy bop number, absolves Hubbard of his earlier missteps by giving a solo so spectacular that he sounds like a totally different trumpeter. Spaulding and Hancock step up and provide outstanding work throughout.

Side two opens with "Lament for Booker," a wistful and melancholic ballad written in memory of Booker Little, the late trumpeter and a close friend of Hubbard. After an initial flash of bravura featuring Hubbard's singing tone and Spaulding's flute, during which Hubbard reimagines the atmosphere of Sketches of Spain, the number settles into a tempo just this side of static. With all due respect to those involved, and even with Hubbard's soulful coaxing of notes from his horn, I had to pinch myself to keep from falling asleep. "For Spee's Sake" is a welcome return to form and the strongest tune on the album. It's a hard-bop teaser with Hubbard turning in spirited playing in the best bop tradition. James Spaulding also impresses, sounding on his cautious entrance oh so much like John Coltrane. Drummer Jarvis's rim shots explode in the studio and are captured beautifully. Throughout the album, the impeccable Hancock and Jarvis carry the session. Without them and the solid bass work of Workman, this session could easily be dismissed.

Whether it's due to the remastering or the original recording, I think this is one of the best-sounding Blue Note records I've heard. Music Matters has preserved it with their usual benchmark standards. From the gorgeous, minimalist Reid Miles cover to the artful sonic restoration, this Hub-Tones is a keeper.