Freddie Hubbard • First Light
CTI/ORG Music ORGM-2006
Single 180-gram LP
1971/2014

| | | | | | | |
| --- | --- | --- | --- | --- | --- | --- |
| Music | | | | | | |
| Sound | | | | | | |

by Dennis Davis | August 7, 2014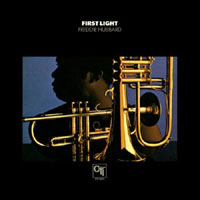 relatively new collector of jazz records might be forgiven for passing over all of the CTI LPs languishing in the used bins. The cover art of most CTI releases, trying to look "modern," has not aged gracefully. Like clothing and hair styles mocked in everything from Saturday Night Live to American Hustle, CTI's cover art has that ever-so-1970s look that requires a major attitude adjustment if you're used to a diet of tasteful Blue Note or Prestige covers from the 1950s and 1960s. While beauty is only skin deep, the classic Reid Miles Blue Note covers seem timeless compared to the Bob Ciano-designed covers for CTI.
But those who judge records only by their covers will miss out on some musical treasures in the CTI catalogue. That's not to say that CTI's production and A&R practices did not sometimes echo their covers, but most jazz labels suffered from crossover fever in the 1970s. On the other hand, CTI did release more than a handful of the best LPs of that era. There are a few treasures deserving of continued recognition, most notably Freddie Hubbard's releases and Jobim's fabulous Stone Flower [CTI 6002]. Pure Pleasure and Speakers Corner have mined the CTI catalogue with several releases. Now ORG Music has climbed on the bandwagon with a couple of crown jewels. Freddie Hubbard's first three CTI releases -- Red Clay, Straight Life and First Light -- are among his best work. ORG Music has released Red Clay as a two-LP 45rpm set and First Light as a single 33rpm disc.
Hubbard is one of the greatest jazz trumpet players of all time, releasing a half-dozen truly great albums on the Blue Note label, and he was also a sideman on many other stunning LPs, with Eric Dolphy's Out To Lunch and Herbie Hancock's Maiden Voyage being stellar examples. The CTI albums from the early 1970s are every bit the equals of Hubbard's Blue Notes. They feature Hubbard at his best, with a rich tone he could maintain at seemingly any speed. His CTI albums allowed him to cross over gently into fusion without losing touch with his hard-bop-and-blues foundation. Hubbard's trumpet and flugelhorn are accompanied on First Light by Jack DeJohnette on drums, Ron Carter on bass, Richard Wyands on piano, George Benson on guitar, Airto Moriera playing percussion, Phil Kraus on vibes and a small orchestral section. He plays Bernstein, Mancini, McCartney and Don Sebesky along with his self-penned title song. While this may sound a little all over the place, it works beautifully. Unlike with the more traditional bop style of trading off solos among band members, you never forget that this is a Freddie Hubbard album, and that's a very good thing, as it features some of his best playing integrated into a more modern-sounding fusion mix -- without the fusion sounding like it was trying to be something else.
This ORG Music reissue, mastered and cut at Bernie Grundman Mastering and pressed at Pallas in Germany, also features stunning sound. It's an essential LP for any fan of jazz trumpet.