Finzi • Chamber Music
Kölner Kammersolisten (Cologne Chamber Soloists)
MDG 903 1894-6
Hybrid SACD
2015
| | | | | | | |
| --- | --- | --- | --- | --- | --- | --- |
| Music | | | | | | |
| Sound | | | | | | |
by Rad Bennett | June 11, 2015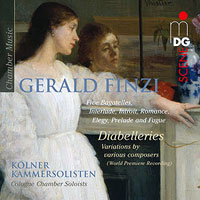 erald Finzi (1901-1956) first came to my attention nearly forty years ago when I discovered the Wilfred Brown EMI recording of the composer's wonderful Dies Natalis, a cantata for soprano or tenor and strings set to texts by seventeenth-century poet Thomas Traherne. Conducted by Finzi's son Christopher, it is still available on various collections, and if you've not heard it, you have deprived yourself of one of the most sublime listening experiences you will ever have. Brown's performance is so persuasive that many might have thought the music written solely for tenor, but that isn't the case, and recently some noted sopranos such as Amanda Roocroft have performed the work.
Finzi didn't write many big compositions -- the choral works Lo, the Full Final Sacrifice, Intimations of Immortality and the cello concerto being exceptions. Many of his compositions were joyful, English-countryside vignettes, including songs to texts by Shakespeare, William Wordsworth, and Thomas Hardy. A twentieth-century English romantic like Vaughan Williams or Butterworth, Finzi cultivated an even more lyrical style, although he achieved this through more economical means.
This lovely release combines two of my favorite things: the music of Finzi and the superlative recorded sound of MDG (Musikproduktion Dabringhaus und Grimm). I don't remember the title of the first MDG recording I heard, but I think it was a solo organ recital. I do remember being so impressed with the sound that I thought, Do that again, and MDG has done it again, time after time. The label came about through producers Werner Dabringhaus and Reimund Grimm, and I can give no greater praise to the sound created by this remarkable partnership than to say that a recent Blu-ray/SACD sampler, Diabolo [MDG 9061757-7], has a whopping 28 tracks (plus test tones on the Blu-ray) and every one of them rates four or five stars. Not many samplers can tally those high numbers overall.
A large number of MDG's recordings are released as a hybrid SACDs, so there's a CD layer and both stereo and multichannel SACD tracks, but MDG's configuration of the multichannel tracks is a bit different than the norm. Though compatible with 5.1 systems, MDG recordings are optimized for their proprietary 2+2+2 arrangement, which uses two front channels, two surround channels, and two height channels, achieved by placing two speakers above the front-channel speakers. This has evolved into the 2+2+2+2 configuration (8.0), which adds height speakers in the rear. Two-channel purists can just forget about all of that and enjoy two-channel sound that is immaculately produced and recorded. Most of the masters are recorded at 24 bits/96kHz, and no matter the performing forces, the venue, or the music being performed, you can always depend on this label for sound that is warm, detailed, well balanced and true to the original instruments.
MDG produces its wonderful recordings without generally using internationally famous artists, finding first-rate performers in its own back yard. This homegrown method of A&R is perfectly exhibited here. The artists are from Cologne and show what an international community we've become, turning in performances that are nuanced and thoroughly tuned in to Finzi's melodic, lyric English style. The music is scored for varying-size ensembles, ranging from solo violin and piano in Elegy up to 11 players required for Diabelleries, a curious yet charming piece for which Ralph Vaughan Williams wrote the theme (an instrumentation of the folk song "Where has my Little Basket Gone"); seven other composers, including Finzi, wrote a variation each, the boisterous finale saved for Gordon Jacob. It's a very charming work and much more cohesive that you might think from its many composers. The other pieces on the disc are for smaller ensembles and are often works that were saved from larger pieces, some of them arranged by Christian Alexander, who also contributes excellent and detailed booklet notes that tell you about his work.
No matter what size the ensemble, be it violin and piano, or the full instrumentation required for Diabelleries (flute, oboe, clarinet, bassoon, horn, trumpet, violin,viola, cello, bass, and percussion), the sound is natural, possessing the perfect combination of warmth and clarity. This speaks highly for the recording venue, too. My preference turned out to be for the 5.1 mix, which added a tad bit of roundness and three-dimensionality to the front channels without any distraction. The two-channel mix has just the right amount of clarity and warmth, with good positioning of the instruments across the front soundstage.
You can find out more about Gerald Finzi on the Finzi Trust website. Give this disc a chance, and hunt up the Brown performance of Dies Natalis. You won't regret it.