Elvis Costello • Get Happy!!
Universal Music/Mobile Fidelity MFSL 2-334
180-gram 45rpm double-record set
1980/2011
| | | | | | | |
| --- | --- | --- | --- | --- | --- | --- |
| Music | | | | | | |
| Sound | | | | | | |
by Marc Mickelson | August 26, 2011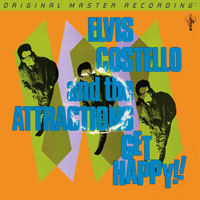 obile Fidelity explains the lore behind Get Happy!! on its website, a story involving Stephen Stills, unintended racist remarks about Ray Charles and James Brown, protests, even death threats. While this messy backstory is entertaining, the album's impetus was Elvis Costello's inveterate musical restlessness. Get Happy!! is a high-energy homage to blue-eyed soul that features some of the most wickedly amusing wordplay in the entire Costello catalog. As with This Year's Model, Steve Nieve's searing organ and Pete Thomas's snappy drums provide the rhythmic backbone, this time for a collection of songs whose influences -- Motown for sure, but also gritty Southern soul as well suave balladeering -- are apparent and deftly used. Far from an exercise in mimicry, however, Get Happy!! emphasizes Costello's astute understanding of the traditions in which he was working and, moreover, his skill at melding them with his own unique songcraft. "Secondary Modern," "New Amsterdam," and "Riot Act" are as sophisticated and accomplished as anything on the albums that come before, and as with so much of those earlier collections, they are further evidence of the ceaseless evolution of Costello's muse.
There are two ways to assess the sound quality of any reissued album: on its own and in terms of improvement over the original release. Get Happy!! will never be considered audiophile-demo fare. In its best digital form, its chalky tonality, squashed dynamics and flat perspective display all the fidelity of AM radio. Here, however, the product of Mobile Fidelity's half-speed mastering and cut at 45rpm, the music displays heretofore unknown rhythmic pop and instrumental layering, and it has the semblance of dynamic range. None of MoFi's earlier Elvis Costello releases comprises a pair 45rpm LPs, so it seems curious here, until you calculate that the 20 tracks equal nearly 50 minutes of music. To ensure the best sonic result, the music couldn't be squeezed onto two sides, so why not spread it over four? The pressing is flat, gleaming, and quiet; these days, it's the odd 180-gram pressing that's not.
Music Direct inherited nearly impossible-to-fulfill expectations when it purchased and then relaunched Mobile Fidelity a decade ago. With the handful of early Elvis Costello albums -- the ultimate versions in any format -- it has meaningfully enhanced the label's diverse catalog and reputation -- an impressive double dip.