Duke Ellington and Johnny Hodges Plus Others • Side by Side
Verve/Classic Records MGVS 6109-200G
Single LP
1959/2009
| | | | | | | |
| --- | --- | --- | --- | --- | --- | --- |
| Music | | | | | | |
| Sound | | | | | | |
by Marc Mickelson | February 20, 2010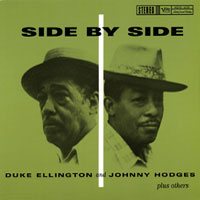 he headliners of this album -- the most renowned jazz composer and bandleader ever and an alto saxophonist of rare and exquisite tone -- recorded together often throughout the 1940s and 1950s. Johnny Hodges also led sessions with Duke Ellington's sidemen. However, this recording, the follow-up to 1958's Back to Back, was also billed as "Plus Others," and they include an array of jazz all-stars: Harry "Sweets" Edison and Roy Eldridge on trumpet, Ben Webster on tenor sax, Jo Jones on drums, and Billy Strayhorn on piano. The music is the precursor to bop -- swing with some masterful soloing, the pop music of its day -- and there is a jam-session looseness to the entire recording, giving the musicians the room to stretch and frolic. Of course, Ellington plays piano on a few numbers, offering an interesting contrast to Strayhorn, who is less fiery and draws out his phrasing more. Most of the numbers were written by Ellington or Hodges, "Stompy Jones" and "You Need to Rock" setting a brisk pace at the beginning and end of the recording.
Sonically, this LP could be titled Side to Side because of its extreme stereo spread, a byproduct of two-channel recording in 1959. Piano and horns are locked left and right with only bass and occasionally drums filling the middle. Switching the preamp to mono tends to bunch the performers dead center with no sense of layering, so stereo is the way to go. The original Verve LP was also available in mono, which, when played with a mono cartridge, is likely the best way to hear this music. Even so, the perspective of the bass and drums will still be somewhat distant, though Hodges and Webster will always be vividly portrayed.
The 200-gram pressing is free of clicks and pops, but there is a bit of groove whoosh right above the noise floor. You'll hear far worse on original pressings, which are still available at reasonable prices, making the choice of this recording for re-release something of a surprise. Classic Records' catalog is thick with Ellington albums, so someone there is obviously a fan. If you're looking for a place to start, it's hard to beat the two Louis Armstrong/Duke Ellington collaborations originally on the Roulette label: Recorded Together For The First Time and its follow-up, The Great Reunion. Both are available as 45rpm sets on Classic Records' Clarity vinyl, and they should be spectacular.