Dianne Reeves • I Remember
Blue Note/Pure Pleasure PPAN BST90264
Single 180-gram LP
1991/2013
| | | | | | | |
| --- | --- | --- | --- | --- | --- | --- |
| Music | | | | | | |
| Sound | | | | | | |
by Guy Lemcoe | June 11, 2013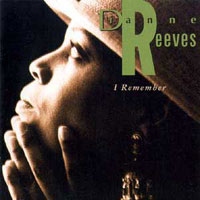 our times a Grammy winner, Dianne Reeves is an extraordinary jazz singer -- the only singer to win in the vocal category for three consecutive recordings. You hear in her traces of Sarah Vaughn, Ella Fitzgerald, Billie Holiday, Dinah Washington and Dakota Staton, yet she has her own voice and it is captivating. Reeves has been singing professionally for 40 years and, as demonstrated on this record, exudes the confidence of someone who is focused and has paid her dues. From a kitten's purr to a lion's roar, she is a singer in full command of her voice. She signed with legendary Blue Note Records in 1987 and remains with that label to this day.
This 1991 recording, her third for the label and a popular one, remained for a dozen weeks at the top of Billboard's jazz chart. It captures her in studios on opposite coasts and recorded two and a half years apart. She works her way through an eclectic set of nine standards ranging from sensuous ballads to improvisational jazz. The small backing groups provide more than adequate support and are further enhanced with the contributions of guest artists Billy Childs and Mulgrew Miller on piano, Kevin Eubanks on acoustic guitar and Bobby Hutcherson on vibes.
"Afro Blue" begins the record with an atmospheric, percussion-fueled number penned by Mongo Santamaria and Oscar Brand, Jr. It's spicy and full of fire, with an especially emotional Reeves. She sounds most like Sarah Vaughn on the straight-ahead, swinging "The Nearness of You/Misty." The wistful Stephen Sondheim ballad "Remember Sky" is done in a very intimate style with fine piano work by Billy Childs. Finally, the evergreen "Love For Sale" is given a rowdy treatment, with all involved swinging hard in a bop vein. Side two begins with a highly emotional rendition of the ballad "Like A Lover" featuring fine acoustic guitar by Kevin Eubanks. The side continues with four numbers that Rudy Van Gelder recorded, "Softly As In the Morning Sunrise" signaling immediately that a change in recording venue has taken place. Two of my favorites of the album are the languid ballad "You Taught My Heart to Sing" and an even more relaxed "For All We Know." Both present Reeves at her throaty, torch-song best. The Latin-flavored reading of "How High the Moon" finds Reeves interpreting the song as Ella Fitzgerald might have.
Pure Pleasure Records has done vinyl fans a big favor by re-releasing this LP; the only other vinyl version I'm aware of is from the Columbia House Record Club. The gatefold jacket of the reissue is gorgeous and includes production credits, studio and engineer info and session information for each track. It and the record itself are both quality products. The Pallas-pressed vinyl is perfectly flat and heavy, with dead-quiet surfaces.
The four tracks recorded in California place the musicians farther away than those numbers recorded in New Jersey. Sometimes such distance is a good thing. However, with this record, the more intimate perspective of the Van Gelder tracks drew me more deeply into the music. There was simply more "there" there -- a reflection of the inimitable ex-optometrist's recording philosophy: clear, detailed, dimensional and musical.
With this album, Dianne Reeves has remembered and paid tribute to a few of her influences. Her efforts reward with unique renderings of what could have been recycled standards.