Dennis Coffey • Hot Coffey in the D: Burnin' at Morey Baker's Showplace Lounge
Resonance Records HCD-2024
CD
2017

| | | | | | | |
| --- | --- | --- | --- | --- | --- | --- |
| Music | | | | | | |
| Sound | | | | | | |

by Guy Lemcoe | February 11, 2017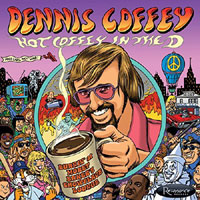 ince its establishment in 2008 as an essential part of the Los Angeles-based non-profit corporation Rising Jazz Stars Foundation, multiple Grammy Award -winning Resonance Records has achieved the respect and admiration of scores of jazz lovers. Its founder, George Klabin, is dedicated to discovering, supporting and recording new artists from around the world and releasing historical recordings by such legends as John Coltrane, Wes Montgomery, Bill Evans, Charles Lloyd, Gene Harris, Freddie Hubbard and Scott LaFaro. Apart from the dozens of new names on the Resonance roster, the unique historical releases, often requiring years of work in acquiring clearances, have garnered the most attention. With Hot Coffey in the D, Klabin turns away from jazz, focusing on Detroit guitarist and "Funk Brother" Dennis Coffey for a dip into the Motown Sound.
In 1968, when this set was recorded, Dennis Coffey was a 28-year-old guitarist and studio veteran. He subsequently played with Quincy Jones, Barbra Streisand, Michael Jackson and Stevie Wonder. Here, along with organist Lyman Woodard and drummer Melvin Davis, he was captured in a live recording at local Detroit taproom, Morey Baker's Showplace Lounge. As the music unfolded on stage, engineer Brian Dombrowski recorded it on half-inch, four-track tape.
In 1968, I was 24 years old and playing trumpet in local St. Louis band Bob Kuban And The In Men. Listening to Hot Coffee in the D brought back many pleasant memories of the after-hours clubs visited after our gigs to listen to quasi-jazz trios with piano or organ, guitar and drums, where the B-3 growled, the guitar glided and the drums slapped -- precisely what is heard on this CD. First up is the appropriately titled "Fuzz," a Coffey original featuring his command of the Vox fuzzbox and Dunlop wah-wah-pedal. Lounge audiences enjoyed hearing popular tunes of the day, and Coffey gave them two: Jimmy Webb's "By the Time I Get to Phoenix" and Burt Bacharach's "The Look of Love." Each are given rather literal, if energized, interpretations replete with tasteful embellishments from both Coffey and Woodard. Herbie Hancock's neo-bop classic "Maiden Voyage" provides Coffey a vehicle in which to display his jazz chops. It's my favorite track on the CD, reaching a boiling point soon after the statement of the theme. Coffey is scalding here, with Woodard providing his usual rock-solid support. Melvin Davis's drumming is superb here, as it is throughout the album.
Another Coffey original, "The Big D," is awash in wah-wah effects and hits a funk groove so hard I found it hard to sit still. "Casanova (Your Playing Days Are Over)" has "hit" written all over it -- and so it was. In 1967, it entered the R&B top ten in a version by Chicago soul singer Ruby Andrews. The final track on the CD is Ramsey Lewis's immensely popular "Wade In the Water." It showcases Coffey's guitar and Woodard's B-3. Repetition is not always a good thing, but it is here, as the three musicians burst at the seams with energy, especially Davis as he displays some fine drum chops.
The coffee-colored CD comes in a four-panel digipak with imaginative and whimsical cover art. Inside you'll find a profusely illustrated 55-page booklet with informative notes and essays by the producers, musicians and others. Due to the excellent and tasteful sonic restoration done by Fran Gala and George Klabin, the sound belies the five-decade-old recording. Hot Coffee in the D was also available for Record Store Day's 2016 Black Friday event as a limited-edition 180-gram LP mastered by Bernie Grundman and pressed at RTI.
If you want unsanitized, informal jamming by a trio of talented musicians playing for an appreciative audience in a neighborhood lounge, look no further. Hitting "Play" with this CD in the tray will transport you through the doors of the Showcase Lounge and into a seat alongside Dennis Coffey's many appreciative fans. I wish I could've been there.