Mahler • Symphony No.7
Tonhalle Orchestra Zurich; David Zinman conducting
RCA Red Seal 88697-50650-2
Hybrid Multichannel SACD
2010
| | | | | | | |
| --- | --- | --- | --- | --- | --- | --- |
| Music | | | | | | |
| Sound | | | | | | |
by Leonard Bloom | April 26, 2010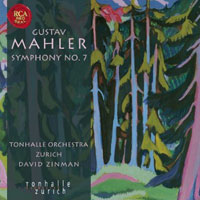 andwiched between the Symphony No.6 in A minor and Symphony No. 8 in E flat major is another large-scale work, Mahler's No. 7 in E minor, subtitled "Song of the Night." Conducted by David Zinman and performed by the splendid Zurich Tonhalle Orchestra, it is part of an ongoing audiophile series of Mahler symphonies for RCA. What is noticeably consistent in all Zinman's recordings of Mahler is prudence of musical interpretation and the marvelous virtuosity of the Tonhalle musicians. For the most part, Zinman's conception of almost every phase of the symphony's five movements is aptly thought out, juxtaposing Mahler's turbulent emotional world with his musical ideas on the scattered pages of the score.
The Seventh arguably remains the Viennese composer's most complex work. It contains a sprawling symphonic dirge, a haunting nocturne, a grim dance macabre, a humorously amorous serenade, and a Rondo-Finale designed to illuminate the mood swings of Mahler's imagination. Zinman is generally convincing in this repertoire. The first movement ("Langsam") expresses considerable contrast and conflict, introducing all manner of innovations, highlighted at once by the liberation of wind and brass, which play a more important role than the strings in this symphony. In the slow, lugubrious introduction, one hears exceptional refinement of orchestration, color and tonal architecture. There are moments displaying gloominess and silence alternating with paroxysms of intensity and immoderation. At times, Zinman's vision is encumbered by a somewhat odd mixture of slow and fast tempi, despite the fine articulation of orchestral sound.
The phantasmagorical scoring of the two middle movements, titled "Nachtmusik I and II," accentuate the composer's wonderment of nature and infatuation with the mysteries of the night. One can't help but think that in these two sections Mahler is exploring the spiritual world -- searching, finding, losing again, struggling, experiencing momentary joy then sorrow. Zinman strikes a chord in conceptualizing Mahler's preoccupation with the spirits of the night that is carefree and disturbing. In "Nachtmusik I," notwithstanding its overall slow timing, the aural spectrum of the horns is infused with chirpings of night-time birds. The warmth of the equally adagio-like "Nachtmusik II" is underlined by the mandolin and guitar being recorded forwardly, as if Mahler had a charming serenade in mind. The middle Scherzo is appropriately eerie, full of shadows and shrieks, yet it sings with a pronounced, odd effect. The rhythm of an old Austrian rustic waltz conveys a rough, primeval dance, joylessly howling and whirling of life of superhuman proportions.
Perhaps Zinman's best interpretive skills are manifested in the buoyant Rondo-Finale, which is sardonic in mood, presenting an expression of gentler humor that soon submerges into the furor of grotesque activity with many forceful and abrupt changes. Even a mysteriously soothing, nostalgic melody becomes distorted with a humorous jeer of a clarinet going helter-skelter. Dramatically emotional, the music soars in overpowering splendor and glory amid the chorus of trombones and tuba, flooded with mighty sound waves of the horns, strings, woodwinds, and the clanging of cowbells. Irrespective of Mahler's manic shifts here, this tricky movement's melodic riches and glorious cacophony are brought to their fullest realization by the orchestra's force of expression, weighty tonal effects, and beguiling splendors.
Sprawling as the E minor symphony is, Zinman remains faithful to the score, treating the opus as any other large-scale, early-twentieth-century masterpiece. Played with steady propulsion, Zinman and his forces make the piece hold together fairly successfully, although there are times when the movements could have flowed with tighter melodic lines. On occasion, Zinman underplays the drama of the moment by releasing intermittently a broad sense of urgency sustained by a combination of well-judged tempi, notably graduated dynamics, and precisely balanced, ceaselessly changing texture. The progression from the brooding opening through the nocturnal middle movements to the exuberant finale makes credible sense in symphonic terms.
Several noteworthy Mahler Seventh sets serve as earlier benchmarks for this rather abstract symphony, but they need not deter us from welcoming this lively newcomer under Zinman's baton, which clearly is more modernist and surreal than traditional interpretations. The conductor's direction infuses the music with appealing touches, yet sporadically it appears that Zinman doesn't convey total cohesiveness to the ebb and flow of the score. Certainly his interpretation is a worthy contender in a competitive field, but the performance is not entirely convincing as a whole. This listener hears greater incandescence, sheer dynamics, and raw energy in versions by Bernstein, Rattle, or Abbado. All three succeed better in evoking the composer's angst, nocturnal thoughts of nature, and lifelong spiritual turmoil.
Recorded with crystal-clear DSD sound and presented in the SACD format, the recording is vividly detailed, boasting atmospheric sonics, if occasionally lacking clarity in tuttis and displaying sporadic softness in the bass.