Dave Brubeck Quartet • Time Out
Columbia/Analogue Productions AAPJ 8192-45
200-gram 45rpm double-record set
1959/2012
| | | | | | | |
| --- | --- | --- | --- | --- | --- | --- |
| Music | | | | | | |
| Sound | | | | | | |
by Marc Mickelson | August 16, 2012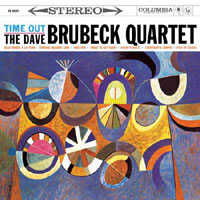 ave Brubeck's path to jazz preeminence was unconventional. He was raised on a farm in Northern California, not in the midst of a bustling urban center, and he did something that precious few other jazz musicians did: he went to college, studying under Darius Milhaud, one of the most prolific composers of the twentieth century. Milhaud's modernist leanings rubbed off on the young Brubeck, whose own compositions came to rely on unusual time signatures and intricate structures borrowed from classical music instead of the prevailing solo-driven approach of the day.
Brubeck was lumped in with the vanguard of the West Coast jazz movement, along with the likes of Chet Baker, Chico Hamilton, and Bud Shank. While the Brubeck Quartet's other prominent voice, saxophonist Paul Desmond, could hardly be considered "hot" because of his languid tone and abundant lyricism, Brubeck's music was something beyond "cool," as most West Coast jazz was considered. Time Out, a jazz milestone, not only led to a string of similarly themed "time" albums but a true hit in "Take Five," which Desmond wrote. It was (and continues to be) one of the best-selling jazz records, and it's a record that those only casually interested in jazz seem to have. Any decent used-record store will have early, middle and late pressings in both mono and stereo.
Do we therefore need another Time Out? Anybody who wants a copy already has at least one, and there are dozens of versions available in both analog and digital formats. Time Out is the easiest important jazz record to find at thrift stores and garage sales. I have six different copies for which I paid less than a dollar each, but none of them sounds like this rousing Time Out. Earlier Columbia pressings sound less vibrant, precise and focused than this reissue, or the reissue sounds bolder, more resolute and not at all demure compared to original pressings -- take your pick. If you want to hear every musical nuance along with a much more complete and vivid depiction of the Quartet's placement, this is the version for you. And the sleeve is as luxe as it gets: a heavy, glossy gatefold with session photos in the center. It also reproduces the earliest version of the album's cover.
I've now heard a number of LPs from Quality Record Pressings (QRP), Chad Kassem's year-and-a-half-old record-pressing plant. Before Time Out, I would have said that some positive trends were apparent from the earlier LPs I heard. However, this current pressing is so much better than those that came before it, which were certainly very good, that it's obvious things have improved considerably over the past year. It's a positive sign when the noise floor is defined by the hiss of the master tape, not the quality of the pressing or the vinyl, and that's the case here. Having heard many, many Pallas and RTI pressings, the main competition for QRP, I would say that QRP pressings combine the strengths of both: the very low surface noise and bottom-of-the-groove quiet of Pallas LPs and the sharp delineation of musical detail of RTI. "We are constantly improving all aspects -- and learning," Chad told me. "Our pressmen also have much more experience now."
This Time Out comes from the same remastering done for the earlier Classic Records single-sided 45rpm release, which Bernie Grundman cut from the three-channel master tapes. Analogue Productions has also released a hybrid SACD from the same source, and its stereo program is the near equal of this LP, only a half-tick behind in terms of transient definition and bass bloom. The multichannel program of this SACD is identical to that of the earlier Columbia release, so you won't want to buy it just for that. Buy it instead because it's the best digital version of this important album currently available, and given the quality of the pressings, that goes double for analog and the 45rpm LPs.