Dave Brubeck Quartet • Time Further Out
Columbia/Impex Records IMP6002
Single 180-gram LP
1961/2011
| | | | | | | |
| --- | --- | --- | --- | --- | --- | --- |
| Music | | | | | | |
| Sound | | | | | | |
by Marc Mickelson | April 26, 2012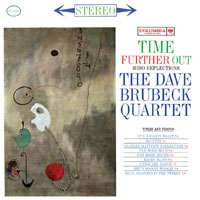 uring a career that spanned nearly sixty very productive years, pianist and composer Dave Brubeck achieved a singular distinction: he became one of the jazz world's most recognizable performers and most polarizing figures. His music intrigued some listeners as much as it agitated others, and leading jazz writers either championed Brubeck's uncommon approach or questioned its very uniqueness. Ralph Gleason, West Coast critic and cofounder of the Monterey Jazz Festival, wrote liner notes for a Brubeck album, then famously announced in a magazine article that he didn't like his music and never had. Such an about-face has only fueled the general lack of consensus regarding Dave Brubeck's music and artistic legacy.
Yet, the mainstream popularity of the Brubeck recorded catalog is undeniable and kept the Quartet busy throughout its long tenure at Columbia, releasing as many as five records in a single year. Time Out, from 1959, was a bona fide milestone, becoming one of the greatest-selling jazz albums of all time. It produced a rare (for jazz) mega-hit in "Take Five" and a thematic framework that the Brubeck Quartet would revisit in three subsequent albums. Instead of each number being a vehicle for instrumental soloing, the approach that pervaded the era, Brubeck compositions relied on odd time signatures and intricate structures, both of which were adapted from classical music. Time Further Out, from 1961, was the second album in the series (which included Countdown: Time In Outer Space and Time Changes) and it was the only one to approach -- and at times equal -- the inventiveness and charm of Time Out. Much of its success, and that of Time Out, is due to the playing of alto saxophonist Paul Desmond, whose overwhelming lyricism had an anchoring effect on a collection of numbers whose tempos were all over the musical map.
Impex Records is the fruits of labor from the team that founded Cisco Music, which was responsible for a large catalog of reissues in the 1990s and into the 2000s. Perhaps it's my imagination, but I hear similarities between Time Further Out and earlier Cisco releases, including generous liquidity and fullness, though not at the cost of obscuring fine detail. While some vinyl reissues can sound perfunctory, as though they were remastered by a robot, Cisco releases exhibit a particular perspective on the music that always seems uniquely human. Here, this translates to a colorful panorama that emphasizes the wholeness of the Quartet over its individual parts. While Desmond's sax and Brubeck's piano are well captured, the rhythmic underpinning of Joe Morello's drums and Eugene Wright's bass keep the musical train on the tracks. The RTI pressing is as expected -- flat and very quiet. Pressing quality is higher today than ever (perhaps because there are few pressing plants), so it would be news if this weren't the case.
Six-eye and two-eye originals of Time Further Out are not difficult to find or expensive -- I have multiple copies in stereo and mono, a few of which I've bought for pocket change. None is as quiet or sounds as voluminous as this reissue. If you value the music, this is the connoisseur's way to hear it.