Count Basie • Live at the Sands (Before Frank)
Warner Bros./Mobile Fidelity MFSL 2-401
Two 180-gram LPs
1966/2013
| | | | | | | |
| --- | --- | --- | --- | --- | --- | --- |
| Music | | | | | | |
| Sound | | | | | | |
by Guy Lemcoe | December 12, 2014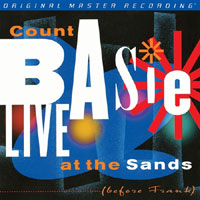 eing raised with a trumpet in my left hand, I was naturally attracted to the music of big bands, because these ensembles usually had a trumpet section of at least three players, which meant more opportunity for work for me. I digested the music of Duke Ellington, Stan Kenton, Woody Herman and Maynard Ferguson. For sheer enjoyment, though, and a beat that always set my feet a-dancin', I reached for a Count Basie LP. Many consider the Count's "First Testament" bands of the 1930s, featuring tenor saxophonists Lester Young and Herschel Evans, trumpeters Buck Clayton and Harry "Sweets" Edison, and the indomitable rhythm section of guitarist Freddie Green, bassist Walter Page and drummer Jo Jones, to be his best. Others consider the "New Testament" bands of the 1950s to be superior, featuring soloists Thad Jones and Joe Newman on trumpet, and Frank Foster, Eddie Lockjaw Davis and Frank Wess on tenor saxes (the latter doubling on flute). Songs from this era, such as "April in Paris," "Splanky,"" Whirly Bird," and "Lil' Darlin'," became huge hits. My introduction to the Count Basie orchestra was the iconic 1957 Roulette recording Atomic Mr. Basie, featuring the well-known blood-red atom-bomb cover and the tasty, jauntily swinging arrangements of Neil Hefti.
Many fans consider the Count Basie Orchestra of the 1960s to have reached its low ebb. I don't agree and offer the later Roulette recordings and this one as evidence that the Count and his band still had what it took. It is a later version of that organization captured on this Mobile Fidelity recording, including guitarist Freddie Green, who had, on and off, been a staple in the rhythm section since 1937. Making substantial musical contributions are longtime alumni Al Grey on trombone, Eddie Lockjaw Davis on tenor sax and drummer Sonny Payne. Payne, in particular, infuses the music with a precision many competing bands lacked.
This live-to-four-track recording was cobbled together from three different shows during the final week of Frank Sinatra's month-long engagement at the Sands Hotel in Las Vegas in early 1966. This historic event was widely available on the two-LP set released by Sinatra's own Reprise label later that same year. It went on to become a gold record. In 2010, Mobile Fidelity released that live recording, Sinatra at the Sands, in a limited-edition, two-record set [MFSL 2-332]. It wasn't until 2013, however, that the Count Basie Orchestra's own performances from that week, previously available on CD only, were released on these two fine-sounding LPs.
Mobile Fidelity has knocked this one out of the park, releasing a magnificent-sounding live recording of a legendary, uniquely American swing band. The surfaces are pristine and whisper quiet and, because the music is spread over two discs, there are no inner grooves crowding the labels. The sound on these LPs has the dynamics and clarity of the early direct-to-disc records of the 1980s. Just listen to the Quincy Jones arrangement of the country evergreen "I Can't Stop Loving You" at a realistic level and I guarantee the hair on the back of your neck will stand up. Incidentally, I believe this arrangement to be the best ever of this Don Gibson classic.
Musically, this album demonstrates why Basie's bands have always been respected: tight ensemble playing, A-list soloists, one of the world's strongest and hardest-swinging rhythm sections and the Count's inimitable piano playing. The hits are here, including "Splanky," "I Can't Stop Loving You," "One O'Clock Jump" and "Whirly Bird." I missed "Lil' Darlin'," however.
Buy this album and enjoy the finest swing band ever in you-are-there sound. Your spirit will thank you.