Conjure
American Clavé/HDtracks 42135
24-bit/88.2kHz download
1983/2010
| | | | | | | |
| --- | --- | --- | --- | --- | --- | --- |
| Music | | | | | | |
| Sound | | | | | | |
by Jason Kennedy | March 8, 2011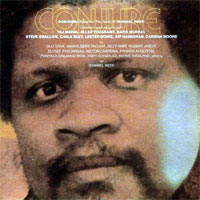 his is an unusual collaboration of musicians brought together by arranger/producer/percussionist and all-around force of nature Kip Hanrahan. Hanrahan asked a selection of highly capable musicians to write music based on a poem of their choice by Ishmael Reed. Reed is an African-American poet and novelist with a strong empathy for the neglected in society, and while he focuses on people of the same ethnicity as himself, this is not to the exclusion of others who struggle to get by. Taj Mahal, Allen Toussaint, David Murray, Steve Swallow, Carla Bley, Lester Bowie and conductor Carman Moore all contributed. Hanrahan also contributed a piece himself and then took the musicians into the studio along with a backing band of less-well-known but clearly talented musicians whose number included Arto Lindsay and Olu Dara. Ishmael Reed himself contributed two spoken poems to the project.

It's not difficult to discern why Hanrahan considered Reed's texts to be well suited to this treatment. They have similarities to Frank Zappa's early lyrics from the Mothers of Invention era -- zany and surreal but containing a deeper meaning which gives the whole work an integrity that it would struggle to achieve via conventional songwriting. There's no blunt social message but rather highly imaginative and colorful use of language that forms a large part of the appeal of the work as a whole. Equally important to the finished product, the music would work pretty well without the words, such is the quality of the composition and playing.

Some pieces have similarities to George Clinton's work with Funkadelic, but he never had haunting solos by masters of the art such as Lester Bowie and Olu Dara. There are also strong resonances to the work of Charles Mingus in the music's joyful exuberance and elastic bass lines. The bass playing, by Swallow, Jamaldeen Tacuma and Sal Cuevas, gives these pieces their funky feel, while the various horns add a jazzy vibe. Everything is backed with a rich array of percussion. Several tracks feature two conga players, and most include Billy Hart on trap drums.

This album was originally issued on vinyl and subsequently put out as a CD on Hanrahan's American Cla

vé

imprint. I haven't heard those versions (I am keeping an eye out for the vinyl), but this 24-bit/88.2kHz download sounds pretty darned good. It has a '70s feel, due to the nature of the music, and its open sound avoids the pitfalls that undermine higher-profile albums of the era.

Hanrahan made two other albums using the Conjure sobriquet. One, Bad Mouth from 2006, also features Ishmael Reed, albeit with a largely different band. It's also available on HDtracks, and I'll be looking to download it too. This earlier effort is such a diverse and engaging album that it has proved difficult to put away.