Chet Baker • Early Chet
Jazzhaus 101728
Single 180-gram LP
2014

| | | | | | | |
| --- | --- | --- | --- | --- | --- | --- |
| Music | | | | | | |
| Sound | | | | | | |

by Guy Lemcoe | May 19, 2014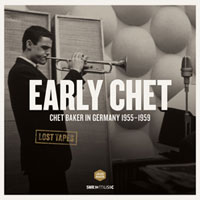 het Baker led a tortured life dictated by self-involvement, neediness, manipulation and drug abuse. It ended in 1988 when he was found critically injured, crumpled on the street outside an Amsterdam hotel. His voice was silenced far too soon, the lithe, achingly pensive, seductive and magical sounds he coaxed from his trumpet, which brought delight to thousands of fans, heard no more.

Baker, whose Adonis-like appearance and persona brought him a role in the 1955 movie Hell's Horizon, earned much attention and critical acclaim through the 1950s, particularly for albums featuring his vocals. He gained fame in the early '50s when none other than Charlie Parker asked him to join his group at the Tradewinds Club in Los Angeles. In addition to his work with Bird, Baker worked with other jazz heavyweights, notably Stan Getz and Gerry Mulligan. His career was like a roller coaster, with ups and downs linked to whatever drug (usually heroin) he was ingesting at the time. The effect was painfully visible in the award-winning, poignant Bruce Weber documentary Let's Get Lost.

Baker's legacy is his music, and this recording collects previously unheard performances. This is another in the fine line of Jazzhaus's archival recordings honored with the German Record Critics' Award. It presents a young Chet Baker in the context of an intimate vocal setting, a big-band blowing session and a dance-band ballad set. The rare tapes, sourced from Südwedtrundfunk, southwest Germany's regional public broadcasting corporation, document Baker's first European tour in 1955 and 1956. The foldout jacket features some nice photography and discographical notes. I especially enjoyed the cover photo of a 26-year-old Baker in the studio, the bell of his trumpet a foot and a half away from a Neumann microphone.

Benny Goodman's "Lullaby in Rhythm" leads off the set with a straight-ahead blowing session featuring Baker's trumpet supported by some fine backup from the Kurt Edelhagen orchestra -- classic Chet in a one-of-a-kind performance. The singer Caterina Valente joins him for the next two songs, the standards "I'll Remember April" and "Every Time We Say Goodbye." Her competent singing and guitar playing remind me of Astrud Gilberto's, but they do little to enhance Baker's golden-toned, vibrato-less trumpet. Next is my favorite cut of the album, the classic "Everything Happens To Me," featuring an arrangement highlighting some especially nice saxophone parts. The short up-tempo "Baker '56" finds him again in fine form in front of another nice arrangement. Richard Rodgers' "It Never Entered My Mind" is another of my favorite tracks. It features a beautiful arrangement with "singing" saxophones behind Baker's lyrical, golden-toned trumpet.

The next song should resolve any lingering suspicions regarding Baker's bop sensibilities, intimate and restrained playing style, and ability to get around on the horn. Taped live, he tears into Jack Montrose's "Bacchanal" with an exceptionally articulate and thoughtful solo reminiscent of the late, great Clifford Brown. Other tracks feature Baker in front of the Rolf-Hans Mueller dance orchestra complete with strings in saccharine arrangements of four evergreens:

"I Should Care," "Isn't It Romantic," "Polka Dots and Moonbeams" and "Autumn In New York."

Baker left behind hours and hours of recordings, many of which have achieved must-have status among jazz aficionados. This mastered-from-digital record, boasting flat surfaces and noise-free tracking, is not among those, but for the Chet Baker completist it is not to be missed.