Charlie Byrd • Brazilian Byrd
Columbia/Pure Pleasure PPAN CS9137
Single 180-gram LP
1966/2014
| | | | | | | |
| --- | --- | --- | --- | --- | --- | --- |
| Music | | | | | | |
| Sound | | | | | | |
by Guy Lemcoe | November 12, 2014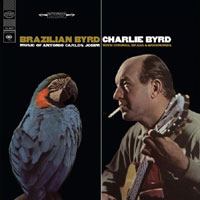 hat a delightful album! No pretense, no navel gazing, no looking for deep, esoteric meanings, Brazilian Byrd is simply a collection of a dozen lovely tunes, only four of which last over three minutes, performed with enthusiasm and class. Another Columbia recording laid down within the cavernous walls of their famed 30th Street Studio, this Teo Macero-produced, mid-'60s LP features the underappreciated guitarist Charlie Byrd in various musical settings that either he or Tommy Newsom arranged. The fact that all of the tunes were written by Antonio Carlos Jobim, the internationally recognized Brazilian singer, songwriter and guitarist, only adds spice to the mix of sounds.
Although I would classify this music as sophisticated easy listening, Byrd shows just what an accomplished guitarist he was. A couple of the songs, "Corcovado" and "The Girl From Ipanema," will be familiar to many listeners. "Corcovado," is heard in a wide, spacious soundstage with a closely miked guitar supported by an unassuming arrangement. The next song, "Jazz 'n' Samba," is a jaunty number featuring Byrd in the company of a horn section. Slowing things down a bit, "That Look You Wear" is a lush love song with Byrd's guitar floating on a cloud of strings. "The Girl From Ipanema," to me, is the least-successful arrangement here. It's too busy, which is a shame since this is the most popular song on the album. "Samba Do Aviao" is another busy arrangement followed by the lovely "Engano," featuring a beautiful melody which could serve perfectly as the soundtrack to a love scene at the beach at sunset.
Side two opens with "Amor E Paz," another easily recognized Brazilian melody given a tasteful arrangement by Newsom. The intro to "Dindi" shows off the deep resonance of Byrd's guitar. In this beautifully recorded song, your ear is only a few feet away from the face of the guitar. The next song, "Cancao Do Amor Demais," presents a strangely different acoustic, with the guitar more distant, cushioned on a bed of lush strings. Surprisingly, there is some sloppy playing from Byrd here. Next comes "As Praias Desertas," another lovely song captured in a close-miked session with minimal strings and thankfully no brass. "Samba Torto" is an up-tempo dance Samba featuring a quirky melody, the entire ensemble chipping in to fill out the arrangement. The last tune, "Someone To Light Up My Life," is another lush love song with a fine arrangement by Newsom and beautiful playing by Byrd.
The all-analog, Ray Staff-mastered, Pallas-pressed LP is admirably quiet and free of blemishes. It is not an audiophile spectacular by any measure, just a straightforward recording. Nevertheless, Byrd's nylon-stringed guitar is captured beautifully. From the deep resonance of the guitar's body to the crisp, firmly plucked, brittle top strings, the miking seemed just right to convey a believable impression of a man playing his guitar in your room. Surprisingly, on my copy the sides were mislabeled. Side 1 was actually side 2 and vice versa.
Brazilian Byrd is not a record with which to show off your system. Instead, it is an antidote to the hi-fi spectaculars often heard at shows. It is simply charming and ear-cleansing.