Charles Mingus • Let My Children Hear Music
Columbia/ORG Music ORGM-2007
45rpm double-record set
1971/2014

| | | | | | | |
| --- | --- | --- | --- | --- | --- | --- |
| Music | | | | | | |
| Sound | | | | | | |

by Guy Lemcoe | August 30, 2014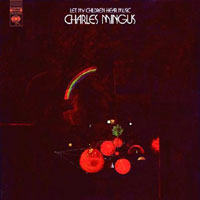 he music of Charles Mingus is an acquired taste. My first exposure was Blues and Roots on Atlantic. Being weaned on Stan Getz and Chet Baker, I was not prepared for the cacophony of sounds I heard coming from the grooves of that record. It sounded like musical chaos. I just didn't get it. Over time, however, I grew to appreciate what Mingus was doing musically and looked forward to adding new releases to my collection.
This album, the one Mingus himself was most pleased with, will likely raise questions among those fans expecting more pedestrian fare. "The Shoes of the Fisherman's Wife" breaks into a four-to-the-bar swinger after a melodic, achingly introspective intro. After a slight reprieve, more chaotic group improvisation follows, featuring fine solos by Charles McPherson, alto sax; Lonnie Hillyer, trumpet; and Bobby Jones, tenor sax. "Adagio Ma Non Troppo," up next is a classically toned piece with subtle Spanish overtones featuring a novel mix of instruments in an extremely dense, intensely lyrical piece of music that may not be for everyone. "Don't Be Afraid, The Clown's Afraid Too," has everything: trumpeting elephants, crowd noises, screaming horns, electronic effects and a rare Mingus bass solo. This one's out there! The intro sounds like a circus heard underwater followed by an outrageous trumpet solo from Snooky Young.
Things settle down after a while and a rather humorous group improvisation ensues. "Hobo Ho" is more representative of Mingus's songwriting and arranging. It is raucous, noisy and filled to the brim with ghosts of jazz's past. It is a musical cacophony, and everyone gets into the act, with James Moody giving a fine tenor-sax solo. The year was 1939 and Mingus was 17 when he wrote "The Chill of Death," an exercise in spoken-word and jazz improvisation. Even though the concept is dated, it is dramatic and theatrical, featuring a fine alto sax solo by Charles McPherson. Taking up all of side four, "The I of Hurricane Sue" features overdubbed storm and surf sounds and another great alto-sax solo from Charles McPherson.
While this album contains music composed for a large jazz orchestra and utilizing the skills of several arrangers and conductors, a listing of the personnel is not provided. This oversight can be directly attributed to both Mingus and producer Teo Macero. However, the roster can be found online and reads like a who's who of modern jazz session players.
The sound of these 45rpm records left me shaking my head as much as my first exposure to Mingus had, though for different reasons. Where is the dynamic range? Where is the transparency? Where is the clarity? The package is well presented with a nice fold-out jacket holding two 180-gram LPs in high-quality protective sleeves. With whisper-quiet surfaces from Pallas and remastering by Bernie Grundman, I expected more, although, to be fair, the source tapes are likely to blame here.
I find it difficult to adequately describe the music here. It perhaps embodies Mingus's concept of Rotary Perception wherein ". . .you may imagine a circle around the beat. . . . The notes can fall at any point within the circle." Amen! Long-time Mingus fans will know what to expect. Newcomers to Mingus's music will perhaps be baffled. Fear not, though -- repeated listening brings rewards. This music is adventurous, exciting, dense, texturally interesting and full of surprises. Let My Children Hear Music is highly recommended for spirited listeners.