Cassandra Wilson • Blue Light 'Til Dawn
Blue Note/Pure Pleasure PPAN BST81357
Two-LP set
1993/2011
| | | | | | | |
| --- | --- | --- | --- | --- | --- | --- |
| Music | | | | | | |
| Sound | | | | | | |
by Marc Mickelson | April 3, 2012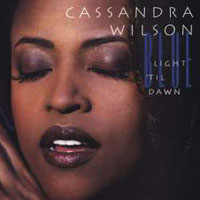 lue Note Records is so celebrated for the many iconic jazz albums it released in the 1950s and 1960s that it's easy to overlook the fact that the label continues to operate today, although in a distinctly different form. Jazz musicians still record for Blue Note, but so does R&B folkie Amos Lee.
In the early 1990s, one of Blue Note's biggest stars was vocalist Cassandra Wilson, whose debut for the label, Blue Light 'Til Dawn, was a rare album that truly sounded like nothing else. A spare, intimate melding of jazz and blues, with splashes of folk, pop and Afro rhythms thrown in, it caused a buzz when it was released in 1994, Wilson's dusky voice tying everything together and giving the music much of its singular personality. The album also became a quick audiophile war-horse, with cuts wafting through the halls of many audio shows.
What I admire most about Blue Light are the wide array of styles represented with the choice of material and the pacing of the album. One example: the album opens with a soulful, tranquil cover of "You Don't Know What Love Is" and pivots deftly to a lean, growling version of Robert Johnson's "Come On in My Kitchen," somehow making the wide gap from one tune to the next seem completely natural. While Wilson covers Johnson, Van Morrison and Joni Mitchell on the album, her own two numbers, "Redbone" and the title track, are its heart and soul.
This Pure Pleasure two-record set was not the first vinyl issue of this album, but it was certainly worth the wait. While I have no quibbles about the sound of the CD, these LPs improve on it meaningful ways. Wilson's voice is stunningly real, her presence anchoring each tune within the delicate soundscape that the recording captures so ably. Midrange density and treble filigree combine with a strong bass underpinning, guitars and percussion launch dynamically into digital territory, yet it is the small shifts in volume differentiating the touch of the musicians on their instruments that give the sonic picture its completeness. If you are used to the CD, these LPs will give you both a different and better window on the music, and they cost far less than a first-edition LP. As is usual for Pure Pleasure, the Pallas pressing is top notch, both in terms of its lack of surface noise and bottom-of-the-groove whoosh.
While Blue Light 'Til Dawn pushes far beyond jazz, it remains a true Blue Note artifact for its firm rooting in the label's custom of musical adventure. In this same vein is the album that followed it, New Moon Daughter, which Pure Pleasure is also pursuing for re-release.