Britten • Britten's Orchestra
Kansas City Symphony; Michael Stern conducting
Reference Recordings RR-120SACD
Hybrid Multichannel SACD
2010
| | | | | | | |
| --- | --- | --- | --- | --- | --- | --- |
| Music | | | | | | |
| Sound | | | | | | |
by John Crossett | October 14, 2010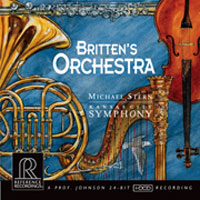 ritten in 1946 as accompaniment for the English film The Instruments of the Orchestra, Britten's The Young Person's Guide to the Orchestra has become one of his most endearing works. This seventeen-minute suite is based on a theme from English composer Henry Purcell. It uses each section of the orchestra to play variations on the theme, enhancing understanding of each section, and it closes with the entire orchestra repeating the theme collectively, demonstrating the power and majesty of a full symphony orchestra.
Young Person's Guide might seem to be something of a throwaway piece, but it is not. Britten wrote wonderful variations on the Purcell theme, making each section's rendering something to be savored individually. This piece appeals to young and old alike, and Michael Stern and the Kansas City Symphony capture it nigh on perfectly, effectively highlighting the individuality of each orchestra section, a goal of the piece.
As if a superb performance of Young Person's Guide weren't enough, Reference Recordings also includes Britten's Sinfonia da Requiem and Peter Grimes: Four Sea Interludes and Passacaglia. I was especially taken by this version of Peter Grimes, the orchestral version that Britten pulled from the opera of the same name. Much like Debussy's La Mer, Peter Grimes conveys the power, emotion and unpredictability of the ocean, along with the way these things affect the men whose work takes place on the waters. As with Young Person's Guide, Stern pulls a meaningful performance of Peter Grimes out of the Kansas City Symphony. The tempo is just right, the salt spray practically splashing out of the speakers.
Reference Recordings shied away from SACD for far longer than most labels, and it may have been the last holdout among classical labels. Long wedded to the HDCD process for improving the sound of Red Book CD, Reference Recordings has only lately begun to dip its toes in the SACD waters. Here, there are silky-sweet strings, powerful brass, delicate woodwinds, and gut-punching percussion. The full orchestra conveys a visceral in-the-hall feeling.
I could recommend this recording just because it's a Reference Recordings SACD -- of which we have far too few. But I don't have to do that, as the performance and sound are equal partners in making this disc worth owning and treasuring. We can only hope that sales will be strong enough to encourage Reference Recordings to issue more SACDs.