Blue ÷yster Cult • Secret Treaties
Columbia/Speakers Corner KC 32858
180-gram LP
1974/2014
| | | | | | | |
| --- | --- | --- | --- | --- | --- | --- |
| Music | | | | | | |
| Sound | | | | | | |
by Guy Lemcoe | February 22, 2015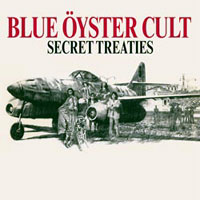 n the 1970s, I was compulsively following the jazz muse and didn't spend much time listening to hard rock or heavy metal, so arena-filling bands like Blue ÷yster Cult remained off my radar. Was it inexplicable on my part to ignore a band from Long Island that had sold over 24 million records worldwide, became an MTV favorite and, after a 43-year career, still tours regularly? Perhaps. I could rattle off the names of the sidemen in any of the jazz bands of the time, but I would have been hard-pressed to identify the members of many of the then-current biggest rock acts. Over time I have grown to appreciate the energy and musicianship of AC/DC, Led Zeppelin and Metallica, but it was still with some trepidation that I began to listen to this album.

While Blue ÷yster Cult

was intended to be an American Black Sabbath, their obligatory strangled lead vocals, fractured guitar, catchy hooks and posturing made them resemble other '70s hard-rock/heavy-metal bands. What set B

÷C apart was their dark, threatening attitude. What could one expect when the cover of Secret Treaties shows the group posed beside a WWII-era German Messerschmidt ME 262A (the title of the last track on side one) piloted by a skeleton? Featuring flashy guitar and menacing vocals, Secret Treaties was the group's commercial breakthrough, and sales earned it RIAA Gold certification.

The six tunes on this album, sequenced without a break, are novel and testosterone-loaded, sprinkled with disturbing lyrics and adrenaline-pumping guitar work. Highlights for me were "Subhuman," an uncharacteristic track featuring Santanesque guitar and Eric Bloom's vocals in a bluesy groove. "ME 262" reminded me of early Zeppelin with a retro feel and lots of energy. I could have done without the sound effects, though. Side two's "Crazy Cretins" features some exciting guitar pyrotechnics by Donald Roeser, and "Harvester of Eyes" returns to a more mainstream feel, with ominous vocals and pre-punk attitude. The clarity and presence of the sample of a child's music box on this cut startled me. Finally, I found "Astronomy," a Black Sabbath sound-alike, interesting. Richard Meltzer, pioneering rock critic and early promoter of Blue ÷yster Cult, contributed lyrics for a couple of songs: "Cagey Cretins" and "Harvester of Eyes." However, there is more soul in the top E-string of Jimi Hendrix's Fender than this entire album. But perhaps "soul" is not what this band is about; explicit lyrics, fast tempos and volume at eleven seem to define Blue ÷yster Cult, and I find it all unremarkable.

The '70s were not known for fine recordings, and this album from 1974 is no exception. Even with the fine treatment given by Speakers Corner, the sound is flat, muddy and compressed, with little high-end extension and paltry bass -- par for the course back then and especially surprising for an album recorded at Columbia's legendary 30th Street studios. Furthermore, the vocals are pushed way back in the mix, making the crusty lyrics, such as from the album's lead track, "Career of Evil," courtesy of poet and punk goddess Patti Smith (try "I'd like to do it to your daughter on a dirt road"), almost unintelligible over a murky, deep-in-the-mix organ. I'm sure this Speakers Corner reissue renders Secret Treaties as good as it has ever sounded -- and ever will sound. But you can't turn a turnip into a strawberry. This Germany-based label has lavished their usual care and attention to detail here: an all-analog production chain, faithful reproduction of the original cover art and insert, a nice facsimile of the red-on-black Columbia label and a perfectly flat slab of pristine, noise-free vinyl.

Call me an old curmudgeon, but all in all I found Secret Treaties marginally interesting for a few moments, but ultimately uninspiring and tedious.

It's all been done before.