Bizet • Carmen & L'Arlésienne Suites 1 & 2
Sir Neville Marriner conducting the London Symphony Orchestra
Pentatone PTC 5186 234
Hybrid Multichannel SACD
2016

| | | | | | | |
| --- | --- | --- | --- | --- | --- | --- |
| Music | | | | | | |
| Sound | | | | | | |

by Dennis Davis | October 26, 2016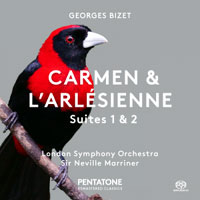 ince 2000, Pentatone has followed a vision of supplying classical music in surround sound on SACD. Pentatone is a Dutch label founded by three former executives from Philips Classics, which, in the 1970s, recorded a series of quadraphonic LPs, convinced that it was only a matter of time before home stereo evolved into quadraphonic. Quadraphonic was ahead of its time, as there was no ready market of consumers with surround sound for home video at the time. But the founders of Pentatone never gave up on their dream and launched the new label on the vision that five-channel surround sound would replace stereo in most homes. Pentatone's new releases are all recorded in five–channel sound. In addition, it has licensed numerous four-channel quadraphonic recordings from Philips and Deutsche Gramophon, and these are being released in two series. In the Remastered Classics series, Pentatone features Philips and Deutsche Gramophon titles released from the 1970s. Additionally, it also has a handful of Philips quadraphonic titles never before released in any format in the RQR series.

This album, part of the Remastered Classics series, was recorded in quadraphonic at Walthamstow Town Hall in northeast London in June of 1978 and released the next year by Philips. Quadraphonic LPs never made a dent in the market, and the format suffered a rather quick demise. The music was available as a regular stereo LP and has stayed in print in one format or another since the time it was first released.

The performance, by one of Europe's leading orchestras, is first-rate. Like many similar couplings, this SACD includes Suites 1 and 2 from Carmen and from L'Arlésienne. These are basically greatest hits from the Carmen opera and the incidental music for Alphonse Daudet's play L'Arlésienne, compiled by Bizet's student Ernest Guirard after Bizet's death. And what hits they are! It would be hard to find any music lover who could not hum along to the tunes in the Carmen suites and the first L'Arlésienne suite. Many audiophiles know Bizet's Carmen through the Bernstein performance on Deutche Gramophon, because of its position on Harry Pearson's Super Disc list. That performance, while extremely well recorded, often employs dirge-like tempos, and this version, conducted by Sir Neville Marriner, will seem like a revelation next to the mannered and sometimes turgid Bernstein version. But don't take it from me, because Pentatone has also reissued the Bernstein performance in its Remastered Classics series [PTC 5186216].

While the sound here is just shy of super-disc quality, it is nevertheless top drawer. Walthamstow Town Hall brings to mind some of the venues of the best recordings made during the golden age of stereo, after Ken Wilkinson discovered its superior acoustics in 1946 (it was built in 1941). The uncredited Philips recording team makes good use of the space, presenting a deep soundstage with clearly defined sections of the orchestra.

There are many couplings of these war-horses, and until hearing this new release my go-to digital version was that of Ansermet conducting the L'Orchestre de la Suisse Romande on Decca [480 0457]. The Pentatone version makes the Decca recording sound dated by comparison, with the cymbal crashes out front of the rest of the orchestra and virtually no depth to the soundstage. I enjoyed the quadraphonic SACD on my surround-sound system, but it really shone on my far better two-channel system. The Pentatone SACD costs a bit more than most of the CD compilations, but one spin will convince you that the sound and performance warrant the premium.