Berlioz • Symphonie Fantastique; Le Roi Lear
Pittsburgh Symphony Orchestra; Marek Janowski conducting
PentaTone PTC 5186 338
Hybrid Multichannel SACD
2010
| | | | | | | |
| --- | --- | --- | --- | --- | --- | --- |
| Music | | | | | | |
| Sound | | | | | | |
by Richard S. Foster | August 29, 2010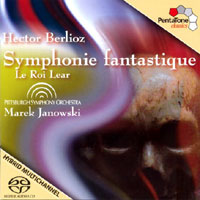 ector Berlioz was born in France in 1803. Unlike many composers, he was not a child prodigy and did not even begin to study music until he was 12. His father, a physician, sent him to Paris to study medicine in 1821. Berlioz had no interest in this field and continued his studies to satisfy his father, but he finally quit in 1824. During this three-year period, he spent time composing music and visiting many of the cultural centers Paris had to offer. He became very interested in the Paris Opera as well as the Paris Conservatoire Library. In 1826, he began to attend the Conservatoire to study composition.
While attending a performance of Hamlet in 1827, he became "overwhelmed by the perceptive imagination of this dramatic poet [Shakespeare]." He also discovered the actress Harriet Smithson, who played Ophelia and would later become his wife. In Paris, Berlioz heard the first complete cycle of Beethoven symphonies performed for the public.
With the influence of these two artistic giants in place, Berlioz was instilled with the ingredients that formed in him -- and the two works on this hybrid SACD. He composed several small works during this period, and in the early part of 1830 he finally gave the world his Symphonie Fantastique, a five-movement work of similar style to Beethoven's Fifth and Sixth symphonies. It tells the story of a gifted artist who has poisoned himself with opium (it has been reported that Berlioz was a habitual opium user) and is in the depths of despair because of hopeless love. Symphonie Fantastique was a revolutionary work, and because it was so new in style the critics of the day were quick to attack it. Berlioz revised it many times. It was finalized in 1845, and at last it was a tremendous hit with the Paris audiences.
Having an idea of what Fantastique is about makes listening to it an even more satisfying and fruitful experience. It is a fine piece of composition, and it is given an outstanding reading by Janowski and the forces of the Pittsburgh Symphony. Janowski conducts with strength and a firm hand, and the orchestra renders a tightly knit performance. The two final movements, "March to the Scaffold" and the "Witches Sabbath," are especially well handled. The King Lear Overture was composed in 1831. Again, the influence of Beethoven is readily at hand and especially noticeable in the lower string section. This is an absorbing 14-minute work.
There are many, many performances of these works available -- over three dozen in the current digital catalog -- yet this disc certainly captures two of the very best. There have been many performances available on vinyl through the years, and some of my favorites are Argenta with the Paris Conservatory Orchestra, Stokowski with the London Philharmonic Orchestra, as well as Sir Thomas Beecham and the FNRT. Regarding an early vinyl mono release, the interpretation by Charles Munch and the Boston Symphony on RCA is really quite excellent. It has been remastered and released as an RCA Living Stereo SACD, and it is offered for the first time in real stereo.
While I don't have surround capabilities, I can say that the DSD stereo layer of this PentaTone multichannel SACD is outstanding. The highs are open and airy, and there is great impact in the lower string sections. The kettle drums will test the mettle of your system. The CD layer, a down-conversion from the DSD, is also quite exceptional. The balance and recording engineers -- Mark Donahue and Dirk Sobotka -- are from Sound Mirror in Boston. This is the studio that gave us the RCA Living Stereo SACD releases, so when you see their names in the liner notes, you can rest assured that you are in for a sonic treat. Ray Clover is the house engineer for Heinz Hall in Pittsburgh, which is the recording venue.
All in all, this is a must-own disc and performance of Berlioz's well-known masterpiece.