Ben Webster • Ben Webster and Associates
Verve/Original Recordings Group ORG 116
45rpm double-record set
1959/2012
| | | | | | | |
| --- | --- | --- | --- | --- | --- | --- |
| Music | | | | | | |
| Sound | | | | | | |
by Marc Mickelson | Novenber 2, 2012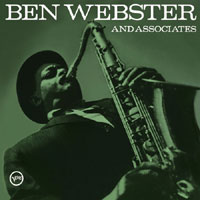 ne of the three tenors -- sax players, that is -- with Lester Young and Coleman Hawkins, Ben Webster helped establish the voice of his instrument, his big, burnished tone, muscular way with swing, and sentimental touch with blues and ballads defining a distinctive style and sound. Even though Webster made his name during the early 1940s, when he played in Duke Ellington's band, 1959 was a particularly good year for him, as he recorded this album along with a pair of others on the Verve label, where he shared billing first with Oscar Peterson and then with Gerry Mulligan.
His "associates" here are tenorists Hawkins and Budd Johnson, who together with Webster stretch out on a 20-minute version of Ellington's "In a Mellow Mood" that occupies the entire first side (and last -- it's repeated because there was room) of this 45rpm, two-LP set. Webster supplied three of the five tunes, including a bluesy tribute to Budd Johnson named after him. Among the backing players were bassist Ray Brown and trumpeter Roy Eldridge, both adding star power of their own as well as grounding the fireworks of the tenor trio and deepening the interplay. This session immediately predates the passing of tenor giant Lester Young, who succumbed to alcoholism less than a month before these numbers were laid to tape. I can't help but think that this recording featuring three of his admiring contemporaries was in some way a tribute to him.
Original Recordings Group (ORG) has assembled one of the most diverse catalogues of reissues extant, comprising historic jazz from the Verve, Impulse and Columbia labels, contemporary gems (and I mean that) from Diana Krall, and orchestral classics from the London and Mercury vaults -- all cut at 45rpm and pressed on 180-gram vinyl at Pallas or RTI. I recently asked Ying Tan, head of Original Recordings Group, about his choice of titles. I wondered about his criteria for picking them, and he answered just as I thought he might: "We look at what hasn't been done and where this overlaps with my personal must-have list." Market demands and personal preference it is. ORG will soon begin exploring Living Stereo territory with release of The Royal Ballet Gala, an audiophile favorite from RCA's Soria series that will be spread over four LPs. This will mark the introduction of ORG's use of clear vinyl for future releases.
But it's not just the titles that separate ORG from its more mainstream competition. It's the care that goes into every release, along with the desire to create definitive LPs that will stand the test of time in sonic terms. I have an early repressing of . . .and Associates, and while it's quiet and sounds lush, this reissue sounds bigger and more vivid, and its bass provides a meatier foundation for the music. The ORG pressing is much quieter, tape hiss being more prominent than any vinyl-related noise.
This reissue can't cure the ills of stereo recording in 1959 (Kind of Blue and Time Out, which were both released that year, notwithstanding), but it does convey more musically relevant detail, and therefore provides a more faithful view of the music, than my Verve pressing -- surely another of Ying Tan's criteria.