Beck • Sea Change
Geffen/Mobile Fidelity MFSL 2-308
Double-LP set
2002/2009
| | | | | | | |
| --- | --- | --- | --- | --- | --- | --- |
| Music | | | | | | |
| Sound | | | | | | |
by Marc Mickelson | January 31, 2010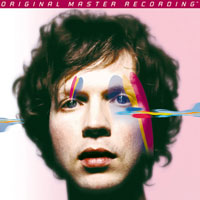 here is no more mercurial figure in pop music today than Beck. His body of work, beginning in 1994 with Mellow Gold and continuing with his most recent release Modern Guilt, has drawn on a kaleidoscope of musical genres -- from folk to hip-hop to jazz to country to psychedelia, making seemingly every stop in between. He has produced albums that run just as wide a gamut, each sounding distinct from the others. Connecting the dots from the slacker anthem cum novelty song "Loser" to the lo-fi dance beats of Odelay and then the thick urban groove of Guero is something only Beck seems capable of. He challenges at every turn, and with this he's perfect for this experimental time in music, a driving force who has become his own impossible-to-pin-down category.
Even amidst all this, Sea Change seems like the product of someone else entirely. It's a breakup album of rare and surpassing beauty. It mixes gentle guitar with soaring string arrangements and serene harmonies to produce downtrodden expressions of stormy inner weather. Its melancholy never turns to bitterness or anger; its dozen songs -- with titles like "Lost Cause," "Lonesome Tears," and "Already Dead," -- draw on the inherent sorrow of much country music, producing a soundscape in which it's always soft to land. Much of this comes from the layered production. These songs were not so much recorded as built up like lacquer, sound added to sound until their voice was complete.
Mobile Fidelity had quite a task reissuing Sea Change. There was no single master tape but rather a collection of them, one per song. The album spans two LPs, including "Ship in the Bottle," a bonus track, and it's a delight from beginning to end. The sound is delicate and atmospheric. Guitars both electric and acoustic display a silky sheen that melts into the string arrangements on songs like "It's All in Your Mind" and synth washes on others, such as "Around the Bend." Bass is weighty, flowing in plush runs from the speakers. The standard-issue CD and hard-to-come-by SACD miss much of the LPs' image density, sounding more homogenous from cut to cut, although the delineation of each musical part is apparent. The surfaces of the 180-gram LPs were exceptional -- quiet down to the very noise floor -- except for a couple bursts of crackly noise.
Mobile Fidelity is unlike other reissue labels, relying on its in-house team and proprietary GAIN 2 Ultra Analog system for remastering and LP cutting. This independence extends to its catalog, which is dominated by rock and pop releases instead of jazz evergreens. Sea Change was a shrewd choice, both for its sonic and musical complexity. Here's hoping that Guero is up for the same treatment sometime soon.