B.B. Driftwood • Southward Bound
Opus 3 CS 22112
Hybrid SACD
2012
| | | | | | | |
| --- | --- | --- | --- | --- | --- | --- |
| Music | | | | | | |
| Sound | | | | | | |
by John Crossett | November 1, 2012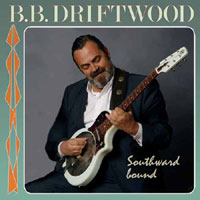 name like B.B. Driftwood might lead you to assume that the bearer is a good old Southern bluesman, and this SACD's title wouldn't change that impression. But Driftwood, whose real name is Bengt Skoghoft, is about as far from the Southern US as could be. Yet, listening to Southward Bound, one hears echoes of the South and the style of another Opus 3 artist, Eric Bibb -- not a bad starting point.
But Driftwood is definitely his own man. He wrote all the songs on this album, and unlike Bibb he adds a slight rock'n'roll edge to his basic blues base. He also throws in a dash of gospel, country, and R&B. Along with the catchy tunes, these help keep the music fresh and interesting. Listen to "Crazy Old Heart" for an example of how well Driftwood mixes country with the blues, or the title cut for the blues with that rock edge, or "Adrift" for his take on the blues and gospel. By combining so many different influences in his songs, there is no chance of this album becoming stale after just a few cuts. It holds attention all the way though.
This is an Opus 3 recording, which almost guarantees stellar sound, and Southward Bound doesn't disappoint. There is clean, clear tone and timbre to the mostly acoustic instruments. What electric instruments -- mostly guitar -- there are blend seamlessly with the acoustic ones. The 12-string acoustic guitar in particular could be easily distinguished from the six-string acoustic by its ringing harmonics, with the harmonica, upright bass, and fiddle following suit. The vocals, whether Driftwood's deep, burnished baritone or those of the multiple background singers, were both realistic and well placed within the soundstage.
The added resolution of the SACD format helps this music stand out as well. If you're looking for fresh, bluesy acoustic music with enough diversity to keep your attention, then Southward Bound will appeal to you, as it did to me.