Bach • Cello Suites
Mstislav Rostopovich, cello
Warner Classics 0190295968489
Four 180-gram 33rpm LPs
1991/2016

| | | | | | | |
| --- | --- | --- | --- | --- | --- | --- |
| Music | | | | | | |
| Sound | | | | | | |

by Roy Gregory | December 5, 2016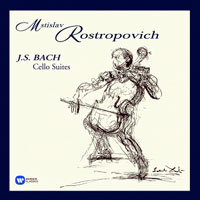 ig label, big work, big box. Who would have predicted that in 2016 music-industry behemoth Warner Bros. would release a four-disc box set of core classical repertoire on LP? If anybody still doubts the resilience of what is still called "the vinyl revival," then this release should put those questions well and truly to bed. To appreciate just why, you need to also appreciate just what this box represents, because it's not what you might at first assume. Repressings are hardly news, and jazz, classical and increasingly pop and rock are all well served by extensive catalogues furnished by the audiophile-reissue houses that specialize in re-releasing classic and mainly all-analog recordings from the 1950s, '60s and '70s. However, even amongst those labels, full-on boxed sets are a rarity, with only Speakers Corner offering them with regularity.
But this box is something different. In fact, it bears more relationship to the budget-priced CD boxes that have deluged the classical market in the last few years. Faced with an uncertain future and the challenge of trying to monetize downloads, the major record labels are ransacking their back catalogues and assembling multi-disc boxes at bargain prices based around everything from a label long since absorbed (the Mercury box sets, for example) to a star's recorded repertoire. This is the background against which this latest Warner box set appears, for this is no collectible recording, disinterred from analog's golden age, but an all-digital affair, recorded by EMI in 1991 and previously only available as a full-price double-CD set. This is absolutely a case of recycling a star name and key recording and offering them up to a new audience -- and doing so at an extremely attractive price. It's not often you get four 180-gram LPs, a full-sized booklet and a proper box to keep them in for the princely sum of £32 (around $45). Oh, and you get a free digital download of the complete set too.
Of course, simply stamping squiggly grooves into 180 grams of vinyl is no guarantee of quality. Just how do these performances, recordings and pressings stack up against the considerable competition -- and considerable it is, because the Bach Cello Suites are both key works in any classical collection and in the repertoire of any self-respecting cellist? There are multiple recordings from pretty much every conceivable source and every cellist you've ever heard of. In performance terms, classical commentators and listeners tend to agree that there are three real standouts: Pablo Casals 1936-9 recording on HMV, a fabulously expansive if idiosyncratic reading limited by its mono sound; Pierre Fournier's beautifully balanced and articulate 1961 Archiv set, which is held in universal regard; and Paul Tortelier's 1983 set, which is also highly respected. Of course, all three are available on CD (and Casals -- who rescued these works from obscurity -- really does need to be heard), but when it comes to vinyl, the Fournier is rare indeed and commensurately expensive, while the Tortelier is digital and not a great transfer. Amongst current performers, Steven Isserlis has produced a wonderful reading captured in Hyperion's normally excellent sound -- but once again it's available on CD only. For an all-analog issue, Tortelier's 1963 EMI set is more readily available, but the playing is more reticent and fails to match the balanced performance of his later offering. Which brings us to the audiophile darling: Starker's boldly resonant 1965 set on Mercury, reissued in a superb three-disc set (held by some to better the original) by Speakers Corner. This is the landscape against which the Warners' reissue must be set, in many ways the natural competition being that significantly more expensive Speakers Corner offering.
Rostropovich's performance is big, bold and demonstrative, sitting squarely on the emotional response evoked by the music, rather than its formal and stylistic rigor. It's the balance between these two elements that marks out the truly great performances (and is the hallmark of Fournier's stellar offering), but more emotive, personal readings are certainly the current vogue, and it's hard to imagine a more personal or passionate performance than this one. The sound is slightly distant, with the instrument set back into a well-developed but quite dry acoustic space that robs it of body and immediacy -- in stark contrast to the forward and overvoiced presentation of the Starker set. That slight lack of instrumental focus and the reverberant smudging actually suit the elongated lines and the rhythmic flexibility of the Rostropovich reading, with its emphasis on sweeping phrases and rounded rhythms. It also means that there's less mechanical noise or breathing to intrude -- which brings us to the Starker, surely one of the noisiest recordings around. Certainly, with the up-front balance and all those incidental incursions, there's no missing the sheer physicality of Starker's playing, and, strangely, the extraneous noise actually seems to suit and even add to the event.
While both sets deliver beautifully flat, pristine vinyl, sonically the Speakers Corner is significantly superior, its sheer presence and immediacy perfectly matched by Starker's big, bold and rhythmically more insistent playing and his absolute clarity of line. Despite devoting two complete sides to both the Fifth and Sixth suites, the Warners set can't match the dynamics or immediacy of the Mercury recording. Rostropovich is more internal and reflective, arguably giving a deeper and more heartfelt performance, but also one that lacks the impressive technical qualities and accessibility of Starker.
Does that make the Warners set a waste of precious petrochemical reserves? Far from it. Part of the fascination of works like the Cello Suites lies in the different readings they receive, from different players and at different points in a single player's career. These are clearly pieces that reward considerable thought, experience and confidence on the part of the performer, and the best readings seem to come later in life. Rostropovich certainly took that to heart and was 64 when he committed this performance to tape. Starker, in contrast, was mature, but at 41 perhaps the added vigor and urgency in his playing is understandable. Even so, Rostropovich delivers a fascinating alternative perspective, and even if Starker's is the set I'd automatically reach for first (from amongst a slew of different choices and formats) the Warners box is one I'm only too glad to have in my collection, although in part that reflects both my familiarity and fascination with the work.
Where I hesitate is in recommending the Rostropovich as an introduction to the Cello Suites. At less than $50 mark for four slabs of very nicely pressed vinyl, it's hard to fault for value, but if you want this music on record and you are new to the pieces, I'd save up for the Speakers Corner. In the meantime, I'd just love to see Warners put out more of their back catalogue on vinyl, whether material that's never been available on the format before, or earlier recordings that are simply too hard for most of us to find or too expensive for most of us to own.