Art Blakey • The Jazz Messengers
Columbia/Pure Pleasure PPAN CL897
Double 180-gram-LP set
1956/2011

| | | | | | | |
| --- | --- | --- | --- | --- | --- | --- |
| Music | | | | | | |
| Sound | | | | | | |

by Marc Mickelson | September 5, 2011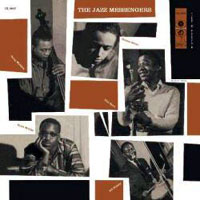 rom the first bars of "Infra-Rae," the opening cut on this Columbia recording, you'll wonder if the wrong LP is in the sleeve. The tense swinging, the urgency and abandon, these are the elements of any one of dozens of Blue Note records from the middle 1950s. Peruse the lineup and it will all make sense. Art Blakey leads the first roster of the Jazz Messengers, jazz's original super group, which includes Donald Byrd on trumpet, Hank Mobley on sax, and Horace Silver on piano, Blue Note royalty all. This trio would lead several dozen Blue Note sessions throughout the '50s and '60s and help build the label's hard-bop foundation.
Eight of the tunes here are Mobley originals and two are from Silver, including the brilliantly probing "Nica's Dream," written for Baroness Pannonica de Koenigswarter, the great patron of the New York City jazz scene in whose honor many numbers were written. Byrd and Mobley show tight interplay, foreshadowing what would come on various Blue Note dates they would share. Yet, it was Blakey's powerful drumming that held the center together. Kenny Washington, a drummer himself, wrote of Blakey, "The man could hear around the corner," a tribute to his nearly telepathic comping. He also possessed sticks of fire. You'll want to buckle up before the hard-charging "Hank's Symphony," which provides a crashing conclusion to the album.
There is a second LP populated with tracks recorded during the same sessions but not used. Only "Ill Wind," a jaunty interlude, caused me to wonder why it wasn't included. These tracks are from a different tape than those that were part of the original release. They sound slightly dryer, less visceral and less extended in the treble. The eight original tracks are examples of exceptional mono sound, displaying tonal purity and a soundstage that expands upon its one-channel origins in all dimensions. Original pressings of this album were mastered with Columbia's house EQ curve, which accounts for their midrange thinness and sharp treble. That's not the case here. The well-balanced sonics are all the better realized because of the velvety-black backgrounds of the Pallas pressing.
What makes the most vital recordings from jazz's golden era so rewarding -- the spectacle of a bunch of masters working out their collective answer to an assortment of musical questions -- is represented here. The Jazz Messengers were an important part of jazz history, and this was among the group's finest recorded hours.