Amber Rubarth • Scribbled Folk Symphonies
Chesky/HDtracks 375
24-bit/192kHz download
2016

| | | | | | | |
| --- | --- | --- | --- | --- | --- | --- |
| Music | | | | | | |
| Sound | | | | | | |

by Vance Hiner | July 16, 2016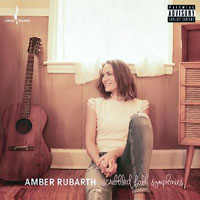 mber Rubarth is a very talented singer and musician. So is cellist, pianist and composer Dave Eggar. Scribbled Folk Symphonies, the result of their collaboration, is a fine example of what has come to be known as chamber folk, and I'm a fan of this hybridization. Rubarth is a California folky who's best known to public-radio audiences for her appearances on Mountain Stage and her previous Chesky release Songs From the 17th Ward [Chesky JD 356]. Eggar is a highly sought-after session musician whose credits can be found on records by the likes of Paul Simon, Coldplay, James Taylor, Amy Winehouse and Beyoncé, to name just a few.

The performances on Scribbled Folk Symphonies are solid. The intertwining of Rubarth's almost child-like voice and Eggar's elegant woodwind and string arrangement on Elliot Smith's "I Didn't Know" is devastatingly beautiful and makes this version more than just a cover. Rubarth's own songwriting skills shine on "Letter to My Lonelier Self." Eggar's rich cello lines and lush orchestration help to create a bittersweet mood that underscores the wisdom of Rubarth's lyrics.

Why, then, am I frustrated every time I listen to this album? It's Chesky's emphasis on where the label's performers are located within the venue, often drenched in wispy echo, even when it's at the expense of the performance's substance. I've attended a fair number of live music performances, and the venue is often the least relevant part of the experience. In fact, where the music is played can be one of the primary obstacles performers must overcome. It's almost never a detail that should be highlighted in the recording.

This is not to say that the venue can never serve the emotional drive of a given piece of music. Gregorian chants were meant to be performed in a cathedral; they would sound lifeless in a deadened studio. By the same token, some modern singers' voices need a warm microphone placed nice and close if those performers are to sound their best. Production choices can aid the music, sharpening its focus.

As much as I like Rubarth's phrasing and delivery, her voice can sound thin and flat when it's surrounded by an overabundance of room ambience, as it frequently is here. The same can be said of Eggar's stringed instruments. A cello can be haunting in a large hall, but a violin can get lost in the same venue. Scribbled Folk Symphonies is part of Chesky's binaural-recordings series, and, as I have mentioned in another review of that series, the recordings do sound more three-dimensional on headphones, but no more so than any well-recorded disc. On a two-channel system with loudspeakers, the binaural process results in a somewhat flat and less involving sound. Some of the compositions need a bit of boost. For example, on "How to Get By," I find myself squirming because I want to get closer to Rubarth and feel her voice's resonance more deeply. In spite of my enthusiasm for the song, I feel like I am being kept at a considerable distance. Distant vocals continue on "Ball and Chain," resulting in a nicely sung duet being overwhelmed by echoing strings.

If you're going to slap an audiophile label on a recording, shouldn't that recording bring you closer to the soul of the music? Rubarth and Eggar's art deserves the very best presentation, and this session could have reached greater heights. Unfortunately, a number of engineering and production choices keep it from truly soaring.