Albert Lee • Tearing It Up
AIX Records AIX 85054
Blu-ray Disc
2012
| | | | | | | |
| --- | --- | --- | --- | --- | --- | --- |
| Music | | | | | | |
| Sound | | | | | | |
by John Crossett | September 18, 2012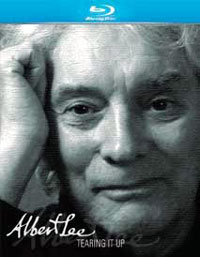 on't fret if when you hear his name you confuse Albert Lee with the Ten Years After guitarist Alvin Lee. Both are superb musicians, and Albert may very well be one of the finest you've never heard much about. Why would that be if he's so talented? Long story short, British-born Lee has found a niche, thanks to his ability to blend in so easily with any style of music, as one of the most sought-after session guitarists around. Thus, he's had little time to advance his own career. Sure, there are a few discs scattered around made under his name, but none that brought him the individual fame that has come so easily to far-less-talented musicians.
Here's hoping that this Blu-ray Disc will go a ways toward rectifying that situation. With the help of J.T. Thomas on piano, Bob Glaub on bass, Randle Currie on pedal steel guitar, and Don Heffington on drums, Lee has recorded an album that in today's world would fall under the heading of Americana. I also hear a strong echo of Roy Orbison in the style of music (not the vocals -- no one sounds like Roy). Tearing It Up is mostly covers, veering from the country rock of Graham Parsons and Carl Perkins, to the folk rock of John Hiatt, to the pop leanings of Jerry Leber and Mike Stoller, among others. You'll also hear a diverse set of styles here, from ballads like "Hanging On" to up-tempo rockers like the title tune, to the countryish "Rock Around with Ollie Vee." Through it all, Lee paints the sound with some forceful guitar licks that show off his ability in a first-rate manner.
While the music on Tearing It Up is wonderfully diverse, the sound (and video -- this is, after, all a Blu-ray Disc) is top flight. Recorded at 24-bit/96kHz PCM in both multichannel and stereo in Dolby True HD by the folks at AIX, this disc also has some highly unique sonic aspects. You can program right from your remote whether you want to hear the stage mix, the audience mix, or a straight stereo mix. You won't find those first two with any other format available today. I listened to all of the mixes, both through my home-theater setup and the Allnic HPA-5000 headphone amp via my AKG K701s, and the sound was right up there with the best digital I've ever heard. Much as I was taken by Lee's guitar work, it was the pedal steel that really had me sit up and take notice. The sound of both the pick on the stings and the slide moving up and down the fret board were easily distinguished. Bass was deep, taut and true, and the piano had the tinkle that, for me, marks the sound of a real piano. Lee is a guitarist, so not a great singer, but the recording brings out his vocals to their fullest. And the duet with Lee's daughter Alexandra is wonderful.
AIX Records deserves a real pat on the back for showing us what the Blu-ray format is capable of for the music lovers among us. Toss in 1080p video that puts you in the band and this is a disc that will show off your system with music that your friends will want to hear. Give Albert Lee a listen and maybe you'll become a fan too.