Hong Kong Audio Visual Show 2012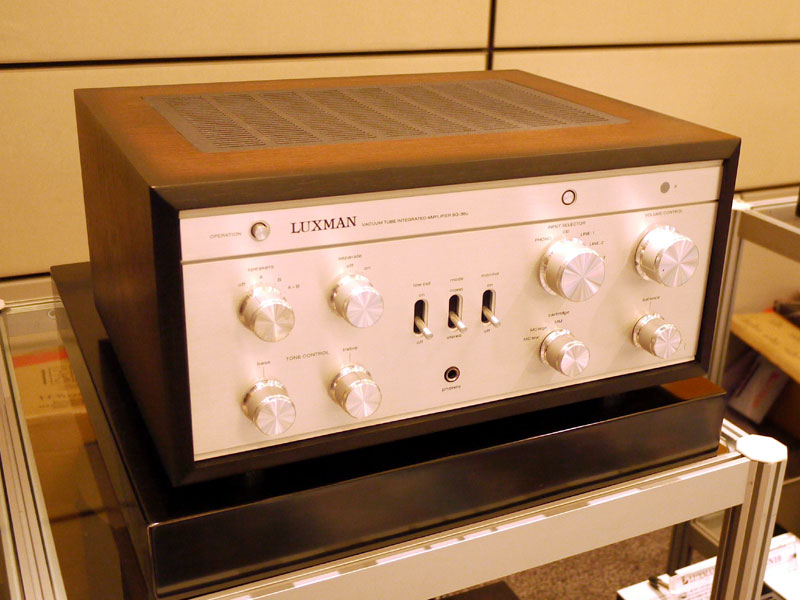 Lurking amongst the vast array of Luxman electronics was the wonderfully practical yet retro SQ-30u tube integrated amp. This 30Wpc design (running off a quartet of push-pull EL34s) offers four line inputs, a phono stage with three sensitivities (MM, high-output and low-output MC) a rumble filter, two sets of speaker outputs, tone controls and remote control, all hidden behind a beautiful, '70s silver fascia and wrapped in an "Antique Walnut" wooden sleeve. Price is $29,800 HK (approximately $3900 US) for which you get a seriously practical amplifier with built-in heirloom charm. The brochure also shows a matching D-30u CD player with switchable tube/solid-state output, as well as the CL-30u preamp and traditionally styled MQ-88u power amp, a 25Wpc class-A design built around the established ECC83/ECC82 input/driver pairing, with a push-pull KT88 output stage. These weren't on show, and there was no pricing available, but I suspect there's already a line of diehard retro enthusiasts forming outside the offices of Luxman distributors everywhere.
© The Audio Beat • Nothing on this site may be reprinted or reused without permission.