Hong Kong Audio Visual Show 2012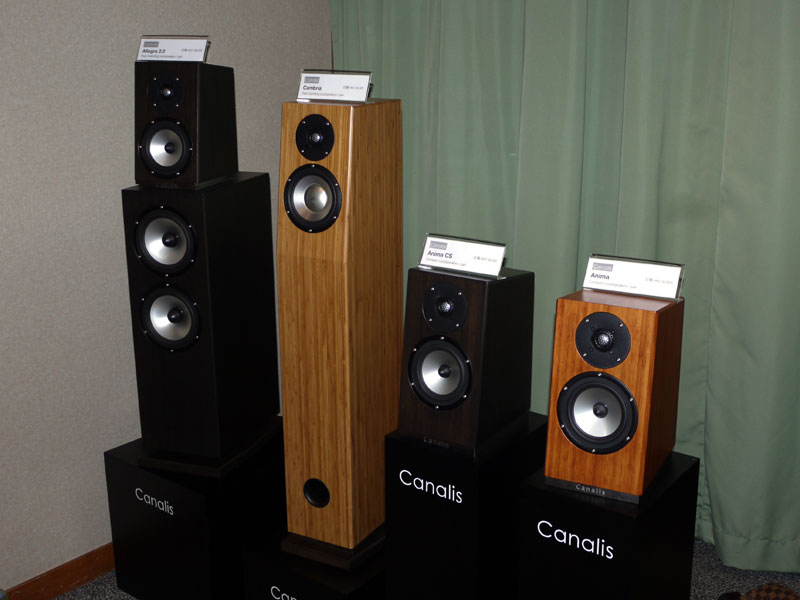 Sometimes, small really is beautiful. The Hong Kong Show offered my first sight of the keenly awaited (at least by me) Canalis speakers from Allen Perkins of Spiral Groove. The spiritual and conceptual descendents of the underrated Sonics speakers, these also emanate from the fertile pen of Joachim Gerhard -- the man behind the original Audio Physic designs. But, as well as their impressive lineage, what really interests me is their use of materials; the cabinets of Canalis models are built from bamboo, my flavor de jour, and having heard what bamboo can do for racks, I can't wait to hear what it does when you build a complete speaker cabinet from the eco-friendly fibers.
Tucked away in the corner of the Ernest Audio room, playing second fiddle to a rather more ambitious VTL/Rockport setup, there was no chance to listen to the speakers, although the appearance is familiar. Seen here are, right to left, the Anima ($30,800 HK, $3950 US), Anima CS ($56,000 HK, $7250 US), Cambria ($48,300 HK, $6250 US) and the Allegra 2.0 ($166,000 HK, $21,500 US). All prices are per pair, and US pricing is approximate. Despite appearances, the Allegra 2.0 is not a sub-sat system based on the Anima, but a fully integrated three-way design with a fixed, infinite-baffle head unit.
However, the model that I find really interesting is the Anima CS, a high-quality compact based on the standard Anima driver lineup and rear-ported cabinet, but with improved crossover parts and matching, and a massive stainless-steel base to add rigidity to the cabinet and sink energy -- at least so I'm led to believe. Details are sketchy at present, the speakers having only just arrived in time for the show, but this is another name to add to the (long) shortlist of products I'd like to review.