High End 2015 • Hot Product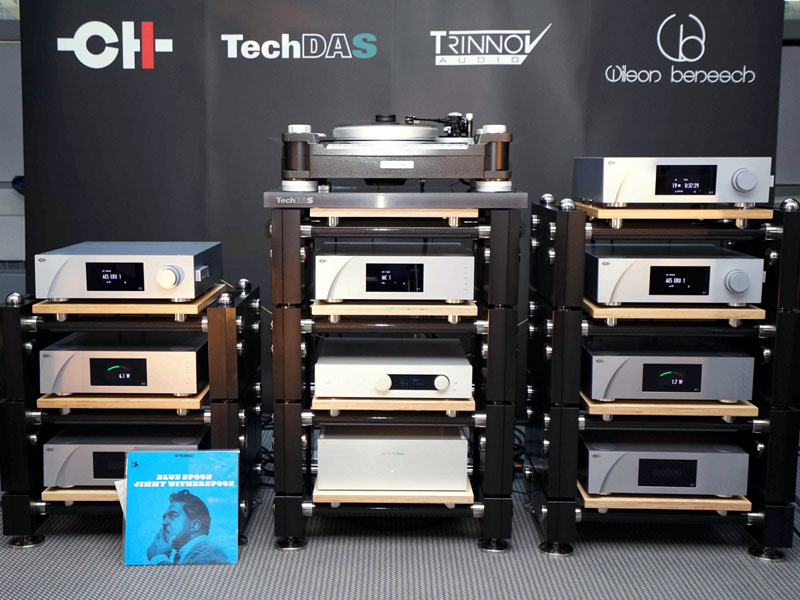 Seen in prototype form at the Bristol Show, the Wilson Benesch R1 rack is now finalized and in production. A modular design that is the result of extensive research employing laser vibrometry to trace energy paths through structures, this is one rack that takes the critical issue of dissipating energy internally generated within your electronic components seriously.
The basic structure remains as before, with plywood shelves point-contact coupled to carbon-fiber horizontal tubes, terminated at each end in uprights machined from large blocks of POC, an engineering polymer that has a hardness equivalent to aluminum but exhibits remarkable self-damping and energy dissipation. Although there is only one size of upright, the shelf can be positioned in one of two positions, allowing some adjustment of vertical spacing, although it's likely that different uprights will become available. The interface between levels employs Wilson Benesch's familiar kinematic coupling, ensuring stable, predictable and repeatable contact, while the precision-machined elements ensure that once the base level is horizontal, each subsequent layer will be perfectly parallel, with four shelves being the recommended maximum.
Each layer is priced at £4995, putting a complete rack on a par with top-flight support solutions from the likes of HRS, but then in Munich the R1 was supporting a system built from TechDas and CH Precision components, and in that company, given the increasing understanding of just how crucial equipment support is when it comes to system performance, that expenditure looks to sit somewhere between modest and sensible. We can't help suspect that Wilson Benesch have some significantly fancier shelves up their sleeves, although they remain tight-lipped on the subject.