High End 2015 • TABlog
by Roy Gregory | May 24, 2015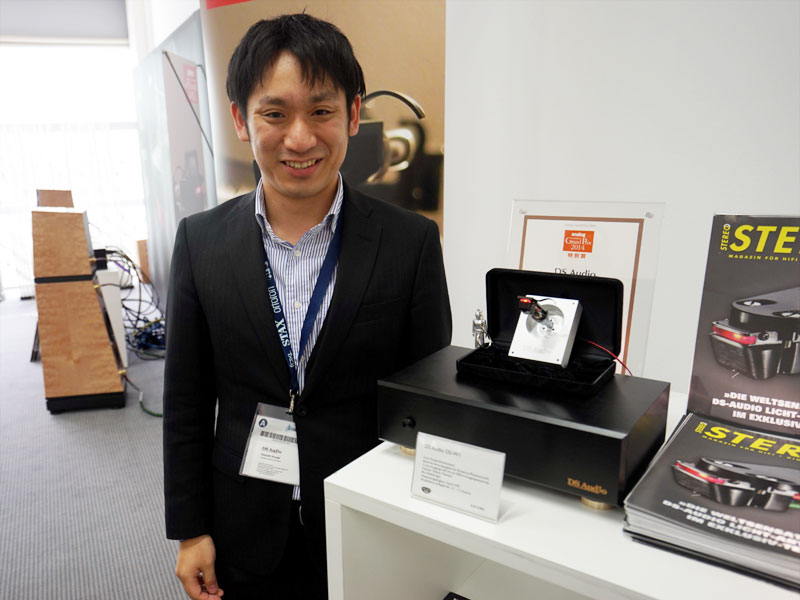 Analog Episode IV: A New Hope.
You don't need the rising number of obituaries that appear online and in the pages of audio magazines to tell you that high-end designers and devotees are an aging population. The older the technology, the older its collective brain-trust tends to be, and for vinyl enthusiasts that's a truly worrisome situation. So many of the top-flight cartridges, beloved by record collectors and vinyl aficionados the world over, are the product of one man's vision, skills, experience and art, and as we start to lose these master artisans to old age and infirmity there is a real danger that the state of the art in record replay might well take a significant step backwards. Building cartridges is part precision engineering and part hands-on feel. It demands a steady hand and a clear eye to go with the years of experience that lie behind these truly magical devices -- transducers that have defied all attempts at automated mass production. In many respects it should be a young person's game.
But this year's Munich show brought genuine cause for optimism, heralded by the unabashed enthusiasm of Jonathan Carr (of Lyra), cast in the role of Obi-Wan Kenobi. Initially he acted as midwife to the new Fuuga moving-coil cartridge, hand-carrying the first samples to the European distributor, the usually phlegmatic Sead Lejlic of Konus Audio, whom he found literally vibrating with all the nervous tension of an expectant father. Then he introduced Dennis Davis and me to Tetsuaki Aoyagi (or Aki), the man behind the remarkable optical-reading DS Audio DS-W1 Nightrider cartridge (first mentioned in the RMAF 2014 show report). Unusually generous behavior as regards his competition, you might well think, but that's not what makes this collection of events so noteworthy.
Let's start by introducing you to Aki (shown above). That's right -- he really is as young as he looks: 28 years old to be precise. That makes him younger than the technology he's now working with, which originated with Panasonic over 40 years ago. But modern developments in LED and optical-reading technology mean that what struggled to work back then now has a significantly greater chance of success -- as shown by the remarkable performance of the DS Audio DS-W1. The term "optical reading" refers to the tiny LED that takes the place of the coil that normally sits at the opposite end of the cantilever from the stylus. Its movement is read by a light-sensitive receiver that then translates that motion into a signal via its own associated electronics. Blindingly fast and super dynamic, the Nightrider also displays superb microdynamics and detail and excellent top-to-bottom linearity. The proof of the project lies in long-term listening, but initial impressions make that an exciting prospect.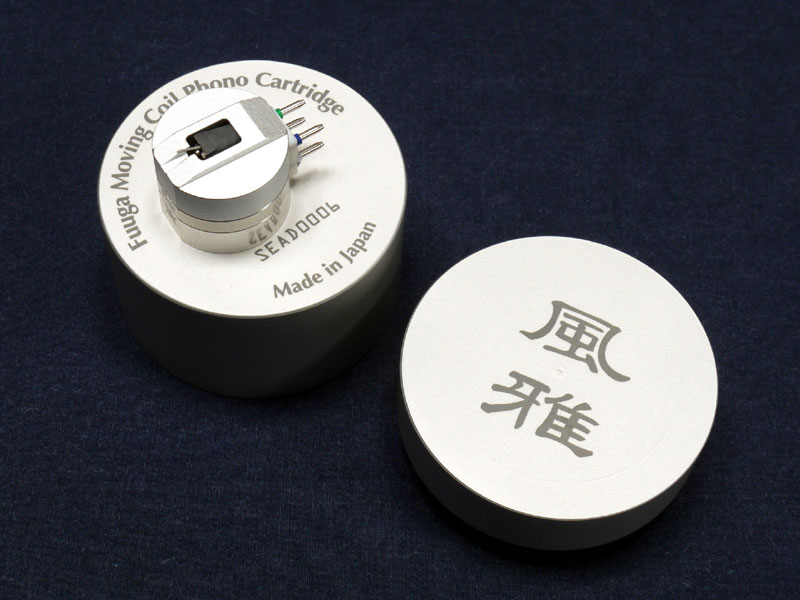 Beside the DS-W1, the Fuuga looks not just traditional, but almost retro in appearance, not unlike a Cello moving-coil, disinterred from the sands of time -- and that's no accident. Open what has to be the nicest cartridge packaging since Koetsu introduced their little boxes, and the cylindrical body does indeed call the Cello cartridge to mind -- until you extract it and view it from the side. Then you realize that the body itself is a triple-layer sandwich, built from three different titanium alloys. One look and I was already sold, but the story behind the Fuuga makes it even more fascinating.
When Haruo Takeda of Miyabi (who built those original Cello pickups) retired, it marked the end of that line of cartridges, much to the dismay of his friend (and the Japanese Miyabi distributor) Osamu Nagao. Working with Tetsuya Sukehiro, a young cartridge designer with over a decade of experience in the analog OEM field, they started with the remaining Miyabi parts and tooling and set out to reverse-engineer the Miyabi designs, only to discover that doing so involved materials that were no longer available and constructional details that were almost impossible to reproduce reliably and consistently. Once again, the cartridge builder's art appeared to foil their efforts, but instead they changed path, choosing to build a modern cartridge that would embody the characteristically dynamic and fluid sound of Takeda's designs, an homage to the Miyabi heritage.
It took Sukehiro three years to create a cartridge that met Nagao's exacting musical standards -- the result being the Fuuga you see in the picture. Combining a tapered aluminum cantilever with a hybrid parabolic stylus profile is certainly retro, but there is real innovation in the intricate mechanical structure of the design, a key element being the total mass that compensates for the switch from an alnico magnet to a far smaller and lighter neodymium one. Priced at €6600, the Fuuga promises to be a welcome addition (or readmission) to the realm of top-flight cartridges.
But what is even better than the fact that we have two genuinely innovative contenders for analog-transduction honors, one from a designer who is a little under 30 years of age, the other from one who is only just over that mark, is that the Fuuga is small enough and light enough to hand-carry home from a show. Sead should have known better than to let me actually hold his baby. He might be the proud parent, but I'm bigger than he is and considerably meaner. so he's not getting this one back until it has been well and truly reviewed! Proud new parent to empty-nester in a matter of days -- life can be so cruel.