High End 2015 • Hot Product
Meet Monica -- long-awaited partner for Lars.
A little like Mr. Potato Head in Toy Story, Engstrom & Engstrom's extremely impressive Lars 2 monoblocks get all excited each year as the Munich show approaches, only to have hopes of their perfect partner dashed. Well, it looks like their wait is finally over. The much-anticipated Monica preamp (€34,000) is finally with us.
Monica is a full-facilities, two-chassis tube design, dividing responsibilities between one box for the power supply and control functionality (top shelf, left rack), with all audio signals isolated in the other enclosure (seen immediately below the Kronos turntable in the picture). Styling is minimalist but rather elegant, with black lacquered fascias offset by chromed casework and controls limited, Connoisseur style, to a single chromed concentric knob. The unit itself is fully complementary, with both balanced and single-ended inputs and outputs and a fully adjustable internal phono stage that will accept either MC or MM cartridges. Remote control is via iPad app, including a very welcome mono function, with one change in series production being the likely removal or relocation of the headphone socket from its current awkward placement on the front panel of the audio-signal chassis.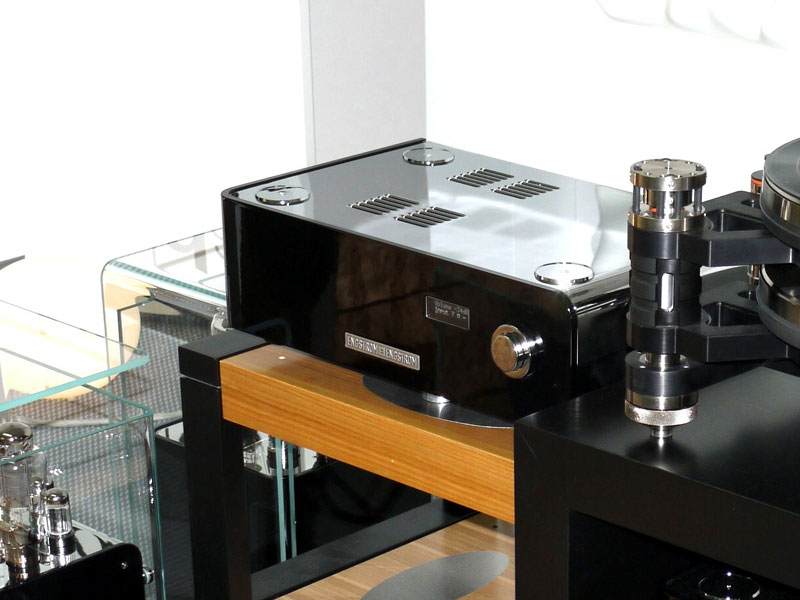 First impressions place Monica's sound firmly in the same lucid, unobstructed and communicative category that makes the Lars 2 amps so enjoyable -- which is impressive, given that it seems to be so much harder to produce a really high-performance line stage than an equivalent power amp.