High End 2015 • Hot Product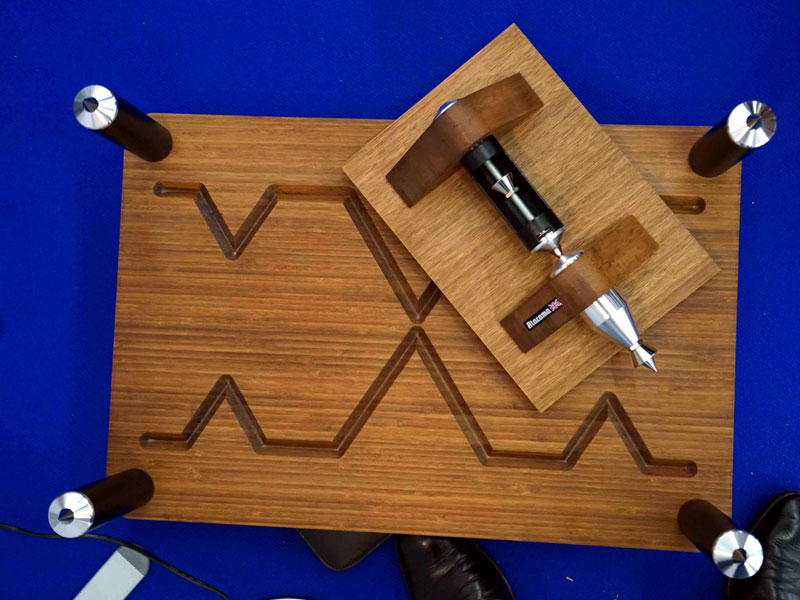 Atacama Audio, established purveyors of high-value audiophile support systems, showed an interesting and thoughtful set of upgrades to their well-regarded Evoque Eco stackable rack. A modular design based around bamboo shelving and sets of tubular legs in a variety of lengths, the Special Edition introduces deep channels in the underside of its shelves, cut in a pattern carefully calculated to help disrupt standing waves and direct energy toward the corner-located mechanical ground paths. The legs themselves are now fitted with improved nickel-plated-bronze hardware, with re-profiled spikes and larger-diameter frustrum cones (locking collars) designed to improve energy transfer. But perhaps the most interesting aspect of the design is the fitting of additional bronze cones to the tie rods within the legs (as seen in the cutaway section). Locking these at various heights within the four legs on each level helps to spread the resonant signature of the tensioning rods and further reduce dominant energy peaks within the structure -- simple and smart.
The Special Edition rack only just made it to Munich, which means that pricing is still tentative, but severe arm-twisting evoked a muttered estimate of "less than €300 a level" -- around 15% more than the standard Evoque Eco but still well toward the more affordable end of the high-performance-rack price range.
© The Audio Beat • Nothing on this site may be reprinted or reused without permission.