High End 2014 • Hot Product
Wilson Benesch used the Munich High End show to launch their new Endeavour stand-mounted speaker system (£25,500/pair), baby brother to the flagship Cardinal. The tall and strikingly elegant design, complete with integral stand, is impressive enough from the outside, but there's much more to this speaker than meets the eye. Sharing the same astonishing degree of engineering integrity as found in the Cardinal, it's somehow even more impressive to find it maintained in a significantly smaller and more affordable speaker.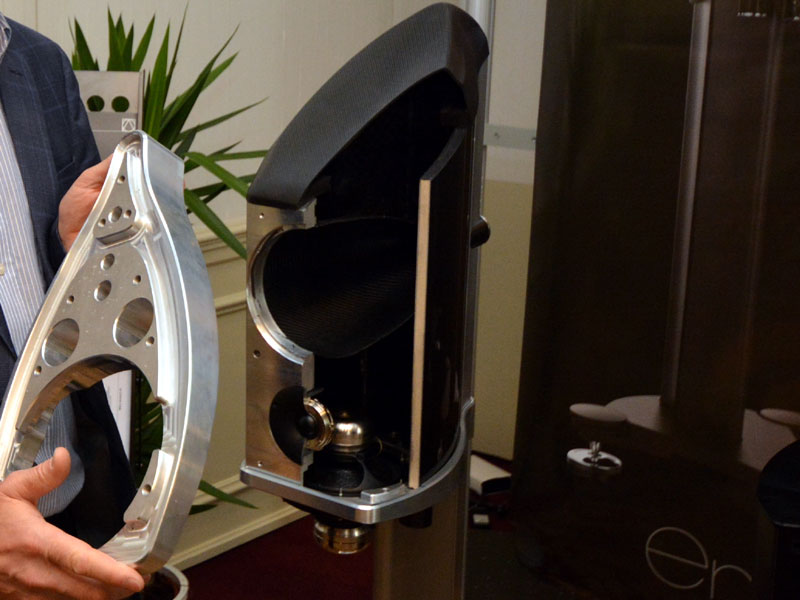 Despite appearances, the Endeavour is actually a three-way, four-driver system with a pair of downward-firing bass units in the machined base plate of each cabinet, arranged in a close-coupled isobaric array. The drivers themselves are the same Tactic 2 units and Semisphere tweeter used in the Cardinal. Like everything else in the speaker, from the binding posts onwards, they are manufactured entirely in-house. The cabinet is a composite construction using aluminum extrusions for the baffle, base, cheeks and spine, with four different carbon-fiber technologies, including sandwich construction for the cabinet walls and nanotech-loaded resin pre-preg for the shaped internal midrange enclosure. The crossover is a sophisticated, low-order hybrid electrical/acoustic design, making the Endeavour easier to drive than many wide-bandwidth compact designs. The midrange enclose is rear vented, while the bass volume is differentially reflex loaded by a pair of carbon port tubes. The integral stand uses the same massive point-contact coupling feet and adjusting wheels as the Cardinal, but the base plate is subtly profiled, making for a softer overall appearance more in keeping with the smaller speaker. The terminals are mounted on the underside of the base, which, together with the integral stand, makes for a remarkably neat and tidy installation with no hanging cables or unsightly gaps to mar the speakers' statuesque appearance.
The sound delivered by the Endeavour (driven by CH Precision electronics) was big, rich, dynamic and spacious, with impressive clarity and musical purpose. They say that a good big un' will always beat a good little un', but this is a very good little un' indeed.