High End 2014 • Come One, Come All
by Roy Gregory | May 30, 2014
ew people can seriously doubt that the Munich High End show is the most important audio show of the year. With Hong Kong lying second and Shanghai coming up on the rails, CES is in danger of losing all relevance, its US hegemony usurped (at least as far as quality two-channel gear goes) by RMAF, the Sea Biscuit of the show scene. But being the most important show doesn't make Munich devoid of flaws, and like all shows, it has its strengths and weaknesses. With 452 exhibitors, 5387 trade visitors, 12,468 visitors and 482 members of the press attending, it's hard to argue with the numbers, but there's more to any show than mere statistics, and it is impossible to separate the High End show from the MOC that houses it. The combination of large numbers of large rooms, plenty of hall space for static display and the atria between the exhibition rooms that allow for such easy social and business interaction creates a unique atmosphere. The purpose-built exhibition space also eases access for the vast amount of fragile and heavy equipment required -- even if the blinkered and draconian attitude of the MOC security/parking "police" went way, way beyond unhelpful, teetering somewhere between actively obstructive and willfully incompetent.
The major upside is the sheer space available, unrestricted by the requirements of hotel usage so that each room is a blank canvas allowing exhibitors to really go to town when it comes to presenting what are (or should be considered) serious luxury products. There really is no better place to see hi-fi equipment. Listening to it? That's another matter.
Every show has its own character, not just defined by the venue and organization, but altering and distinct, year on year. Munich 2014 was a microcosm of the entire audio-show experience, running the gamut from the astonishing to the frankly frightening, the genuinely surprising to the completely clichéd. More than anything else this show revealed the effort and experience (and occasionally the downright luck) it takes to get things right -- and just how easy it is to get them horribly wrong. Along the way it also demonstrated the dangers of trying to draw meaningful conclusions regarding equipment from listening to it at shows -- and the stupidity of basing advice or arguments on such conclusions. With a number of recently reviewed products strutting their stuff, it was easy to compare what they're capable of with what they actually delivered. Along the way I also encountered every classic pitfall and problem, error and audio catastrophe you can think of. From the pure comedic cliché of Naim blowing the fuse on the AC feed to their system as the Statement amps and Focal Grande Utopia EMs just started to flex their orchestral muscles -- and doing it in front of the assembled audio press -- to the classic error of KEF launching their impressive new and long-overdue Reference series by running the largest Reference 5 model on the end of Arcam's new and prodigiously powerful class A/G power amps. The result was simply too much bass for the room, a fact underlined when we asked to hear the stand-mounted Reference 1, a speaker a quarter the size and less than half the price of its bigger and more ostentatious brother, but which managed to outperform and musically out maneuver it with embarrassing ease -- living proof that size matters -- and not always in a good way.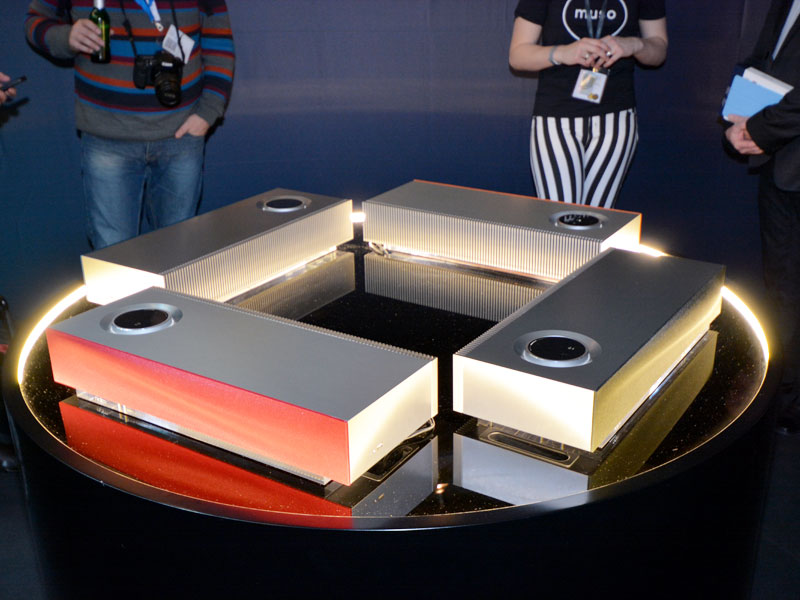 Yet despite the occasional stumble, both companies made important introductions at the show. While the Naim Statement is becoming an increasingly familiar sight (and for many in the company a surprisingly successful one, with 25 sets already ordered) the changing nature of the market, new-generation customers and emerging economic reality are reflected more in the introduction of the Naim Muso one-box tabletop sound system. With six drivers deployed in a true three-way, DSP-controlled, active topology, full UPnP, Bluetooth, Airplay and Internet connectivity, as well as auxiliary inputs, all housed in an extruded-aluminum chassis, it's hard to argue with the engineering value on offer for the asking price of €1000. It's easy to see where this is going: the Muso represents what I'd term a "pontoon product" -- one that floats between existing customers (adding a system-extension capability to owners of Naim's streamers) while simultaneously attempting to snare new buyers, competing alongside the likes of Sonos and Bose in high-street department stores. How well it succeeds only time will tell, but my suspicion is that established hi-fi manufacturers are going to need to plant that first rung on the upgrade ladder a little lower still.
Maybe Focal are thinking the same way. As well as producing a new 5" version of their successful flax-coned drive unit, allowing them to bring the price of speakers employing this technology down to £760/pair, they have also introduced their first soundbar product, the Dimension. With soundbars outselling all other audio categories put together, it's not a market that any large-scale manufacturer can afford to ignore. Focal's offering is a premium product based on their established acoustic expertise that again uses an aluminum housing in place of the more usual plastic molding. Promising superior performance to justify its elevated £889 price (with a rather clever matching on-wall or lie-flat sub at £329) it's yet another opportunity to open customers' eyes to the potential of better-sounding products.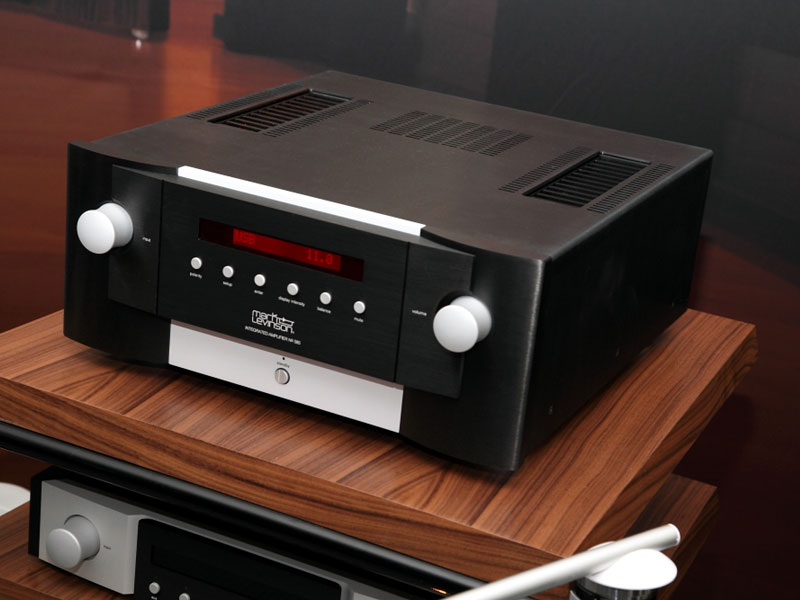 Meanwhile, other evidence of the awareness of changing market demands was present in the shape of the new Mark Levinson No.585 integrated amp ($12,000). Much-anticipated replacement for the highly regarded (at least in these parts) No.383, the new unit is loaded down with a full complement of both analog and digital inputs, just as you'd expect. More surprising and just as interesting, it also offers Harman's Clari-Fi signal decompression, designed to inject a bit of life back into compressed audio formats. While there were many journalists present who rather turned up their noses at the idea, I was not amongst them. Anything that allows more enjoyable results from compressed formats (which Clari-Fi demonstrably does) and lets habitual users of those formats hear just what they're missing is okay by me. Perhaps more importantly, Harman have just licensed the Clari-Fi process to HTC for inclusion in their latest smartphones, a platform which promises to have considerably greater reach than the No.585, even if it is Levinson's most affordable product.
Avantgarde's Zero Uno system, which debuted last year and is now in full production, costs nearly as much as the No.585, but then you do get speakers too -- and what speakers they are. The rectangular baffle has integral spherical midrange and treble horns incorporated into its profile, complemented by a 12" woofer for a fully active three-way system. The bottom end uses a substantial 400-watt class-D amp, while the midrange and treble drivers each get 50 watts of class-AB power. Connection between the two speakers is wireless, with the master speaker able to accept digital signals via input sockets or wirelessly, analog inputs via an optional A-to-D card. So, ready for the digital convergent generation, wireless, digital, DSP and active, all wrapped in a stylishly simple package, this is one two-box system that, as the Avantgarde room so ably demonstrated, is capable of delivering a serious slice of high-end sound, with bandwidth and dynamics to put many a separates system to shame. But while "loud" and "clear" might be the watchwords here, don't go thinking that this is "a never mind the quality, feel the width" solution. In fact, the Zero Uno possesses a remarkable set of measurements to go with its considerable musical attributes -- allowing it to appeal to technocrats as well as audiophiles and music lovers. Maybe one size might fit all.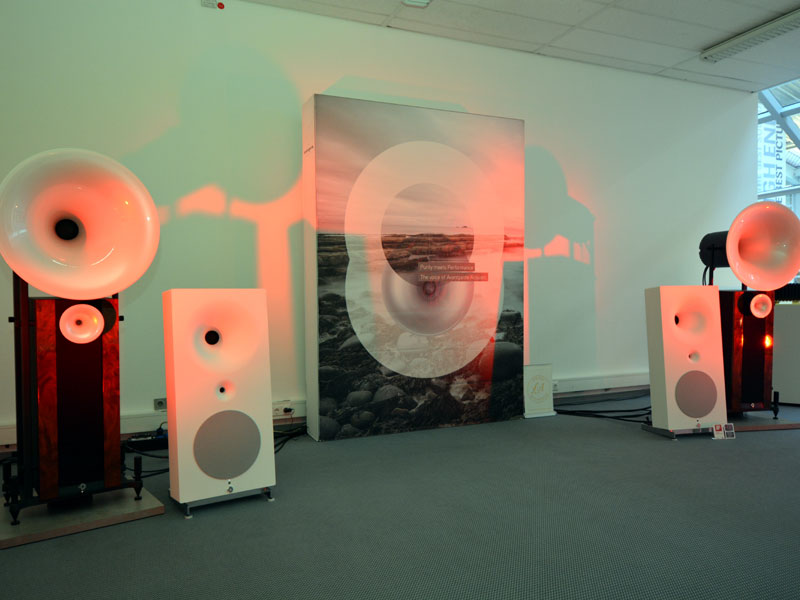 The other system on show in the Avantgarde room was built around a pair of the familiar Duo Grosso speakers (€26,000/pair), fed from a Feickert Firebird turntable, complete with a 12" Kuzma Stogi Reference 313 tonearm and Lyra Etna cartridge. Digital source was an Esoteric X-01, used as a transport to feed Avantgarde's own DAC (a project, not even a prototype as yet), with the whole system hooked up with the Spanish Fono Acoustica cables.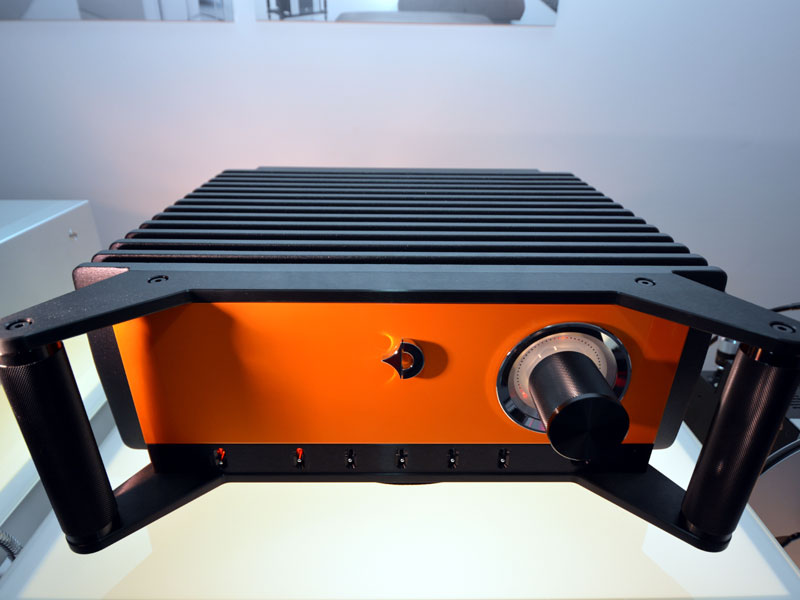 But the really interesting product in this setup was one I've been waiting for with bated breath -- the XA Integrated amplifier. Having been bowled over by the performance of the XA preamp/power amp combination, I couldn't wait to see if Avantgarde could maintain the quality in a combined unit. The good news is that if this demo was anything to go by, the XA Integrated might even have extended the performance envelope, the Duos sounding noticeably easier, more relaxed and more integrated than I've heard them before. At around €10,000 for a genuine 100 watts of power, projected from the sort of inky-black background that makes for real textural and dynamic resolution and musical immediacy, this could be a surprise package in the hotly contested quality-integrated market. There's certainly no quibbling with the material content, the XA cast chassis and massive transformer making for a unit that feels like it's bolted to the shelf it's sitting on. With multiple front-panel color options to pick from as well as the biggest volume knob on the market, there's nothing shy or retiring about the XA Integrated.
Rounding out a great show for Avantgarde, they also had a set of Trios making music in a shared Stillpoints and Fono Acoustica room. Electronics were the popular Vitus Audio Masterpiece amps and DAC, with the massive stereo power amp looking somewhat out of place with the super-efficient horns, yet managing to stay with the musical pace without tripping over its rated output. The Trios themselves, partnered with a single pair of Bass Horns, were all black, a finish I've never seen before but which was seriously stylish. Crisp, immediate, integrated and natural, the sound was everything you'd expect from a system at this price, a great advert for all involved.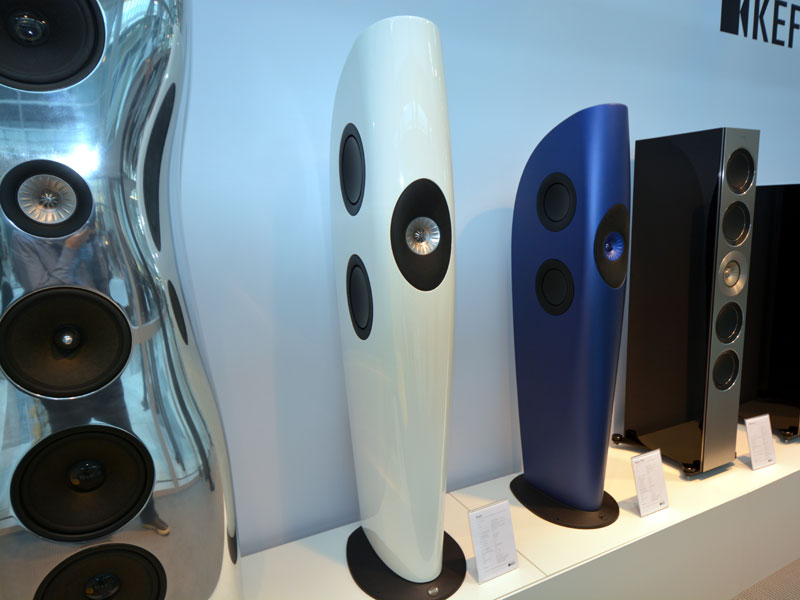 KEF's presentation may have concentrated on the new three-model-plus-center Reference series, combining the Blade's Uni-Q unit and new 6.5" bass drivers with conventional rectangular cabinets, but I was more interested in the new smaller Blade 2 (above, second from right). Visually virtually identical, the baby Blade is slighter shorter, quite a bit shallower and a lot easier to accommodate. At around two-thirds of the volume of the original, it retains the same cabinet shape and technology, substituting the 6.5" bass drivers from the Reference series for the 9" units used in the original. That will cost you around 5Hz of in-room bass extension and 1dB of sensitivity, but an easier load and a projected price of £15.000/pair make this one very interesting speaker indeed. With new finishes including the frosted blue seen in the photo, the baby Blade seems set for a big future.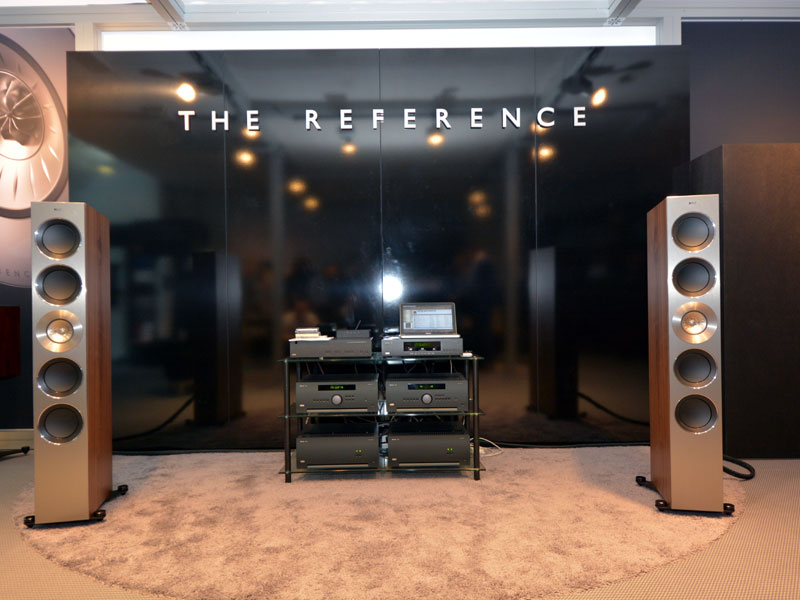 And while we are on the subject of finishes, the Reference series has gotten seriously imaginative in that department too, with models sporting a similar black-and-copper color way to the LS50 as well as glossy wood veneers and a rather fetching bright-blue Uni-Q/white-lacquer cabinet. KEF has even sorted out the spikes. After years of complaining about the appalling examples supplied with their speakers, irrespective of price, the new Reference series speakers come with substantial tapered steel cones, adjustable and lockable from above -- hallelujah! If the lucid and beautifully integrated performance of the Reference 1 is anything to go by, it looks like the trickle-down of Blade technology and performance is already well under way. The new Reference series is expected to be available in September with prices ranging from £4500 a pair for the Reference 1 to £10,500 for the Reference 5.
Where do all these advances leave owners of the ostentatious and seriously expensive polished-aluminum Muon? KEF is offering all Muon owners an upgrade package consisting of new Uni-Q drivers and a new first-order crossover to go with them, at a cost of around £6000. That might seem a little steep until you realize that it includes having a KEF engineer fly in, install and test in situ! It's nice to see a company like KEF looking after its installed customer base. While that might be second nature (and a valuable source of revenue) for companies like Wilson, major producers playing in the high-end often miss that point.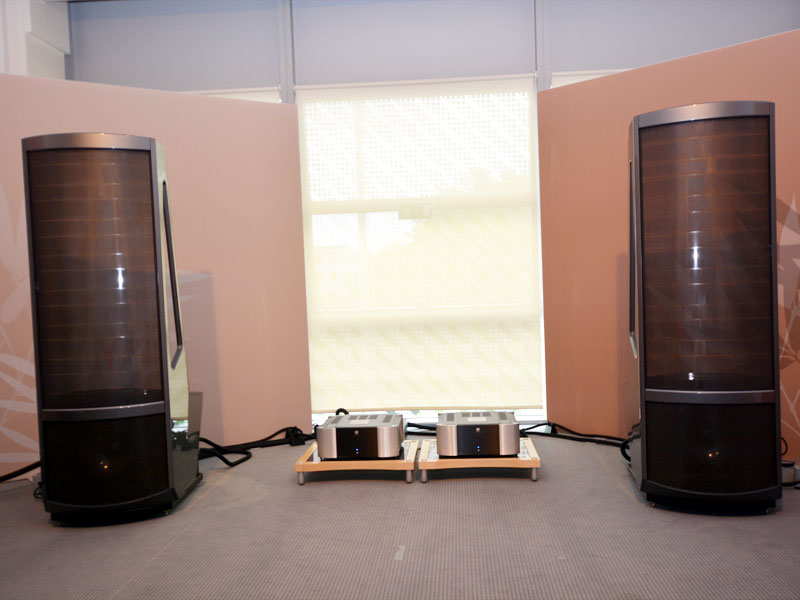 So many of the questionable results achieved in Munich revolved around extravagant loudspeaker systems that it is difficult to know quite where to start. MartinLogan launched the new Neolith flagship, a massive hybrid electrostatic that pairs a 48" by 22" electrostatic panel with a forward-firing 12" bass unit contained in a sealed enclosure and a rear-firing, reflex-loaded 15" driver in a passive arrangement, inviting biamping of the bottom end. With a price tag expected to be in the region of $50,000/pair, the massive speakers sounded remarkably coherent, dynamic, expressive and engaging on day one, driven by the excellent Simaudio 800-series electronics. By day four, things had gone well and truly awry, with overblown bass wobbling around the room and muddying the midrange horribly -- a perfect example of what happens when you bring a speaker that's not run in to a show. In fairness to MartinLogan, they ran out of time and rather than turning up empty handed they ran with what they had -- but having expended so much effort on the initial setup, it must have been both mortifying and embarrassing to sit back and experience the bass simply leaving the reservation as it proceeded to stretch its legs. Despite its unruly behavior, the Neolith should be one to watch, and I'd anticipate impressive results in the future.
"We invite you to visit us in room F120, Atrium 4 to experience these world premier devices:
"CONTRIVA G2 & CONTRIVA X-TENDER
"PRESENCIO DAC
And as highlight: the unique diamond-heart of the mighty LA ASSOLUTA, equipped with the biggest diamond drivers in the world."
So read the text of Tidal's invitation to their High-End 2014 room, sandwiched between pictures of said drive units.
Now, agreed, it doesn't actually say that the La Assoluta will be playing, or even that the new and much-trailed flagship will be present. But I was far from the only person who hastened to Room F120 hoping to hear what a pure diamond mid and top might sound like -- only to find a pair of heavily grilled 5" (127mm) diamond drivers, flanking a central tweeter and mounted on an hourglass-shaped baffle, securely locked in a glass cabinet. As drivers go, diamond diaphragms aren't exactly exciting to look at, especially when you can barely see them. The anticipated presence of the La Assoluta caused quite a pre-show buzz, interest in a product that is apparently anything between three and six months away and doesn't even have a projected price as yet. I'm not sure it's such a great idea to raise expectations -- certainly expectations this high (even inadvertently) -- and then dash them. Didn't Dickens have something to say on that subject?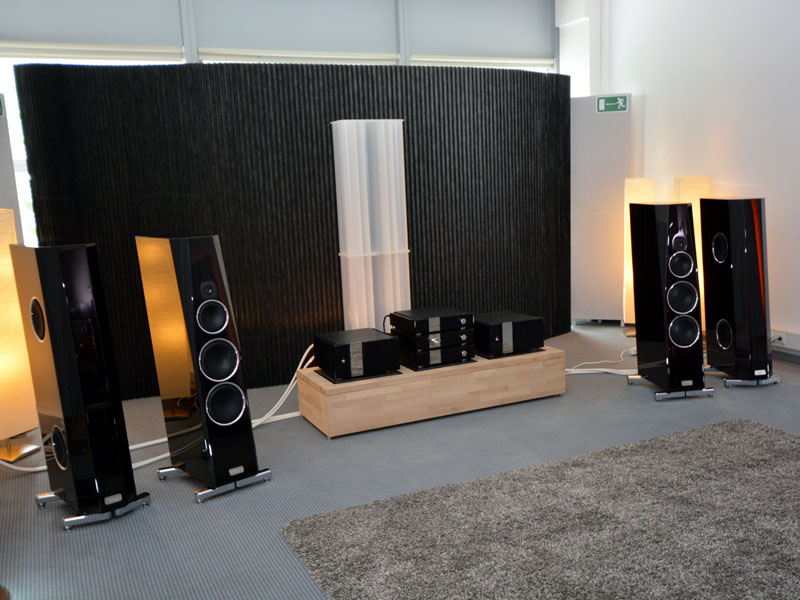 Better news for Tidal was that the system they did use was still pretty impressive. As at previous shows, it took a while to settle down, but by day four there was enough texture and resolution, dynamic range and sheer substance to suggest that it would get there given time. The company were driving their debut products, the Contriva G2 (€41,000/pair)/Contriva X-tender (price to be determined) four-cabinet system with the promised Presencio DAC/line stage (€62,000) and a pair of Impulse LPX stereo amplifiers (€25,800 each). The speakers replace the Contriva Diacera (previously reviewed by Marc Mickelson) and feature cabinets built entirely from Tidal's proprietary TIRADUR material, as well as all new drivers and crossover. The digital front-end takes an interesting path, effectively replacing the separate phono box of Tidal's Presencio preamplifier with the DAC section, retaining the line stage and outboard power supply as before. As usual, Tidal wired the system from end to end with the extremely interesting Argento cables, a factor that must contribute to the consistently excellent results they achieve.
Although extremely promising once again, I'll reserve judgment on this one until I get to play with some Tidal pieces at home, the electronics in particular offering some interesting features to go with their excellent performance. Instead it's worth observing just how difficult it is to achieve representative results from a truly high-resolution system (like this) in the timescales imposed by a show -- even one with four public and two setup days.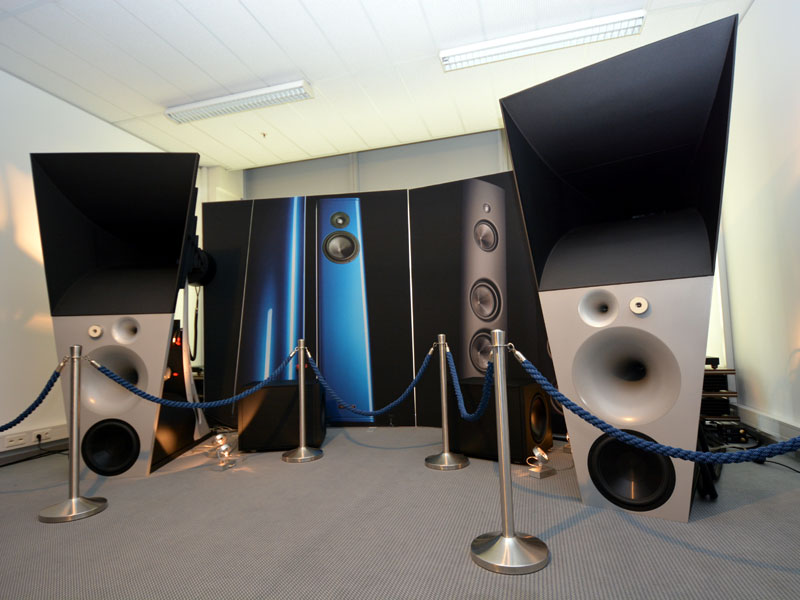 Perhaps Tidal might take a leaf from Magico's book. They didn't just announce that they were actually going to play the rare (and rarely seen) Magico Ultimate hybrid horn system ($600,000/pair), having shown it static at CES, they were as good as their word, playing to packed houses from the start right up to the point where show security was actually removing lingering visitors from the corridors on Sunday evening. What did these legendary speakers sound like? I wish I could tell you, but when I say the room was packed I really do mean it. Tightly packed, standing-room-only crowds meant that even Magico head honcho Alon Wolf -- and even Jonathan Valin -- couldn't get in. Dennis Davis managed to force his way through the crowds to snap the shot -- but not until halfway through Sunday afternoon and midway through the half-hour wait for the next presentation! With Mr. Wolf offering the enticement of a private presentation once the speakers are safely back home in San Francisco, perhaps we'll finally be able to report what this distinctly different, visually impressive and near mythical Magico speaker really does.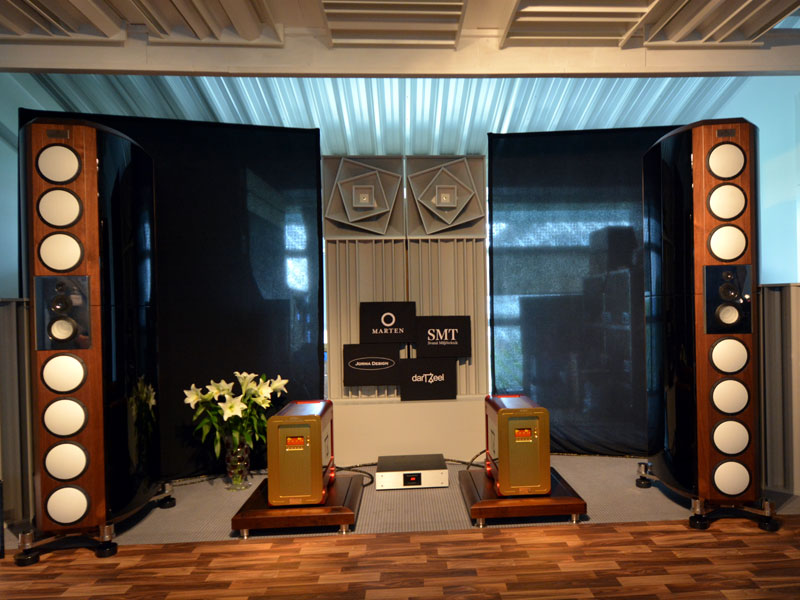 Which brings me back to more familiar, if only slightly more affordable ground. The Marten Coltrane Supreme Two (€390,000/pair) is a speaker I know well and respect enormously, having lived with it for several months. One of the most sonically neutral and least musically invasive designs I've ever used, it was in Munich something of a shock. I know what this speaker can do -- and this wasn't it. Instead, what I heard was the room and the driving system: Dartzeel NHB-458 monoblocks, NHB-18NS preamp, MSB DAC IV Diamond Select and UMT Plus transport, Aurender X100S media player and a Brinkmann Balance turntable with a Whest Audio Ref. V Mk 4 phono stage -- all hooked together with Jorma Design Prime and Statement cables and sat on the latest finite elemente Pagode Master Reference stand.
Now, that much kit (and that many suffixes) could and should have sounded spectacular. Unfortunately, the CS2s lived up to their "too honest for their own good" reputation and demonstrated all too clearly that a speaker with this much bandwidth and low-frequency capability combined with an amplifier with this much power is an acoustic accident waiting to happen, especially in a room this size. It also demonstrated that simply throwing money at the problem is no solution. This is a truly great and supremely accurate transducer: few if any visitors to this room would have appreciated that fact. The sound was grainy and muddled, slowed and colored, lacking the unforced dynamic expression and total lack of overhang that the speakers exhibited at home. Conclusion: what we were hearing were the shortcomings of the system -- not the speaker. Those who live by the sword die by the sword and the sword that is the CS2 definitely cuts both ways.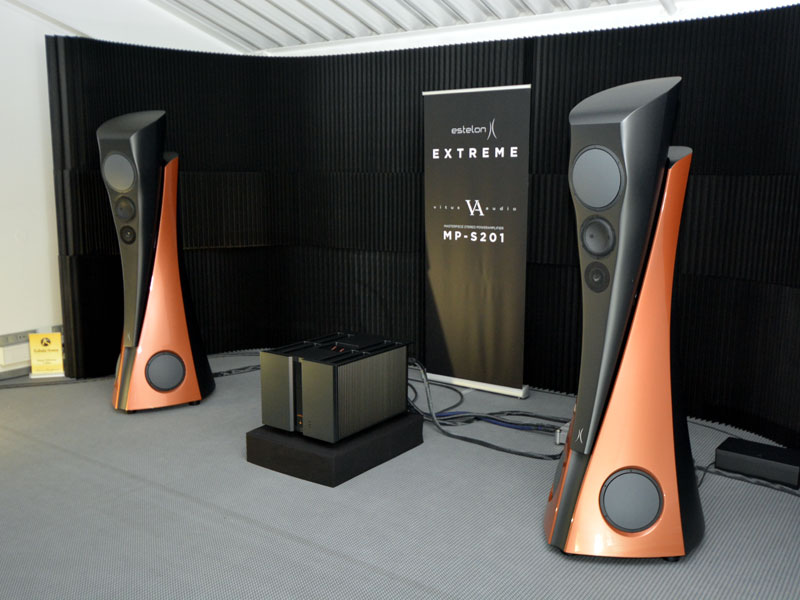 If Marten's burden is trying too hard (and arguably succeeding too well) then Estelon's debacle was definitely an own-goal. If Jim Saxon had been present, I'm sure he would have given the new Estelon Extreme speakers a special "Just because you could, it doesn't mean you should" award. The picture only tells half the story. As well as looking like some evil robot or planetary landing transport from The Fifth Element, this speaker goes out of its way to break not just some but most of the rules. Not only does it park a pair of 10" woofers next to the floor, it then positions a 10" midwoofer at the opposite end of the nearly 7'-high cabinet. The inverted driver array is mounted on a separate baffle and includes a 7" ceramic midrange driver and a 3/4" inverted-dome diamond tweeter. But what really sets this design apart is that the whole of that separate baffle moves up and down. And when I say it moves, what I mean is that it is motorized! The whole thing is remotely controllable from the listening seat, with 12" of vertical adjustment (although whether that adjustment is continuous or in five discrete steps is the subject of conflicting reports) allowing you to "fine-tune image-height for each recording." In addition, the tweeter moves forward and back, relative to the rest of the baffle, in four discrete steps. I don't know how big those steps are, but again, they are remotely controllable.
Now, call me old fashioned, but this doesn't make any sense to me, in theory or -- as the demonstration so appositely proved -- in practice. Moving the baffle is going to alter the listening axis for both the tweeter and midrange unit, impacting time alignment and energy levels, while moving the tweeter backwards and forwards will have a direct effect on the phase relationship between the drivers. Possibly even more critical, you'll also be moving the musically crucial midbass driver relative to both its bottom-end support and the room boundaries, which is going to play merry hell with its timing and integration, throwing the speaker's rhythmic integrity out with the adjustable bath water -- and that's exactly how it sounded. You too can bend your recordings completely out of shape and it will only cost you €170,000. Even the Vitus Audio Masterpiece Electronics and a Spiral Groove turntable carrying a top-flight SoundSmith cartridge couldn't save this one from itself.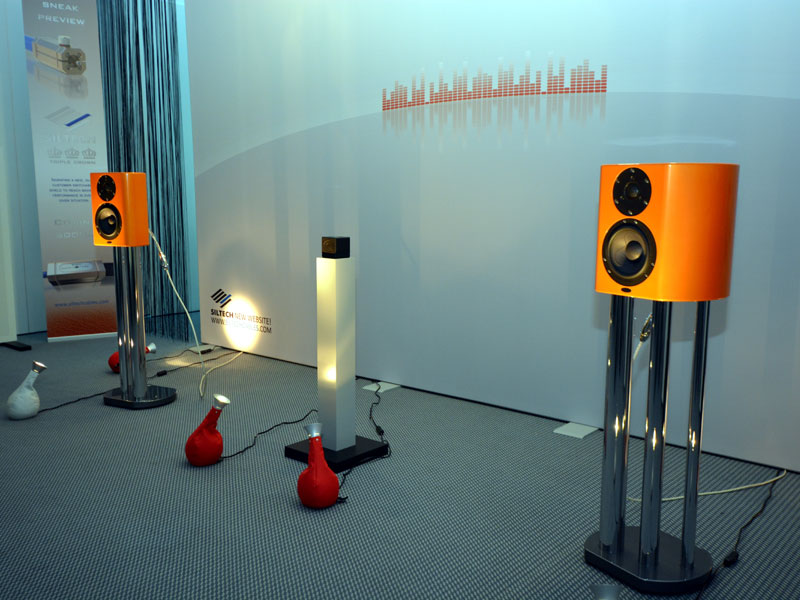 Now, finally, let's turn to those companies that got it right -- in some cases spectacularly so. For the sake of organization rather than as an indicator of absolute quality, let's take the systems in order of size -- at least the size of the speakers used -- and that means starting with the diminutive yet captivating Crystal Cable Minissimo (€10000/pair including stands). Five years after the appearance of the remarkable glass Arabesque, a speaker that looked like it shouldn't work but clearly, demonstrably did, Crystal Cable have advanced their cabinet concept a stage further. The facetted construction seen on the original designs, whether the glass of the larger floorstander, or the aluminum plates of the Arabesque Mini, demands extraordinary precision to produce, with huge amounts of time invested in the construction of each pair of cabinets. In an attempt to reduce the entry price of the Arabesque range, the company looked at alternative approaches to cabinet construction, approaches that could maintain the critical cabinet footprint but reduce the man-hours invested in each speaker. The solution was to machine the cabinets from solid material, a costly but ultimately much more cost effective solution than the facetted, face-to-face construction. The cost was further offset by the options the approach offered, in terms of materials and overall control. The Minissimo cabinet is carved from metal-loaded resin matrix, allowing much greater control over the mechanical characteristics of the material itself, while CNC machining allows total control over both the overall shape of the cabinets and the wall thickness at any given point. The end result is a smooth form factor that perfectly embodies the Arabesque concept while also promising superior resonant performance -- all in a product that undercuts the price of the existing Mini by quite a margin.
But that's not the whole story. Crystal Cable has also been working hard on the crossover in the Minissimo and has come up with a new topology that they claim delivers superior time and phase characteristics. Dubbed the Natural Science crossover topology, I have heard what it can do for the Mini, so I'm confident that it is a major contributor to the impressively musical sound of the Minissimo. Indeed, this was one of the most consistently enjoyable rooms at the show, never disappointing despite multiple return visits. Part of that is down to the minimalist presentation, with just one pair of diminutive, bright-orange speakers on show (yep, the new materials have also opened the way to colored cabinets) highlighting both the speakers' stylish shape and their easy, relaxed yet naturally involving musical presentation. With no giant rack of components to distract attention or mess up the sound, you could simply sit back and enjoy the speakers and the music they were playing. The Minissimo builds significantly on the effortless phrasing that characterized the Mini, allowing music a real sense of shape, the performance to breathe convincingly. The total lack of intrusive cabinet "sound" suggests that the new manufacturing approach is paying dividends, while the natural sense of rhythmic pace and order further suggests that Crystal Cable are really onto something with their Natural Science crossover. Seamless integration and naturally rich tonality added to the beautifully balanced presentation, belying the speakers' diminutive dimensions -- although the unforced dynamics and sheer clarity also owe a lot to the driving system.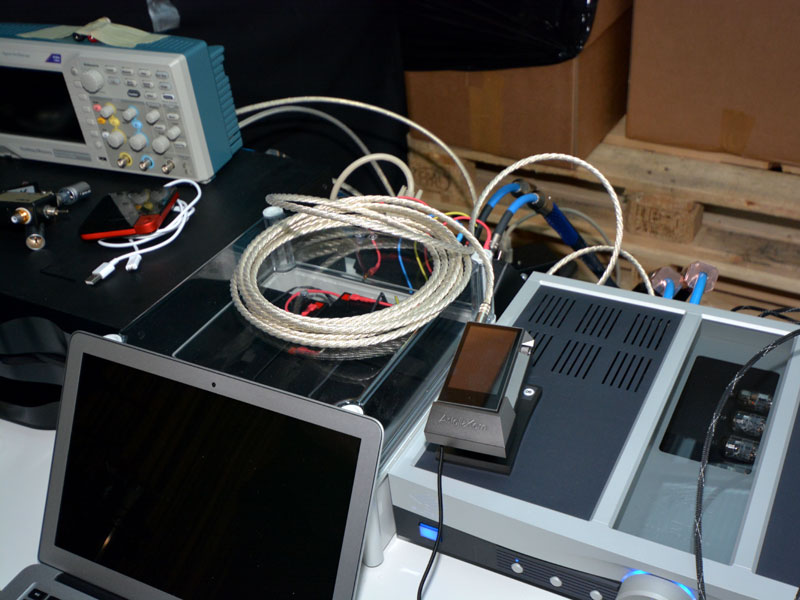 Ah, yes -- the driving system: tucked away behind the dividing wall was a complete set of Siltech SAGA amplification (€75,000) and a system's worth of Crystal Cable Absolute Dream cables (If you have to ask. . .). Clearly, Crystal was giving its new baby every chance -- but then what proud parent doesn't? Sources were an Astell & Kern AK240 media player and a MacBook Pro loaded with high-res files: look a little closer at the picture and you'll notice the six-meter Absolute Dream cable connecting the AK240 to the SAGA line stage, allowing for "remote" operation. The single column between the speakers carries the cubic remote for the upcoming Crystal Cable Cube amplification system, first shown in concept form at CES. The neat and carefully weighted unit controlled the system's volume, while serving as a tasty little teaser of things to come -- just like the Minissimo itself, come to that.
One of the more unusual (yet successful) systems on show came from the Swiss company Illusonic who were showing their all-source IAP2+2 (€11,500) digital processor/preamp. This compact 12" (300mm) wide box accepts multiple analog (including phono) and digital inputs (four HDMI, Ethernet, two USB, four S/PDIF) and generates four balanced XLR or single-ended RCA outputs. The show setup used a Feickert Firebird turntable with a Kuzma Stogi 313 tonearm and van den Hul Reference cartridge and an Oppo multi-standard player as sources. But it was once you reached the processor outputs that things got really hinky, with three Soulution 501 monoblocks ($55,000/pair) driving a trio of Raidho C1.1 speakers (£12,000/pair including stands) spread across the front of the room all hooked up with Vovox cables, a new brand (at least to me) that seem to have been connected to every Soulution amp at the show.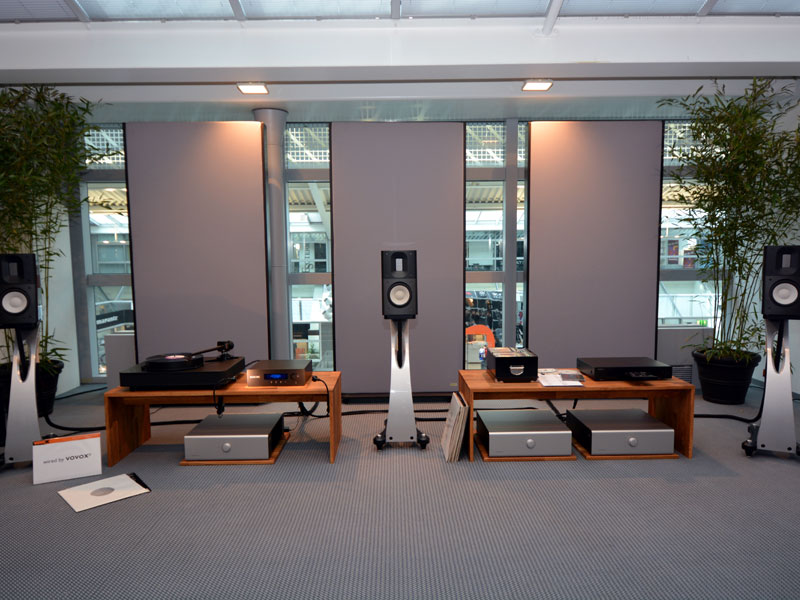 The Illusonic crew, seeming blithely unaware of the incongruity of playing vinyl through a digital processor and out through three channels, set out to demonstrate their wares and the underlying logic. Of course, original thinking when it came to stereo always assumed a third, center speaker, but market forces, inured to the single mono speaker setup, rejected the third cabinet as a step too far, and we've been living with two ever since. But as anybody who has ever experimented with three-channel systems will tell you, that third speaker (controlled via a blended output) brings a real sense of solidity and presence to the musical performance. Happy to compare the three-channel presentation to more conventional stereo, Illusonic made a powerful argument both for the approach and the versatility and musical performance of their processor, the benefits in terms of space, dynamic range and musical impact being obvious to hear. Given that it packs three boxes (phono stage, DAC/A to D and line stage) into one and does so to such excellent musical effect, the Illusonic processors (there are three in the range) look like an interesting new and cost effective offering. The IAP in the product designation stands for Immersive Audio Processor, a concept that the company takes seriously, the top model offering a total of 16 independently controllable outputs! Illusonic deserve praise for doing it differently and doing it so well. On this showing they also deserve wider attention.
Wilson Benesch showed in two locations, playing the Circle 25 turntable and Square Five loudspeakers at the MOC, but choosing to present their big news off site at the city-center Kempinski Hotel. The Endeavour loudspeaker (£25,500/pair) takes the technology developed for the flagship Cardinal and packs it into a compact three-way design with an integral stand and massive base. Driven by a full suite of CH Precision electronics and cables: D1 CD/SACD transport (€24,000), C1 DAC/Streamer (€24,600) driven from the X1 external PSU (€11,250) and a pair of A1 stereo power amps (€22,000 each). Cables are comparatively affordable, with a one-meter pair of interconnects or speaker cables starting around €1500, although all prices are best seen as approximate, as input and output options on these products are endless and the prices have had to be converted from Swiss Francs. However, any way you add these up, the totals are going to be well up into the audio stratosphere (reflecting another trend at this year's show), so, given the cost of the equipment involved, this was a system that couldn't afford to disappoint. It didn't.
The Endeavour presents an imposing (if beautifully sculpted) presence, more substantial than mere words suggest. To describe this speaker as "engineered" is an understatement, its compact dimensions making the sheer technological density involved in some ways even more impressive than on the much larger Cardinal. It's a physical integrity that carries over into the sound it produces. The conceptually clever yet simple hybrid acoustic/electrical crossover is as non-intrusive as the conceptually complex and anything-but-simple cabinet construction. The careful voicing of the multiple reflex ports, one loading the midband, the other two differentially loading the isobaric bass, together with the careful shaping of the cabinet and maximization of its internal volume create the musical impression of a speaker that's way bigger than the external dimensions suggest. This system had scale and power, a real sense of acoustic and an independence from the speakers that you'd normally associate with far larger and even more visually imposing systems than this, which in many ways this is. Let me explain.
We tend to equate the "size" of a speaker to its external dimensions -- obvious, no? Well, not really. In fact, when we talk about the "size" of a speaker what we are normally actually referring to is its bandwidth (and dynamic range, although that's another story) -- the sense of musical scale or "size" that it projects -- and that's a function of its internal volume. Given the cabinet-wall thickness of many modern speaker designs, that is a far from obvious thing, viewed from the outside.
But the Wilson Benesch speakers buck that trend. Not only are their extruded-aluminum baffles way thinner than most of the wood, MDF or resin matrix-based alternatives, their carbon-fiber sandwich sidewalls are also much, much thinner -- the materials used allowing the company to achieve the desired stiffness and mechanical characteristics without the undesirable storage effects that come with added physical bulk. So, judge the Endeavour by the same standard you apply to other speakers and it really is quite a bit bigger than it looks. What's more, the use of a separate monocoque internal enclosure for the midrange driver (rather than a dividing baffle) means that all of the remaining volume is given over to the bass cabinet. Throw in the reflex and isobaric loading of the bass units and what you've got is a speaker that looks like a largish stand-mount but sounds like a decent-sized floorstander. But the real kicker is that despite the massive musical scale and presence it creates, the Endeavour still benefits from all the traditional advantages of a compact stand-mount -- the clean bass derived from the distance between the low-frequency drivers and the room boundaries, the low coloration aided by the smaller cabinet dimensions and the sense of integration that comes from the physical proximity of the drivers.
Even so, this speaker's sense of natural, uncluttered separation and musical clarity is remarkable, something that designer Craig Milnes puts down to the nature and arrangement of the midrange driver. The relatively heavy and incredibly self-damped cone resists re-radiation of the rear wave, while the separate internal housing means that there are two carbon-fiber barriers (and a substantial air gap) between the midrange driver's rear output and the outside world, preventing out-of-phase information from muddying proceedings. It's a plausible argument, given the sound of the speaker, but what really matters is that Wilson Benesch's three-way stand-mount recipe, a mix they've been refining for a few years, has finally blossomed to spectacular effect. Space-starved or house-proud music lovers now have a genuinely wide-bandwidth option that combines real musical muscle and authority with an almost sculptural elegance and the sort of high-tech modern aesthetic that is equally at home amidst modern or antique surroundings. The CH electronics clearly played their part, as did the decision to biamp the speakers, an approach that really seems to pay dividends with the moderately efficient Wilson Benesch designs. The DGG SACD release of the Kleiber/Beethoven 7th Symphony was reproduced with weight and power, pathos and rich, natural harmonics -- but it also had energy and dynamics, a capacious acoustic, impact and tangible emotional purpose. It's not often you can take a benchmark recording from your home environment to an audio show and be impressed by the results, but this was one such occasion.
Anybody who has read my review of the Neodio Origine CD player (€31,000) will know just how impressed I was with the superbly natural performance it delivered from Red Book CD. With Dennis Davis looking for a one-box disc player, I dragged him along to the Neodio room. Dragged because, "It doesn't play SACD, it costs way too much, and it's black!" Okay, I added the last one -- but only because I could see that that was what he was thinking -- for at least 30 seconds. That's how long it took him to appreciate just how gorgeous this thing looks and sounds -- and that's with it tucked away on the bottom shelf of a rack, surrounded by much bigger and (theoretically) more impressive products. We heard the Origine through a remarkably modest system -- at least by the standards of this show -- consisting of the company's own €12,000 NR1500 integrated amp (actually sitting on the floor) and a pair of the fascinating Ascendo D9 loudspeakers (€9300/pair), all hooked up with High-End Masterclass cables. What makes the speakers so interesting -- apart from the way they sound? What looks like an incredibly simple, large floorstanding box containing a single driver and a huge reflex port is actually anything but. The forward-facing unit is Ascendo's own coaxial design. The port is a coupled cavity, driven by a pair of upward-facing bass drivers mounted in a horizontal, internal baffle that divides the cabinet at waist height. The design is capped off with a pair of rear-facing tweeters (that can be switched on or off) and a sophisticated stand that decouples the cabinet from the floor.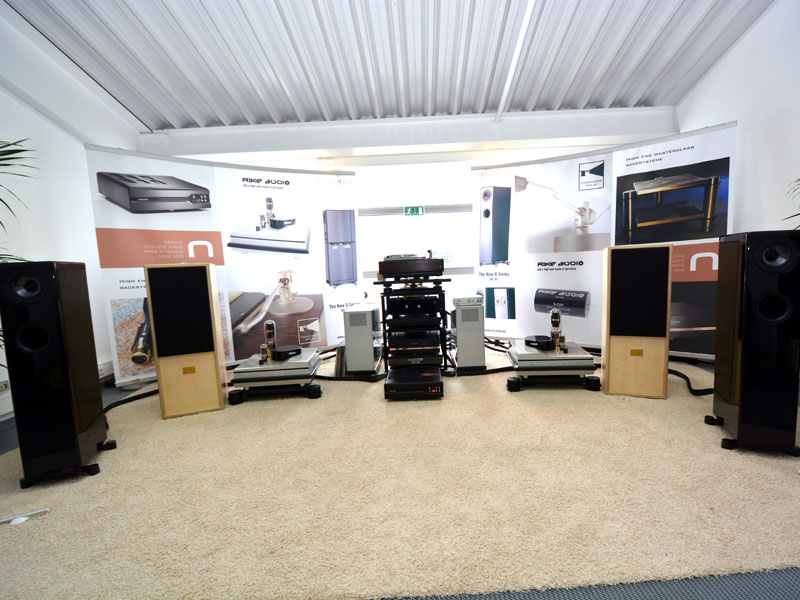 With one of Dennis's discs dropped in the drawer of the Origine, we sat back to listen, totally unprepared for the musical performance that just appeared in front of us. Perhaps it was the fact that the electronics were down at floor level, perhaps it was the black, black speaker cabinets, but I really wasn't expecting the fluid, airy, spacious performance that flooded the room. The smoochy rhythm of "Fever" slipped effortlessly into our consciousness, those familiar bass notes sure-footed and perfectly spaced, that unmistakable vocal, deliciously seductive and perfectly focused. Talk about a system breathing -- you could have taken Peggy Lee's pulse on this one. Oh dear, I think Mr. Davis is smitten -- and that's just with the CD player. For any product to do that on a single listen at a hi-fi show is pretty impressive. Given that the system being used wasn't even supposed to be the room's main event and was, by the standards of this show, almost Benedictine in its modesty makes that even more impressive -- as well as underlining the fact that adding complexity to any show setup risks adding to the problems, exponentially! This was some second system. In fact, it was some system by any standards. Neodio's NR22 CD player is due for review shortly. Offering much the same electronic package as the Origine, including the analog clock, but in a simpler and more affordable chassis that matches the amp, this could be just the solution Dennis is seeking to limit the potential damage to his pocketbook. Me, I can't wait to hear it -- and you can add the Ascendo D9s to that list too.
Engstrom & Engstrom showed the established The Lars Type 2 mono amplifiers (€55,000/pair) alongside their new The Monica preamp (€35,000). This two-box unit adopts the increasingly common practice of offering multiple phono options: owners can choose between line-only, a relatively basic internal phono stage and a far more sophisticated external standalone unit that will be launched soon. The internal stage offers a choice of 60 or 80dB of gain and six discrete loading options, making it compatible with most moving-coil cartridges, and it was being used here to mightily impressive effect. The amplifiers were fed from a TechDas Airforce 2/Graham/Lyra Delos front-end and the racks came from Solid-Tech. Like fellow Swedes Marten, the Engstroms relied on Jorma cables. Somewhat surprisingly, speakers were a pair of the $50,000 Vivid Giya G2s -- not exactly the natural partners for a pair of 300B monoblocks, even ones sporting 300B XLS tubes delivering a mighty 36 watts a side -- yet the designer's confidence in his amplifiers was well placed. Playing small-group jazz, the sound was lucid, clear and spacious, with a remarkably confident rhythmic grip. Naturally, tonal qualities from the 300B XLS tubes were lush and rich, yet they escaped the prevalent SET tendency of being overly warm or cloying. Likewise, the huge soundstage was clean and crisp, beautifully proportioned with a remarkably coherent time domain, adding to the sense and sensibility in the playing. Completely grain-free and utterly effortless, this was another system I could have listened to long-term.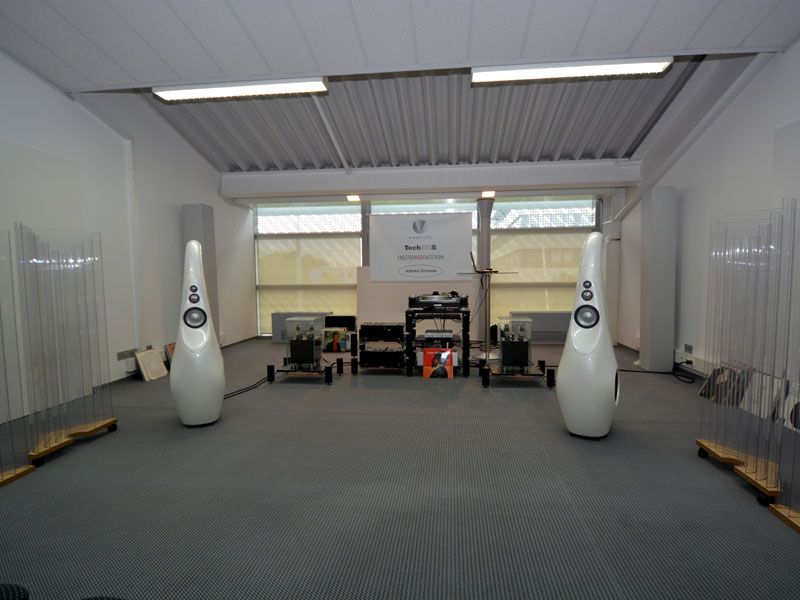 Okay, so we didn't try making it jump through large-scale dynamic hoops or play the Gladiator soundtrack, but that would be to miss the point. For anybody who loves acoustic music -- especially small-scale acoustic music -- this was a breathtakingly seductive sound, with all the sweet intimacy of the best tube systems, all the transparency and resolution of the best solid state and a light enough (but steady enough) grip on proceedings to suggest that it could be pushed quite some way before displaying any concern. Maybe, just maybe, tube watts really are worth double their solid-state brethren. But there again, maybe this is another case of audio not being about what you use but how you use it and a system being greater than the sum of its parts. The 300B is definitely a great starting point -- although the XLS version is outside my experience. However, it doesn't guarantee great results. Those come from the fully complementary circuitry, the carefully designed, high-quality transformers and obsessive attention to internal detail and construction. Unusually for a triode design, the Lars 2 is optimized for a 4-ohm load, doubtless contributing to its easy control over the Vivid speakers.
Let's not underestimate the part played by those speakers as well as the top-notch source. The Giyas are genuinely excellent speakers, their drivers beautifully integrated and devoid of both edge and metallic coloration. If only they didn't look like something out of a John Windham novel. But shut your eyes and driven by The Lars 2 they simply disappear, leaving an effortlessly natural musical presentation. Some of that grain-free wonderousness is of course down to the TechDas Airforce 2 turntable. Perhaps it was no coincidence that this was yet another system in which the Airforce 2 sounded notably livelier and less damped than its bigger and more expensive brother. Different strokes for different folks and all that -- not to mention totally different systems -- but there does seem to be an emerging trend here, and I wonder whether the Airforce 1 takes its engineering a step too far, placing definition in front of natural dynamics? At this point it's only idle speculation, but if you are serious enough about vinyl to take the TechDas products seriously, then it's certainly a question I'd be asking.
Taken as a whole, there's no escaping the remarkable performance of this system, its remarkable cost or its equally remarkable appearance. These are amps and speakers that will either strike an aesthetic chord with potential owners -- or a bum note. I'm firmly in the latter camp, I'm afraid, but there's no denying the sheer beauty of the music this setup produced -- and we've all got eyelids as well as ears.
Which brings us, finally, to the winner of the Best Sound at Show -- For a System Costing Less Than A House category. Established high-end fixture Gryphon has been relying on static rooms at Munich in recent years, but this show saw a welcome change, with ticketed, closed-door presentations of their new Pantheon loudspeaker. The benefit of closed-door demos and ticketing is that it allows some control over the listening experience, with over-crowded rooms just messing it up for everyone (a note that Magico might take on board next time they show the Ultimates, at least if they want to avoid becoming permanent victims of their own success). The downside is that it limits the number of people who actually get the benefit of the superior experience -- which is a shame because this system was well worth experiencing. Part of that is down to Gryphon keeping things sensibly short and sweet, and part of it was down to the superbly selected music that really showed off the considerable capabilities of this system.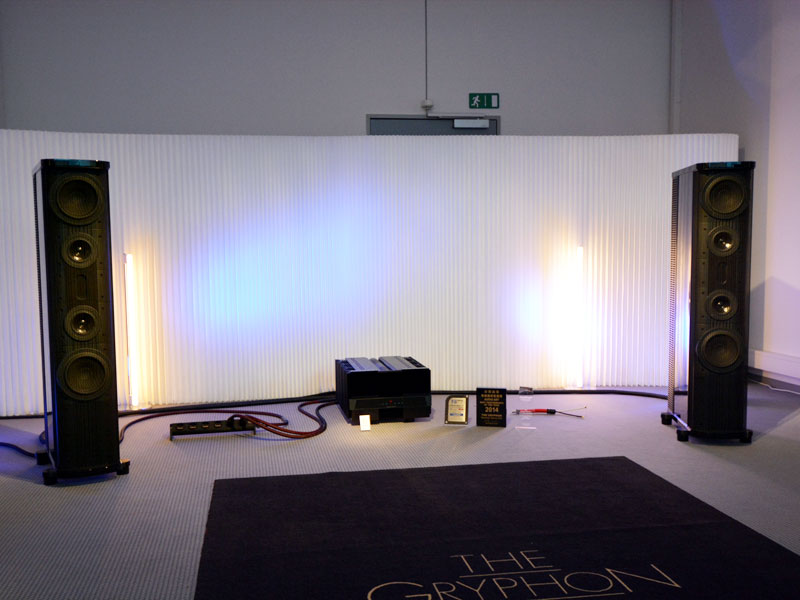 The system itself consisted of the three-way floorstanding Pantheon loudspeakers (€35000), the Mephisto class-A stereo amplifier (€44,000), Pandora preamplifier (€24,000), Kalliope DAC (€19,800) and the Mikado CD player, used as a transport (€16,000), all hooked together with Gryphon's own cables (€2200/meter pair of interconnects, €8500/two-meter pair of speaker cables, €1800/two-meter power cord). At around €150,000, the system manages to qualify -- just. If you look hard enough you can find a roof for that sort of money in the wilder reaches of Europe -- it just won't be big enough to accommodate this system and it probably won't have an electricity supply, at least not one capable of meeting the Mephisto's demands.
The speakers themselves are moderately sized passive floorstanders (think Wilson Alexias or Focal Maestro Utopias) with Gryphon's established blocky but beautifully finished construction, symmetrical driver array and Duelund constant-phase crossover. The AMT tweeter is flanked by Scan-Speak 5" midrange drivers and 8" bass units, each driver mounted on its own independent baffle to help reduce intermodulation distortion. The crossover capacitors are battery biased (an unusual arrangement but one whose benefits are clearly audible). Bandwidth is quoted as 25Hz to 40kHz ±3dB while the company doesn't actually state a figure for sensitivity -- presumably on the basis that if you are using their amplification it probably isn't an issue! If black isn't your thing there is an extensive choice of finish options for the speaker's side panels, embracing everything from wood veneers to treated metals to carbon fiber. If those offerings still don't light your candle, almost anything is possible, at a price.
Incidentally, the white "wall" behind the speakers is actually just one example of the incredibly versatile Molo Acoustics room treatment that was increasingly visible in Munich. It consists of a clever concertina matrix made from recycled paper that stores flat but can be extended as required. A combination absorber diffuser, it was originally designed to subdivide the kind of echo-ey open spaces you find in many modern buildings, but an increasing number of audio companies have latched onto its practicality as an acoustic solution for show rooms. Portable, adjustable and attractive, it was to be seen in many of the better-sounding rooms in Munich, including Tidal, Constellation and this one.
I think that it is fair to say that Gryphon are best known for their electronics, and that this is definitely unfair to their speakers. Every loudspeaker design that they've supplied me for review has been both a joy and an education, employing unusual approaches and lateral thinking yet achieving fantastic musical results. In an inherently conservative world like the audio industry, part active designs and constant-bias crossovers challenge preconceptions, which perhaps explains the market's reticence, but with the Pantheon that seems set to change. The right speaker, the right size and the right price to go head to head in the sweet spot for high-end speaker sales, the new Gryphon is well worthy of your attention. This system defied expectations, delivering a fluidity, lack of grain, delicacy and tonal palette that astonished, coupled to apparently limitless dynamic range and headroom. For such an obviously dynamic and powerful performer, it was incredibly quick and agile, with superb rhythmic and spatial coherence. I'm not normally one for the hi-fi spectacular but one of the tracks played featured a flamenco guitar and dancer. Not only did the system capture the attack and complexity of the guitar, the explosive stamps and claps of the dancer, but everything was precisely located in space, the guitar stable, the dancer gyrating, while the rhythmic relationship between the dance steps and slashed guitar chords bound the whole into a single musical conversation. It was a microcosm of everything a system should (and this system clearly could) do. The other musical selections were no less impressive, with drums in particular having an almost spooky reality, while the system seemed able to change scale and pace at will. This was a massively impressive presentation an object lesson in how to create a system and show it off to the best possible advantage -- and in amongst the rooms full of six-figure products adding up to seven-figure systems, a timely reminder of what hi-fi is supposed to be about.
And the Best System That Costs More Than a House? That's easy.
The best sound I heard in Munich was actually on the night before the show, when we enjoyed a superb performance of Donizetti's L'elisir d'amore at the Bayerische Staatsoper. A wonderful modern staging was matched by a stellar young cast, with Aleksandra Kurzak as an inspired Adina -- although the other four principles weren't far behind and Ambrogio Maestri's bizarrely science/fantasy Dulcamara deserves special mention. Okay, so in the light of that, bringing the Sutherland/Pavarotti CD of the same opera to the show was hardly fair, in most cases demonstrating just how far we've still got to go. But one system rose to the challenge, not just meeting it head on but reveling in the experience.
When Kevin Scott of Living Voice first announce before last year's show that he intended to take the massive and massively expensive Vox Olympian/Vox Elysian speakers to Munich, everybody told him (quite rightly) that he was crazy and how could he possibly expect to achieve representative results not just at a show, but at the Munich show in particular. Ignoring such trivial concerns, he forged ahead and the rest, as they say, is history. The Living Voice presentations were a triumph, demonstrating that occasionally, just occasionally, seriously expensive hi-fi really can deliver -- and that occasionally, just occasionally, the mad and the brave get to dodge the bullet that their impetuosity has engraved with their name. To paraphrase Lady Bracknell, "To tempt fate once, Mr. Worthing, might be considered misfortune; to tempt fate twice looks like carelessness." Having got away with it once you'd think that maybe, just maybe, Mr. Scott would count his chips and gracefully withdraw. But no, here he was again, with the same Vox Olympian/Vox Elysian setup sounding, if anything, even better than last year. Well, I guess that proves it wasn't a fluke.
In fact, Living Voice again showed two systems, with an increased emphasis this time around on the more "affordable" option featuring the Avatar OBX-RW loudspeakers (£9,450/pair). Sub-£10,000 might sound almost real world -- but that's before you tot up the driving system: Kuzma Stabi XL2 (£17,000), Kondo KSL wired SME Series V tonearm with van den Hul Special Edition White Beauty (£3200/£4700), Viv Labs Rigid Float RF7 'arm with Kondo KSL Io-M (£3270/£6000), Kondo KSL SFz step-up transformer (£8750), Kondo KSL M7 phono stage (£13,000), Kondo KSL Kegon integrated amp (£40,000), Kondo LPz interconnects (£2750/pair), Kondo KSL SPz speaker cable (£15,400), Kondo SPz AC power cables (£1400 each), and Box Furniture equipment tables (£1750 each).
Not exactly bargain-basement, at a little over £120,000 -- although that does include sales tax at 20%, so that's all right then! Having said that, the performance didn't disappoint, with the Avatar's lively, engaging balance shown to extremely good effect -- a system that put many of the really high-priced offerings on show to musical shame, demonstrating that Living Voice are about much more than just stratospheric dream systems. Sure, the wrong side of £100,000 is well into la-la land for most people, but the Avatar starts around £3000 a pair and the same musical discrimination, integrity and experience that produced this system in Munich can be applied just as effectively at far more approachable price levels.
But the system that everybody wanted to hear was the one playing in the afternoons, the one with the big horns on the end of it. This year's setup differs only in detail from the system that Living Voice played to such acclaim last year. Starting at the wall, it consisted of:
Living Voice PureMusic power supply -- 360Ah Lithium Ion battery supply with AC inverter (almost the cheapest thing in the system but possibly the most critical -- making the £25,000 asking price a genuine bargain).
Living Voice Vox Olympian -- from £324,000/pair (the show pair in macassar with amboyna burl in high-gloss finish would be £450,000).
Living Voice Vox Elysian -- from £180,000 to £300,000/pair (again depending on finish).
Kondo KSL Gakuoh push-pull 300B power amps, £61,000/pair.
Kondo KSL M77 preamplifier, £34,000.
Kondo KSL DAC, £34,000
CEC TLO 3.0 transport, £24,000
The whole system was sat on the Living Voice G8 equipment table (£45,000) and laced together with Kondo LPz interconnects, Kondo SPz AC power cables and £30,000 worth of Kondo KSL SPz speaker cable.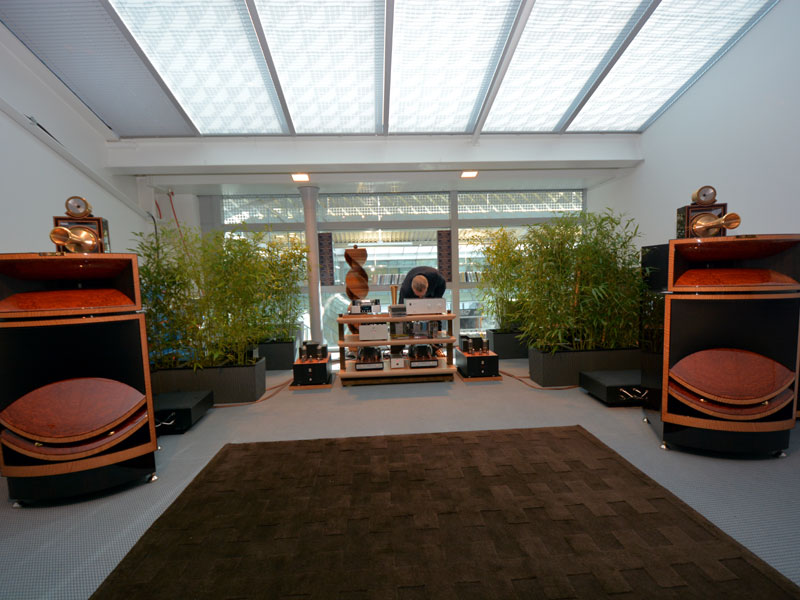 And the totalizer gives us. . .a cool £1,000,000 for a CD-only system, assuming that you had the subs finished to match the main speakers -- and let's face it, why wouldn't you? Even allowing for the sales tax, you aren't going to be buying much more than a compact runabout with the change out of your $1.5 million. But you know what? For once, here was a million-dollar system that actually sounded like a million dollars!
When we arrived, the system was playing Angela Gheorghiu, so I had no qualms passing over the Decca L'elisir d'amore. Having listened to the second half of the second act, Mr. Scott followed it up with 15 minutes of Don Giovanni, making for over an hour of grand opera -- and in that time nobody left the room! That just doesn't happen at hi-fi shows, where opera is normally considered sufficient to drive even the most mollusk-like listeners from the room. Sutherland's voice is enough to give most horn systems apoplexy, but here it soared, reveling in the sheer agility and harmonic generosity of the system, while the young Pavarotti's vocal dexterity and range were simply marvelous. Scale and headroom were givens and dynamic demands just arrived on queue. But this wasn't just about sonic fireworks. The humor and emotional range in Donizetti's masterpiece were palpable, the humanity of the singers all too evident, the detail and inflexions in their voices and vocal technique beautifully portrayed. Even in full chorus, climaxes the system's poise and stability remained intact, and it was easy to simply forget where you were, drifting back to the performance so few nights before. I've concentrated on Opera, but you can play anything on this -- as a bout of Sly and Robbie ably demonstrated -- and the audience will sit, transfixed.
I'm not going to spend any more time describing just how good this system was -- partly because you should have got the picture by now and partly because, if everything happens as planned, it will be arriving for review shortly. But if somebody harbors doubt as to just what an audio system can do, given the chance, the Living Voice setup will certainly set them straight. Even if you'd heard nothing else in Munich, this one system would have made the trip worthwhile.
Munich was the show that brought the Duck for Cover award into being, and each year it seems to raise the bar when it comes to truly gruesome sound. This year was no exception, with a hotly contested race to the base featuring multiple contenders. However, as the days passed, two rooms maintained their lead as the rest fell away.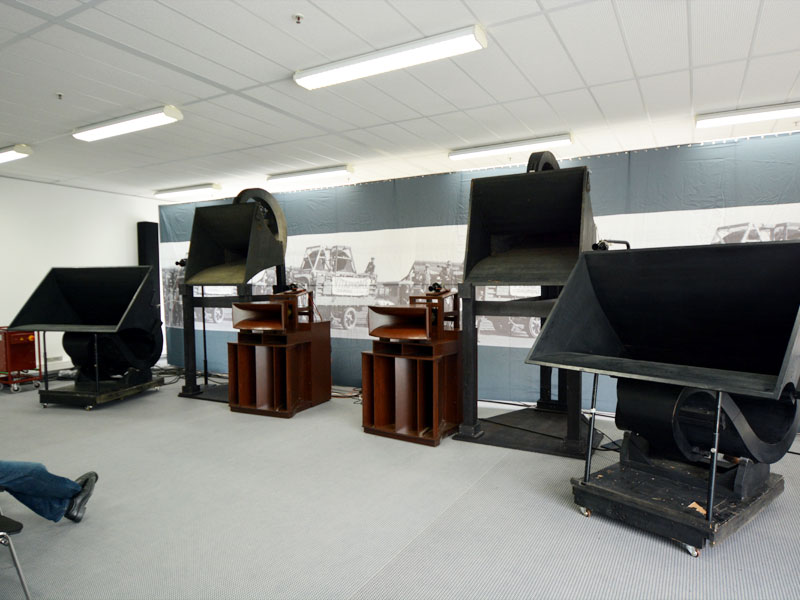 Traditional contenders Silbatone mounted what looked (and believe me, sounded) like an unassailable case for retaining this coveted trophy. The Western Electric 12A/13A system they unleashed on an unsuspecting public dated from 1926 and I'm afraid that it sounded like it. When I first heard this setup it was sounding mightily impressive on some organ music -- no surprise there. But the first time they tried to play large-scale classical I was heading for the door faster than Usain Bolt in a Diamond Series sprint. You'd think that would do it, but no -- there was a surprise usurper lurking in the shadows -- right next door!
Blumenhoffer Acoustics were showing a new horn speaker design, driven by an all Allnic DHT setup, including the massive new A10000 monoblocks, each featuring a pair of Kron 1610 output tubes that look more like something you'd see in Duty Free than an electronic device. These are big -- and at $89,000 a pair the Allnic amps that use them are expensive. Indeed, past experience with Allnic electronics suggests that they are never less than interesting and often extremely impressive, which kind of points the finger for this one firmly at those speakers.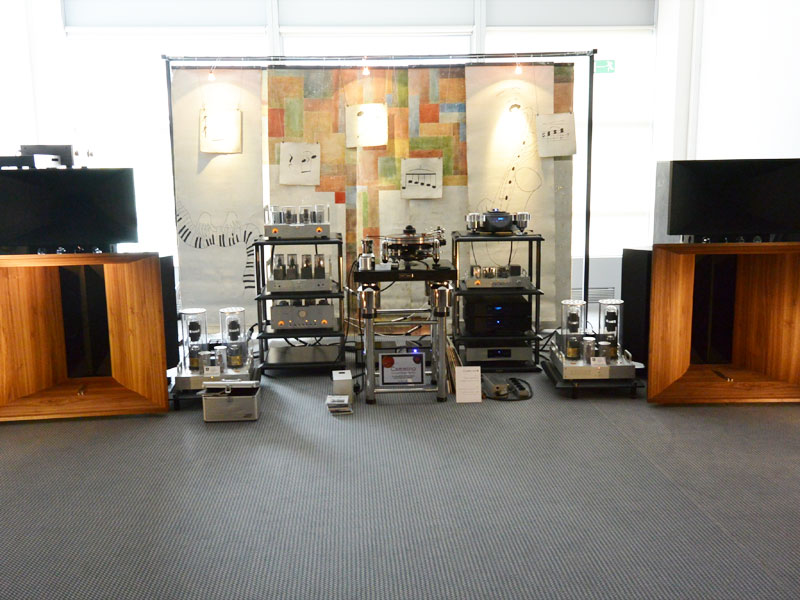 The problem with high-efficiency loudspeaker systems is that with this much amplifier doing the driving they can get real bad real quick, and that was the case here. Multi-cell horns are prone to integration and coloration issues, a sentence that barely scratches the surface of the tonal, spatial and phase anomalies being fired out of the Blumenhoffers. You've heard commentators describing speakers in which you can hear each driver separately? How did these manage to sound like they had more separate drivers than they really did? The sound was so disjointed and all over the place that it was disturbing as well as painful. Painful? Oh, yes, the other problem with having that much amplifier (and being next door to Silbatone) is the tendency to play things loud. We definitely ducked for cover, making Blumenhoffer Acoustics worthy winners of this year's award.