High End 2014 • Hot Product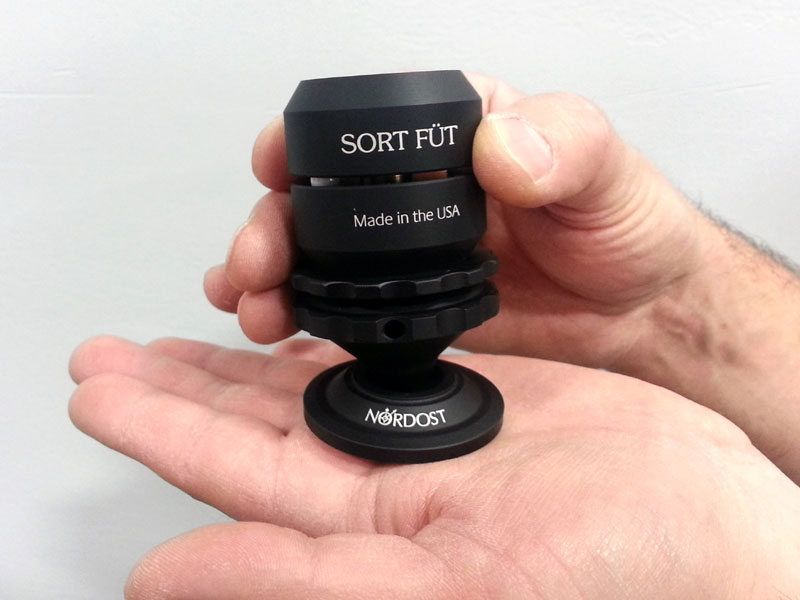 Nordost might have been making most of their noise about the new Heimdall 2 headphone cable, but they also quietly showed two small but significant additions to their Sort Füt speaker-support range.
Ever wonder why they left that gap between the adjustable cone and the body of the Sort Füt? Well, now customers (and existing owners) can add Sort Lok locking wheels ($180 per set of four) to their Sort Füt units. These large-diameter discs spin down finger tight onto the lower, conical section and lock it securely in place. They don't just preserve the precise level and rake angle of your speakers, they make them sound better too, further improving the rigidity of and mechanical ground path provided by the Sort Füt.
The other new piece is a dedicated footer to place between the Sort Füt and fragile flooring. The large-diameter bi-radial "ball" on the base of the Sort Füt is still small enough in terms of contact area to severely dimple a soft wooden floor. The problem is that it's also wide enough not to work with existing cups intended for use with spikes. Nordost now offer the Sort Kup ($300 per four) as a solution. Manufactured from the same hard aluminum alloy as the Füt, it allows users to achieve material consistency while still protecting their floors -- although we'd strongly suggest ditching the felt layer on the underside for optimum performance.