High End 2012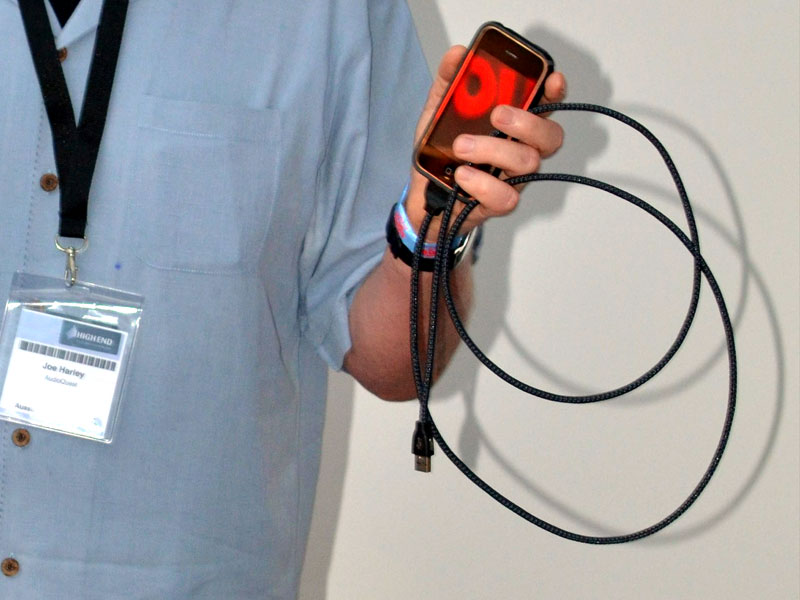 Joe Harley took time out from his role as record producer extraordinaire for the Music Matters Blue Note project to demonstrate the impact of audiophile cables on a fairly low-end installation: an iPod connected to the USB input found on the faceplate of many of today's receivers and DACs specifically made for use with the iPhone family of devices. For this you need a cable with a 30-pin termination at one end and a USB connection at the other. Of course, any owner of an iPhone, iPad or iPod has the standard white Apple cable providing just such a connection.
Using a very moderate system to demonstrate just how much improvement can be wrought by cable upgrades, Joe played the same music through three AudioQuest cables terminated for the iPhone family. He used the Forest, Carbon and Diamond cables, but he did not at first disclose their names or prices. With each step upwards in the cable line, the increase in tonal accuracy, soundstaging and detail retrieval was dramatic.
The Apple cable costs $29, while AudioQuest's Forest is $35, Carbon is $65 and Diamond jumps up to $695. AudioQuest makes other USB cables to cover the range between the Carbon and Diamond. However, the point was well made: anyone using an Apple USB cable to connect an iPhone to a DAC is missing a lot of the musical value lurking within their iPhone music library.
Audioquest's room also took an unusual (and unusually successful) approach to dealing with the challenges facing not just an emerging generation of audiophiles, but those posed by the MOC, the show's venue, itself. Facing the iPod/USB demo across the end of the narrow room was a second system set up to demonstrate other digital cables, a set of soft cubes in between providing seating for either system.
But next to the multimedia setup was a desk holding a monitor, a Mac Mini, an integrated amp and tabletop speakers. Here, AudioQuest's Steve Silberman was gleefully demonstrating the new Dragonfly "thumb-drive" USB DAC. Looking almost exactly like the USB drives we all use to carry files and other data, this one has a 3.5mm jack on the opposite end to its USB connector. Simply plug the Dragonfly into your computer and connect it to your system using the same cable you'd employ to connect the 3.5mm socket of your computer's analog output. It's a far-from-subtle upgrade, delivering a huge increase in weight, tonal color and musical momentum, which, given the convenience and $249 price tag, goes some way towards justifying Mr. Silberman's silly grin.