Paradigm • Reference Signature S8 v3 Loudspeakers
Lights, camera, music.
by Marc Mickelson | May 28, 2010
aradigm's speaker lineup is vast: a half-dozen different series, each with multiple models, including center-channel and surround speakers along with the company's renowned subwoofers. The Reference Signature S8 v3 is the top speaker in Paradigm's top line. It's a three-way, rear-ported, six-driver affair -- the third version of a model introduced six years ago. The S8 v3's dome tweeter crosses over to the midrange at 2kHz, which in turn crosses to the speaker's four woofers at 230Hz. Why four woofers? The S8 v3's narrow baffle wouldn't have room for drivers that are larger in diameter, but this oversimplifies the speaker's design goal. It's safer to say that the woofers, their size and number, are integral parts of a speaker that's acutely designed to achieve certain sonic characteristics, including wide dispersion, low distortion, low coloration and wide bandwidth.
Price: $7998 per pair in cherry finish, $8798 in gloss-black or maple finish.
Warranty: Five years parts and labor.

Paradigm Electronics, Inc.
205 Annagem Blvd.
Mississauga, Ontario Canada L5T 2V1
(905) 564-1994
www.paradigm.com
At Paradigm, drivers drive the speaker-design process. They are the building blocks of every model, and each is a Paradigm creation. The drivers for the Signature series are the most ambitious the company has ever made. The 1" P-Be tweeter is a technical marvel. Its pure-beryllium dome offers a sympathetic combination of extremely low mass and high rigidity. However, beryllium's brittleness means it's a very difficult material to work with, especially if you're making small speaker parts from it, but Paradigm has been able to do so nonetheless. The tweeter's dome is slightly elevated to ensure optimum off-axis dispersion, and the driver's 20,000-gauss "Super Neodymium" ring magnets increase flux, lowering distortion and increasing sensitivity and power handling. Each part of the tweeter -- from the integrated shielding cup to the die-cast front plate -- is optimized for its function. It would not be boasting to say that the P-Be tweeter is one of the most advanced high-frequency drivers ever made.
The S8v3's midrange and woofers are no less ambitious. Both are the same size, 7", and use the same die-cast chassis, but there are important differences that relate to each driver's specific function. The midrange has, in Paradigm lingo, a Co-PAL cone, which is cobalt-infused with a pure-aluminum substrate, while the woofer cones are mineral-filled polypropylene. The woofer's corrugated surround increases sensitivity by 3-6dB. Thus, instead of the midrange and tweeter output being padded down to match that of the woofers, all of the drivers are used to their full output capabilities. Indeed, the S8 v3's sensitivity is high -- a claimed 92dB in the listening room. The DIN 45 500 low-frequency limit is 24Hz. DIN 45 500 is a standardized way of expressing low-frequency extension and gives an indication of what nominal room gain would add to the output. It is roughly applicable to the -10dB anechoic point, still very impressive.
In order to minimize driver/cabinet interaction, the tweeter, midrange and woofers are mounted in Paradigm's IMS Shock-Mount method, which is a way of decoupling the drivers from the cabinet baffle with gaskets and isolation inserts. The cabinets are made of MDF, with more die-cast parts increasing inertness and stability.
Everything considered, including its good looks, the Signature S8 v3 would seem to reside comfortably in the $15,000 range, although more than this would not be unexpected given competing speakers of similar stature and technical pedigree. However, the S8 v3 costs quite a bit less: $7998 per pair in cherry and $8798 in gloss-black or maple. You can buy interconnects that cost more than that, power cords too. This low cost is attributable to the massive scale of Paradigm's operation. Almost all of the work takes place in company's 115,000-square-foot Mississauga, Ontario facility, although having the cabinets made and finished in China helps keep costs down. The most important processes -- design and assembly -- are done in Canada.
Where to put 'em
he first thing to know about the S8 v3 -- or any Paradigm speaker -- is that its grille is not a mere cosmetic enhancement. Paradigm speakers were designed to be used with their grilles on. The grilles are low in diffraction, minimizing interference from the cabinet, and the Controlled Waveguide helps the speakers achieve their wide, uniform dispersion. Most of all, you can easily hear the advantage of using the grilles.
Wide dispersion or no, I found the S8 v3s tricky to site properly in my very large listening room. Getting the distance between the speakers and their toe in just right required a great deal of trial and error. Ultimately, I put the speakers slightly farther apart than I anticipated and toed the speakers in more than usual. They were facing directly at the listening position, their output summing essentially in my lap. This produced the widest soundstage and best balance between the tweeter's extreme air and the output of the drivers below it. Once spiked, the speakers were 55 1/2" from the side walls, 54 1/2" from the front wall, 11' 3" apart and 9' 6" from my listening couch.
Equally important as the speakers' positions in the room is sitting at the height of the tweeter, as outlined in the manual. If you are above or below the tweeter, its output (and, in my room, that of the midrange) becomes localized and disconnected from the bass. If your listening seat isn't ideal here, you can use the included screw-in spikes or rubber nubs to lean the speakers slightly forward or back. Even a small adjustment can translate into a big difference at the listening seat. When things are just right, the drivers create a uniform soundfield. There is also an interesting byproduct: well-recorded CDs and LPs display musical information that's clearly higher than the speakers themselves.
The Signature S8 v3s are biwireable and biampable, although I didn't try either of these. I did swap out the speakers' jumpers -- gold-plated metal strips -- with some from JPS Labs, and slightly preferred the latter. I recalled Nordost's demonstration from CES, in which the company's Norse jumpers made a noticeable difference with Raidho speakers. Based on that demo, they would be worth investigating for use with the S8 v3s -- or any speakers that need jumpers.
Finally, the engineers at Paradigm have measured the effects of break-in, so they obviously believe in its existence. However, their research shows that it doesn't take the hundreds of hours that some speaker makers suggest. Paradigm recommends "several hours," while I would suggest a more specific figure: around ten. In any case, running music for a few hours (at least) through any speaker before drawing conclusions is always a good idea.
Sounding off
quick run through Paradigm's website will show that the company has thoroughly embraced home theater. For this reason, Paradigm speakers are often considered and discussed in the context of surround sound, the company's floorstanding and stand-mounted speakers relegated to reproducing movie soundtracks. Indeed, a search of Internet sites mostly reveals discussions of full-on home-theater systems. There are far fewer among two-channel audiophiles about the sonic signature and worthiness of Paradigm speakers when it comes to reproducing stereo music.
Such a misconception is easily corrected by even a quick audition of the Signature S8 v3. Its fleet, uncolored sound lends itself to timbral accuracy and harmonic liveliness, and the space a pair of S8 v3s can re-create when set up properly is the domain of much more expensive competitors. In some ways, the S8 v3s remind me of the much larger and much more expensive Vivid G1 Giyas that I reviewed a few months ago. Both are painstakingly designed to provide an unfettered window on recordings, and both have some distinct personality traits that enhance the experience of listening to music. The Signature S8 v3 proves that Paradigm's well-engineered speakers are as serious at reproducing music as they are dialog and car crashes.
It is probably debatable as to the Signature S8 v3's most noteworthy design feature, but in sonic terms it's the beryllium tweeter. It combines the stop-start speed of a ribbon with the transient launch of a metal dome and the sweetness of a silk dome. It imparted convincing airiness, body and delineation, along with the quick pace of even the busiest music. Solo and small-ensemble piano pointed this out especially well; some of my favorite Blue Note piano LPs were positively radiant. Just as impressive was a more recent release from singer-songwriter Amos Lee, whose Last Days at the Lodge [Blue Note 2272732] is from the new Blue Note -- the label of Norah Jones and pop, not Horace Silver and historic jazz. Lee's music is best described as soul folk. His songs rely mostly on acoustic arrangements and his amazingly versatile, Motown-inspired vocal stylings. Lee's singing on "Jails and Bombs" will tell you everything you need to know about your speaker's tweeter. The S8 v3's P-Be proved up to the task, the soaring vocals displaying endless extension and a natural silkiness. The overtones of Lee's guitar work on "Kid" decayed for what seemed like forever. It was this CD that first showed me that the S8 v3 could do height information, as Lee's singing clearly emanated from a point dead center and more than a foot above the tops of the speakers.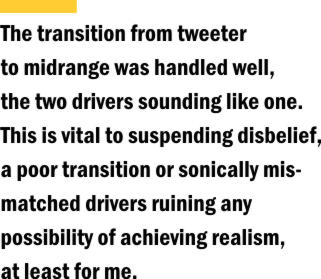 The transition from tweeter to midrange was handled well, the two drivers sounding like one. This is vital to suspending disbelief, a poor transition or sonically mismatched drivers ruining any possibility of achieving realism, at least for me. You can put on your most challenging vocal recordings and the Signature S8 v3 will reveal the totality of their performance without imposing a clumsy disposition of its own, even into the midrange's lowest registers. Greg Brown's wonderfully expressive voice is a particular bellwether here. Brown croons and warbles in addition to projecting from the chest, requiring clarity into the midrange's very depths. Further In [Red House Records RHR CD 88], Brown's masterpiece on love relationships, is slightly on the dark side of neutral, and this was obvious with the S8 v3s, as was Brown's unique phrasing, which was unobscured on the great "Where is Maria?" Further In is available only on CD, which is a pity, because I know I'm not alone in wanting to buy it, along with the rest of Brown's catalog, on LP. I am sure the Signature S8 v3s would make the difference between the formats obvious. They did this with the Amos Lee album, the CD edging out the LP by sounding a bit more open and better resolved.
This leads to another of the S8 v3's strengths: retrieval of musical detail. Here, it's not just a matter of how much the speakers convey, but how much and with what qualities, the tweeter paying explicit dividends. Recording after recording, I was impressed with the Signature S8 v3's information-rich presentation and the easy way the speakers presented it. Their great resolving power was unemphasized and unforced, the speakers sounding fast but uninsistent. When I visited AudioQuest's Joe Harley last year, he played a test pressing of a recording he produced, the Anthony Wilson Trio's Jack of Hearts. I've since bought the SACD [Groove Note GRV-1045-3], and the LP should arrive at any time. Much of the appeal of this contemporary jazz comes from the patience with which it is played. The music is carried by the varying textures of the instruments -- guitar, Hammond B-3 and drums -- as well as the mood of each cut. Dynamics are unrestrained, especially at the low end of the spectrum, the signal disappearing into the equipment's noise floor. The S8 v3 not only revealed all of the nuance of this nuance-driven music, it did so with a combination of transient snap and subtle fluidity, both of which were part of the recording. In other words, the speakers were conduits for the music, and very effective ones.
The depth of the S8 v3's bass was impressive -- reaching a point where it may make your walls rattle. There was nothing excessive about it, especially the expression of detail -- the delineation of a bass line or shifting of pitch. Its depth was often easier to feel than hear. This also meant that its power, the combination of weight and slam, was lessened in comparison to that of pricier speakers. With a demo cut like "Root Beer" from the soundtrack for the movie American Beauty [DreamWorks SKG 50210], the bass rolled through the soundscape impressively, yet other speakers conveyed greater in-the-room physical presence. This is technically not music, however; it's incidental sonic enhancement for a movie. When the S8 v3s are used in a home theater, they will be paired with one (or more) of Paradigm's stout subwoofers. I've heard such a system, and there was no scarcity of crushing bass. For music, however, the S8 v3s offer tasteful bass that's appropriate and well integrated -- nothing more or less.
Amplifier power was never an issue with the S8 v3s, at least with the amps I had at my disposal. I drove the S8 v3s with a selection, each of which cost a little or a lot more than the speakers themselves, and at every turn the S8 v3s revealed the differences among them, proving that these reasonably priced speakers will be at home with the finest amplifier you can afford. And of the amps I had here, "finest" with the S8 v3 was a pair of monoblocks that arrived as I was working on this review. I will have much more to say about the $18,500-per-pair Ayre MX-Rs later on, but driving the Signature S8 v3s, they made a strong case for the difference in price. Among the Ayre amps' obvious strengths is their supernatural quietness. This extends the working dynamic range of the system and makes for remarkable retrieval of low-level detail, which happens, as with the Paradigm speakers, in a entirely natural way.
The obvious way to consider this combination was in terms of strength matching strength, but there was so much more to it. With every recording I played, the equipment melted away, replaced with a sense of space whose scale was determined by the recording. What a thrill it was to hear a well-defined hologram of a recording studio or the seemingly endless expanse of an amphitheater unfold in my listening room. I'm not waxing hyperbolic here -- the combination of Paradigm speakers and Ayre amps was truly chameleon-like, and it remained so at high or low levels. This was the sort of system, and sound, I'd use to demonstrate the allure of fine audio reproduction to non-audiophiles, as there was nothing left to imagination or interpretation.
This sums up the allure of the Signature S8 v3s too.
Other voices
've already mentioned the Vivid G1 Giya as a speaker that reminds me of the Signature S8 v3, but there is one gargantuan difference between the two of them: the Vivid speakers cost almost $60,000 per pair, while the Paradigms are as little as $8000. Unfortunately, I didn't have any speakers in the sub-$10,000 price range, or close to it, with which to compare the S8 v3s. However, I did live for a few weeks with Wilson Audio Sasha W/Ps, and right in the middle of my time with the Paradigm speakers. They are still multiples of the Paradigm speakers' price, at $26,950 per pair, but they shed light on the S8 v3s' performance and, most important, where it resides among speakers of similar aim and stature.
Two obvious strengths of Wilson speakers -- all models that I've heard -- are their dynamic prowess, both large- and small-scale, and bass power. The Signature S8 v3 don't convey low-end weight and wallop with the same aplomb as the Wilson speakers. As I've already noted, their bass has very good depth but not the same sort of power. With a cut like 'Root Beer," the Sashas can overwhelm a small listening space, and at high levels they can put even a large room like mine awash with powerful bass tones. I doubt too many listeners would expect anything different. The Wilson speakers use a pair of 8" woofers in a large separate bass cabinet, and they are voiced for an in-room balance that won't cause listeners to feel bass deprived. The low frequencies of the Paradigm speakers are more engineered than voiced, adhering to a theoretical ideal of linearity, even at the expense of some weight that may make their bass sound more immediately impressive. Or at least that's my best guess as to how these two speakers of similar size end up sounding so different from around 200Hz on down.
I have praised the Wilson Sashas for their coherence both tonally and dynamically. They display uniformity from driver to driver and also as they scale upward or downward in volume. The Signature S8 v3s are certainly coherent from the treble through the midrange, and this extends into the bass unless their setup is poor, in which case the range from the midbass and below seems detached from what's happening above. They sound leaner and slightly quicker off the mark throughout their range than the Sashas, and when it comes to conveying space and apparent detail, the Paradigm speakers are more demonstrative, especially in the treble, which is finely variegated and delicately balanced. In turn, the Wilson speakers are more robust and corporeal, cymbal and electric guitar resounding with a heavier kind of energy. This applies down into the midrange and bass too, the Wilson speakers re-creating a more convincing portrait of the musicians in the listening space. In contrast, the Paradigm speakers dig further into each recording, better revealing its unique spatial fingerprint.
The differences between these two speakers can be broken down any number of ways, but perhaps the most important has to do with their potential buyers, which in all likelihood are not the same people, as the difference in price is so great. The beauty of owning Paradigm Signature S8 v3s is that you'll have speakers that truly compete with the high-dollar, music-specific competition. I've yet to hear a sub-$10,000 speaker that's better than the S8 v3, and I've heard many, many that are far more expensive and not nearly as accomplished in both general and specific ways. In fact, the quality of the music-making and the reasonable price of the Signature S8 v3 render some of its more expensive and esoteric competition irrelevant.
More for less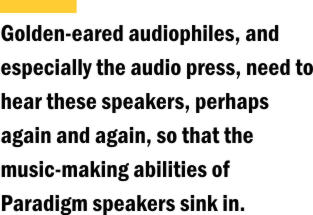 hile the perception of Paradigm as a company whose speakers are used primarily for home theater may exist for a valid reason, it obscures the exceptional performance of the Signature S8 v3 with what we audiophiles like to call music. There is a great deal to admire about Paradigm's best-of-the-best effort, including a dazzling treble region, thanks to one special tweeter, a well-integrated midrange, and nimble, deep bass. Diligently set up, these speakers convey space, including height information, better than most, and better than some that cost many times their price, and they transport you into the unique sonic world of each recording in an exhilarating way.
I hope that at an upcoming show some well-known electronics maker demonstrates with Signature S8 v3s. Golden-eared audiophiles, and especially the audio press, need to hear these speakers, perhaps again and again, so that the music-making abilities of Paradigm speakers sink in.
Associated Equipment
Analog: TW-Acustic Raven AC and VPI Classic turntables, Graham B-44 Phantom Series II and Tri-Planar Mk VII UII tonearms, Dynavector XV-1s (stereo and mono) and Audio-Technica AT33EV cartridges, AudioQuest LeoPard phono cable, Allnic Audio H-3000 and Audio Research Reference Phono 2 phono stages.

Digital: Audio Research Reference CD8 CD player, Ayre Acoustics C-5xeMP universal player, Zanden Audio Model 2000P CD transport and Model 5000S digital-to-analog converter.

Preamplifiers: Audio Research Reference 5, Convergent Audio Technology SL1 Legend with phono stage, Lamm Industries LL1 Signature, Zanden Model 3000.

Power amplifiers: Audio Research Reference 110 stereo amp, Ayre Acoustics MX-R and Lamm Industries M1.2 Reference monoblocks.

Loudspeakers: Vivid Audio G1 Giya, Wilson Audio Specialties Sasha W/P.

Interconnects: AudioQuest William E. Low Signature, Shunyata Research Aeros Aurora-IC.

Speaker cables: AudioQuest William E. Low Signature, Shunyata Research Aeros Aurora-SP.

Power conditioners: Essential Sound Products The Essence Reference, Shunyata Research Hydra V-Ray Version II.

Power cords: Essential Sound Products The Essence Reference, Shunyata Research CX-series (various), Zanden Audio power cords.

Equipment rack and platforms: Silent Running Audio Craz 6 Reference isoRack plus and Ohio Class XL Plus2 platforms (under Lamm M1.2 amps), Harmonic Resolution Systems M3 isolation bases under digital gear.