Esoteric • X-01 D2 CD/SACD Player
On the myriad virtues of fanaticism.
by Paul Bolin | July 14, 2010
s I wandered around the annual Consumer Electronics Show this past January, I saw and heard a large number of computer- or server-based digital front-ends. In room after room, or so it seemed, if there wasn't a turntable there was a laptop plugged into a digital-to-analog converter -- some small, some large and complex -- with music pouring out and slick displays of album graphics and playlists onscreen. They were, I thought, pretty cool. I also found them somewhat dismaying. These days, when we all have to deal with computers on a daily basis, I find it comforting to retreat to CDs and, yes, LPs, both with their comforting rituals, when I settle in to listen seriously to music. Too much convenience must somehow subconsciously offend my (long-lapsed) Lutheran-German-Minnesotan sensibilities. For that matter, I generally prefer tubes, too.
Price: $19,500
Warranty: Three years parts and labor with registration.

TEAC America, Inc.
7733 Telegraph Rd.
Montebello, CA. 90640
(323) 726-0303
esoteric.teac.com/
Maybe I am a bit of a stick-in-the-mud, but if the music is there, the technology ultimately doesn't matter to me. That I can say this about the CD at all is something I'd not have thought possible for many a year. As I noted in my review of the Audio Research CD5 player, my early relationship with shimmering polycarbonate was anything but pleasant, much less rewarding. To my ears, it is only in the last ten years or so that CD playback has finally stood (occasionally, and at its best) as a plausible coequal to my cherished records. The two formats have different strengths, but those of the digital format have come into their own, as both recording engineers and producers and the designers of the playback gear have learned to maximize benefits and minimize problems. The first digital gear I truly swooned over was a pair of hyper-exotic MBL separates during my days at The Abso!ute Sound. For many years, Classé's Omega CD/SACD player served as my reference, and I had no complaints about it whatsoever.
So where from there? A few months before CES, I wandered into Esoteric's room at the Rocky Mountain Audio Fest. Stacked wall to wall and seemingly treetop tall was a selection of the Japanese company's latest digital playback gear, as well as their quite fine-sounding electronics and speakers. I zeroed in on the X-01 D2 CD/SACD player. As I have noted, I like as much simplicity as is possible in digital playback, and the X-01 D2's straightforwardness was just my style. After the show, I was in touch with Esoteric's Mark Gurvey, and in short order the X-01 D2 arrived in Minnesota for an extended stay.
Esoterica
n case you didn't know, Esoteric is the high-end, cutting-edge division of Japan's well-known TEAC Corporation. TEAC was literally present at the creation of the modern Japanese consumer and professional electronics industries. The first tape recorder bearing the TEAC (then the Tokyo Electro-Acoustic Corporation) name appeared on the scene in 1951, and its machines were workhorses of studio, hobbyist, and serious home systems for decades. The individual who designed many of TEAC's highly regarded open-reel tape machines back in the 1970s was a gentleman named Motoaki Ohmachi. In 1987, TEAC established the Esoteric brand to play Acura to the parent company's Honda -- the pursuit of state-of-the-art engineering and performance was the first thing on its mission statement. Ohmachi-san, who, according to Mark Gurvey, is a driven, harder-than-hardcore audio perfectionist, was installed as president of Esoteric, and it is his dedication to excellence that has been the driving force behind the brand's surge to prominence in the world high-end-audio market. How dedicated is Ohmachi-san? He also serves as the producer of Esoteric's highly acclaimed CD reissues of classic orchestral recordings from the golden age of stereo.
Esoteric has rocketed from being a non-presence on the American high-end scene only a few short years ago to being a major player, particularly in the field of digital playback, and shows no signs of slowing down. The X-01 D2 is the current summation of everything Ohmachi-san and his engineering staff know about creating a one-box player that can stand as one of the world's premier digital rigs.
Just what is in this ridiculously heavy box?
ike all of Esoteric's products, the X-01 D2 is sleek and stylish, with only the most salient controls on its very thick faceplate. The first indicator that this was not a just another player was apparent when removing it from its exemplary packaging -- it is a beast. This normally sized player weighs a surprising and densely packed 55 pounds. It is not picked up or moved without some preparation and a healthy respect for its heft. The bottom of the chassis incorporates three tool-quenched, patent-pending steel pinpoint feet with captive rests to prevent marring the (necessarily sturdy) shelf on which it is placed. Esoteric supplies thin felts that may be affixed to the bottoms of the rests. Now that is thorough.
One reason for the X-01 D2's beefiness is its proprietary transport. Most manufacturers of digital players adapt transports from various sources, often Philips. Not so with Esoteric. Their proprietary VRDS-NEO transport was developed and built entirely in-house. This transport is anchored to a massive SS400 steel bridge and includes an integral clamp to secure the disc "to a [duralumin] turntable that is exactly the same size of the disc," so says the manual. The benefits of this are claimed to be virtual elimination of the vibrations that are said to be inherent to what Esoteric calls the "removable media" and is designed to compensate for any warping or deformation of the disc. The transport's bearings are high-precision ceramic balls.
A three-phase brushless motor with neodymium magnets drives the CD turntable, while the sled holding the optical pickups is also driven by a three-phase brushless motor (both motors are designed and built in-house) with Hall-element detection. The goal of all this high-tech razzmatazz is to optimize the accuracy of disc rotation so that the constant-angle optical pickups may do their work as precisely as possible. The only one of the transport's special features that can be seen in normal operation is a precision shutter that closes over the disc slot once the drawer has retracted into the player. This theoretically prevents any stray light, vibration and resonance from entering the player's innards to contaminate the tightly controlled electromechanical environment inside the ultra-solid casing. For some reason this struck me as an incredibly slick design touch. It is elegant and completely reflects the fanatical, nothing-left-to-chance approach Esoteric has taken to the mechanical engineering of this player.
Equal attention has been paid to the electronic side of the equation. The X-01 D2 allows conventional CDs to be upsampled by way of single-bit or multi-bit conversion and also allows them to be resampled to DSD. One can choose from these options on the fly and via the remote. Burr-Brown PCM1704 DACs in a four-chip-per-channel configuration, which Esoteric calls "dual quad-differential," are provided for both PCM and DSD-encoded discs. A separate circuit board is used for the playback of full 5.1-channel sound, but the most serious number-crunching horsepower (and there is a lot of it) is reserved for the primary stereo channels. Dual-mono circuit boards are used for the principal (front stereo) audio channels.
All in all, the X-01 D2 is about as thoroughly engineered and exquisitely finished a piece of audio equipment as you are likely to find anywhere. Not even the tiniest details were mailed in. Even the solid and comprehensive remote control is near ideal in its execution, and there isn't so much as a word of Japanglish in the comprehensive, trilingual owner's manual.
The sound of TEAC tradition
EAC knows analog -- tape -- and it shows every time a disc slides behind the X-01 D2's shutter and starts to play. For years, the highest compliment that audio reviewers were able to invent for digital playback systems was that they managed to be somewhat reminiscent of the longstanding critical reference, the analog LP. In very short order, my experience with the X-01 D2 reminded me of analog as well -- perhaps unsurprisingly, the sound of analog tape. Some of the finest sound I heard at the 2009 Rocky Mountain show came from a setup in the Nola room, a system whose primary source was analog tape. It had been years since I heard the medium I monkeyed around with as a teenager, so the sound of the X-01 D2 took me back in time more than 35 years.
Open-reel tape has a distinctive and unique continuousness, both timbrally and spatially. While tape has storage and durability issues, it remains somewhat easier to maximize its inherent potential than for LP. The medium is less fragile than vinyl, does not involve the inherent geometric compromises -- some small, some not so small -- of pivoting tonearms playing LPs, and the extreme physical isolation needed for the tiny moving parts in the vinyl playback chain to correctly do their thing is less of an issue.
Early on, I popped in a longtime favorite, Bill Evans' justly famous Waltz for Debby SACD [Riverside/Analogue Productions CARJ 9399 SA]. "My Foolish Heart" is a stunner on any decent system, and my notes contained phrases like "fragile beauty" and "autumnal introspection." The performance as a whole had an intimacy and reflectiveness that was almost heartbreaking in its loveliness, with Scott LaFaro's powerful and sensitive bass work coming especially into its considerable own. I heard an enhanced sense of place with the X-01 D2, a sense that some artificiality had been subtly stripped from the music. Less noise? Fewer heretofore-unheard digital artifacts? Who knows, but my clear impression was of musical "moreness" in the Esoteric's playback of this extremely familiar and well-loved disc.
The LP of Elton John's Madman Across the Water has lived in my collection since Thanksgiving weekend 1971 (I was a precocious child), and the sound of the Japanese CD reissue [Mercury UICY-9104] is a great example of exactly what reissues should do. It takes everything on the master tape and puts more of it into the music lover's hands and ears than the original did. My Uni pinwheel-label LP is still in good shape and has respectable sonics, but through the X-01 D2, the CD pounded the sound of my ancient record into mulch, something the Classé Omega never managed to do. Images were immensely solid, each voice in the large backing choir on "Tiny Dancer" (my nomination for the greatest rock love song, evah) floated as a three-dimensional, precisely defined point at the (ever so slightly dimly lit) back of a large stage. Timbres were just right. The preferred piano sound of John and producer Gus Dudgeon was rich, but intentionally just a little clangy for an added definition and presence in the upper mids, and I've not heard it sound better via any playback medium. Different, maybe, but never better. The Esoteric player called attention to little things that lesser components miss, like the richness of the steel-guitar/harmonium introduction to "Levon." This filled the journey it authored with constant unexpected pleasant surprises, and every disc sounded in some way new and fresh again. This factor led me to return to my favorite CDs with more-than-usual frequency.
Classical and other large-scale recordings proved smooth sailing with the X-01 D2. Hans Zimmer's The Thin Red Line soundtrack CD [RCA 63382-2] threw a truly colossal soundstage, with superbly layered string choirs. The definition and power on the profoundly deep taiko-drum strikes in "Journey to the Line" tested even the Wilson Sasha W/Ps' abilities but remained very far back in that soundstage. "Journey" is rather like Ravel's Bolero in that it is essentially a long, slow crescendo, although it has an equally long diminuendo following its dynamic climax. The Esoteric's ability to resolve the finest increments of changes in loudness was conspicuous for its excellence. Carlos Kleiber's masterful performances of Schubert's Third and Eighth Symphonies on CD [Deutsche Grammophon "The Originals" 449 745-2] had a continuousness and a delicious lucidity highly reminiscent of -- you guessed it -- open-reel tape.
One CD set managed to display all of the Esoteric player's virtues simultaneously: Philip Glass's Akhnaten [Columbia M2K 42457]. I've written about this set before, and it has been one of my favorite pieces of music for many years. It has come to serve as a touchstone for my reviews of CD players because for the last 15 years it has never stopped sounding better and better as digital technology has improved. It's an early digital recording, and on early players it sounded fairly miserable -- fuzzy, murky, dull yet harsh through the mids and treble, a spatial mess with weak, ill-defined bass and no sense of space or place whatsoever. Every succeeding generation of CD gear has revealed that those problems never lay with the discs themselves.
The X-01 D2 took things to what had previously been an inconceivable level. Percussion points floated in tangible air, occurring suddenly and tailing away in an arrestingly natural way. Drums had heads and bodies. Every instrument and singer was placed in a recognizably defined and orderly acoustic space. The double bass/cello pulse in "Hymn" was a warm, deep throb, and Paul Esswood's countertenor soared without a trace of grain or harshness. In "The Family" there are eight singers performing concurrently: four altos, three sopranos and Esswood. The Esoteric let me hear each voice individually while it remained a part of the gorgeously interweaving ensemble that was clearly placed in front of the swirling, gossamer backdrop. Narrator David Warrilow's bass-baritone had a weighty dignity new to me. His was one of "those voices," like Morgan Freeman's or James Earl Jones's, commanding your attention from the first syllable. At last I was hearing his words with the power he spoke them. Two things were especially surprising. First was the aforementioned sense of a performance occurring in a real space. Second was an immediate and powerful connection with conductor Dennis Russell Davies' conception of and complete control over the entire opera. The Esoteric player illuminated intangibles the way only analog has done before in my system.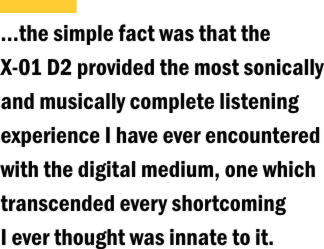 could go on at (even more) boring and redundant lengths detailing CD after CD, but the simple fact was that the X-01 D2 provided the most sonically and musically complete listening experience I have ever encountered with the digital medium, one which transcended every shortcoming I ever thought was innate to it. This player conveys the mysterious but instantly recognizable essence of continuousness and musical flow in a way shared with only a tiny handful of components of any sort I have reviewed or lived with for the last 20 years.
Initially, I experimented with the Esoteric's easily accessible upsampling smorgasbord on a regular basis when listening to conventional CDs. To my ears, the differences were subtle and very much a matter of taste and material. Most of my time was eventually spent with the multi-bit and DSD settings, depending on the disc. Processing to an SACD-standard datastream offered a bit more roundness with aggressive-sounding CDs, such as the gothic metal of Type O Negative's Bloody Kisses [Roadrunner RR-9100-2], providing a gentle and unobtrusive corrective. With excellent-sounding discs, I tended to prefer the multi-bit setting, which seemed to consistently provide maximum information retrieval and truly superb transients, especially noticeable on attacks, which had exceptionally clear definition whether fast or slow in nature.
Reading this over for the last time before I send its electrons coursing through the Internet to Marc Mickelson, I am struck by how little it resembled the checklist of sonic characteristics so typical of component evaluations. I can't help but think that this is a good, or exceptional, thing. The months I spent with the Esoteric X-01 D2 were passed listening to music and not an audio component. I consistently put down pen and legal pad, paid attention and really concentrated on music for its own sake. It was a genuine effort to do the actual work of critical listening. I am not sure that there can be higher praise for a component. There can be no doubt that the X-01 D2 also does all of the "audiophile" things extraordinarily well, but the longer I listened, the more clear it became that this is not its raison d'etre.
I noted earlier that Esoteric's Mark Gurvey told me that Motoaki Ohmachi is a man driven by his vision of perfection. The X-01 D2 is a brilliant testament to and validation of Ohmachi-san's persistence, concepts, and goal-setting, as well as the enormous developmental and engineering resources that companies like TEAC have at their disposal. Would that more of the electronics giants put their capabilities to such good use.
And now for something even better
fter I had played with the X-01 D2 for several months, Esoteric sent me its G-03X Master Clock Generator to use with it. The G-01X uses a high-precision crystal oscillator to generate multiples of 44.1 and 48kHz (up to192kHz) as well as a 100kHz universal clock signal. It has three channels, each of which has two outputs, and can provide any clock signal the unit is capable of generating through any or all of the three channels. Simply put, you can drive up to six digital devices with the G-01X at three separate clock rates, all of which can be programmed with silly ease from the very user-friendly front panel. Neat!
Installing the G-03X was simplicity itself: set it down, run a supplied BNC cable from clock output to player input, plug the unit in, turn it on and select the clock frequency you desire. The two Esoteric units communicate with each other, and a couple of button pushes on the player's front panel led to the magic "Word Sync" message appearing on its screen, telling you that all of the digital clocks in devices hooked up to the G-03X have been synchronized. You are then ready for takeoff. I played around with different settings, but found that the largest quantum of improvement came with the full-on 176.4kHz reclocking.
Much to my surprise (and dismay, to be frank) everything did improve. Not dramatically, but at this level of excellence the tiniest of details are there to be heard for good and ill. The sense of "thereness" moved up an audible notch, and resolution improved timbrally, spatially and dimensionally. I recently had a similar experience hearing the Audio Research Reference 5 and Reference Anniversary line stages back to back. The clock's $4500 price tag is more than that of many good digital players, but it's a clear case of handsome is as handsome does. The G-03X unquestionably delivers the goods it promises. Rats.
All things right and good
've been a bass guitarist for more than 35 years, and for most of that time I played perfectly good basses from Rickenbacker and Fender that I liked just fine. But I always yearned for an Alembic bass after seeing a picture of Jefferson Airplane's great bassist, Jack Casady, playing the very first one back in the early 1970s. Every time I saw or played one of the Northern California company's magnificent instruments, I felt drawn to their marvelous hand-craftsmanship, the array of sounds made possible by their innovative electronics and their palpable sense of specialness. More than ten years ago, I finally was able to buy a new Alembic, and it more than lived up to my two-plus decades of anticipation. I would run into a burning building to save it. It is special.
It will be a crying shame if appliance-like laptop computers ever make obsolete components like the Esoteric X-01 D2 and G-03X. Part of the high-end-audio experience is the recognition of superbly crafted pieces of equipment that just scream "quality." The watch-like precision and tactile feel of fineness embodied in the Esoteric pieces could never be replaced by a PC. Even if I could find speakers that I could hang on the wall that sounded just as good as my reference Wilson Audio Sasha W/Ps, I would pass on them. The Sashas' wonderfulness comes in significant part because they are beautiful, and beautifully made, things in and of themselves. They make me happy when I look at them, even when they are silent.
The Sashas are something that is just right, like my Alembic bass guitar. And so it is with the Esoteric X-01 D2 and G-03X. They are thoroughly and enjoyably right in every way.
Associated Equipment
Analog: SOTA Cosmos Series III turntable, Graham 2.2 tonearm, Dynavector XV-1s phono cartridge, Hovland Music Groove phono cable, Aesthetix Io Signature phono stage.

Preamplifiers: Aesthetix Calypso, Atma-Sphere MP-1 Mk 3.1, BAT VK-51SE.

Power amplifiers: Atma-Sphere MA-1 Mk. 3.1 and Lamm M1.2 Reference monoblocks.

Loudspeakers: Wilson Audio Specialties Sasha W/P.

Interconnects: Nordost Valhalla and Odin.

Speaker cables: Nordost Valhalla and Odin.

Power conditioners: Shunyata Research Hydra Model-8 (front-end) and Shunyata Research Hydra Model-2 (power amps), Quantum QX4s and Quantum Q-Bases.

Power cords: Shunyata Research Anaconda Helix Alpha and Anaconda Helix Vx; Nordost Valhalla and Odin.

Accessories: Grand Prix Audio Monaco stands and two F1 carbon-fiber shelves, Ultra Resolution Technologies Bedrock stand, Ganymede isolation footers, Nordost Titanium Pulsar Points, Shun Mook Iso-Qubes, Caig Labs Pro Gold, Ayre/Cardas IBE system-enhancement CD, Argent Room Lenses, Disc Doctor and LAST record-care products.