Bowers & Wilkins • C5 In-Ear Headphones
Personal listening from a celebrated maker of high-end loudspeakers.
by Richard Freed | September 27, 2011
or whatever reasons, in-ear headphones -- also called in-ear monitors -- have yet to enjoy the same level of respect as the more established over- or on-ear types with serious listeners. This may reflect assumptions based simply on lack of direct experience. Traditional headphones are what we associate with broadcasters and recording engineers. Their physical bulk gives them a more serious and substantial presence, while the in-ear types look so tiny and unassuming.
Price: $179.95.
Warranty: Two years parts and labor.

B&W Group North America
54 Concord Street
North Reading, MA 01864
(978) 664 2870
www.bowers-wilkins.com
But the little guys, in more than a few instances, have shown themselves to be more than competitive, with no allowance needed for their size. Shure, Bose, Klipsch and other well-regarded audio manufacturers have produced serious in-ear 'phones. The model that has impressed me the most until now is Etymotic Research's ER-4S, made by a company that enjoys the highest respect among both musicians and audiologists for its handling of the substance and nature of musical sound. Its list price is only $330, and I bought mine from an Internet discount seller six years ago for about $220. Hooked up to a similarly serious headphone amplifier, the ER-4S easily holds its own against any cans I've used, and once I switched from the recommended three-tier conical ear-tips to a foam cylindrical option, its performance became even more beautifully rich and full.
The newest contender in this category, the C5 just introduced by Bowers & Wilkins, is priced even lower, at $179.95 -- a powerful reminder that price is no more indicative than size when it comes to what we may expect from headphones. The C5 calls for attention not because it is inexpensive, or even in spite of that, but because it comes from B&W, whose famous 801 speakers were so widely used in classical recording sessions for years -- until they were superseded by the same company's Nautilus series. The C5 is hardly less impressive in what it delivers more intimately.
It is, in a word, stunning -- in its breadth, its spaciousness, its all-round accuracy. In my own experience, it is the first serious challenge to the Etymotic ER-4S, and after a considerable, and totally pleasurable, period of listening and comparing, I can only revert to the famous old observation, "How happy could I be with either, were t'other dear charmer away!"
The C5 is likely, however, to make the stronger first impression. Its higher output level may play a part in this, but is by no means a self-defining advantage, of course, either in headphones or loudspeakers. What impresses immediately, and satisfies more deeply as one continues to listen, is neither a matter of efficiency nor price, but a hugely effective combination of realism and spaciousness, and a virtually ideal balance with all types of material. The C5 is not merely an audio phenomenon, but a genuinely musical one.
he look of these headphones is radically different from anything we are likely to have seen before. Instead of more or less disappearing into the ear canal and leaving only a small portion visible on the surface, the C5 has each of its ear-pieces mounted on the end of a sleek black cylinder -- B&W calls it a "sound tube" -- which extends about 3/4" out of the ear, with its outer edge sliced off at an angle. The thin cable branching off from the connector to each sound tube encircles it to form a very firm loop which has a unique function. The sound tube itself is lined with tungsten to preserve its shape and is weighted toward the ear to hold itself in place, with the help of the loop, which braces the piece against the large horizontal ridge on the ear's exterior. Although the loop, which is adjustable, may be removed by users who don't care for it, most are likely to agree that it makes for a more comfortable anchorage than simply requiring a snug fit in the ear canal. The design of the C5, in fact, extending well out of the ear, seems to demand this kind of brace, even though the entire unit weighs only 20 grams. I was actually far less aware of its presence in my ear than I have been with any other in-ear 'phones I have used.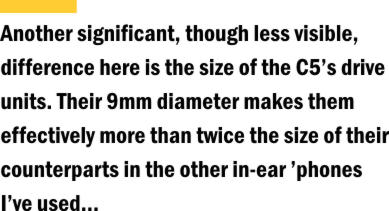 Another significant, though less visible, difference here is the size of the C5's drive units. Their 9mm diameter makes them effectively more than twice the size of their counterparts in the other in-ear 'phones I've used, and this works together with the weighted sound tube and the "Micro Porous Filter" at the tube's sliced-off outer end, to enhance the sensation of "air" in that spacious aural image. There is no filter in the delivering end for the user to replace, as the drive unit is recessed a respectable distance from the end of the ear-piece, with a strong grille to protect it when the ear-piece is changed or needs cleaning.
The C5 comes with very little in the way of printed information, and nothing that amounts to a user's manual. For that one must go to the company's website, where we find: frequency response, 10Hz to 20kHz; distortion, <1%; impedance, 32 ohms; sensitivity, 118 dB/v @ 1 kHz. These figures do not appear to be at all unrealistic. There is no indication of where the boost might be to counter "insertion loss," but perhaps that is not even a consideration in this unusual design. (The Etymotic ER-4S has a boost at around 2700Hz.)
began my listening test with Sir Adrian Boult's still-outstanding recording as conductor of the London Philharmonic Orchestra in the "Ballet Music" from Gustav Holst's opera The Perfect Fool [Decca 425 152-2]. The three dances that constitute this piece add up to a miniature "concerto for orchestra," giving virtually every instrument its moment to shine, and this particular recording of it is one of the most striking examples of the ideal combination of music, performer(s) and the sonic frame most effective to both elements. The trombone sound in the brief prelude to the "Dance of The Spirits of Earth" was heard in all its brilliance and all its warmth: a sonic texture of pure gold, with a feeling of "roundness" and just enough of a burr on its edge to complete the realistic image of the instruments. All elements of the orchestra, from rich low strings to small percussion, were heard from their usual positions within the ensemble.
While many of my other test items were orchestral recordings, not all of those were concerned with "big" sound. From Robert Irving's old RCA Victor LP (ex. HMV, ca. 1954) of about half of Léo Delibes's score for the ballet Coppélia [RCA Victor LM 2035], as preserved in my own crude transfer to CD-R, the "Musique des automates," intimately scored, giving prominence to a piccolo and small percussion, was no amorphous tootle-and-tinkle, but came across almost visibly as one of the most transparent recordings of the monophonic era. A good deal of the wiriness was smoothed out, much to the benefit of the excellent strings, in Karl Böhm's recording of Mozart's Serenata notturna (vintage 1971, [Deutsche Grammophon set 453 076-2]) with a small ensemble drawn from the Berlin Philharmonic, whose solo strings and drums are positioned for clarity without gratuitous spotlighting.
Actual chamber music benefits no less effectively. I have regarded the Hagen Quartet's 1988 recording, also on DG [423 622-2], of the Haydn String Quartet known as "The Rider," or "The Horseman" (G minor, Op. 74, No. 3) as the chamber music equivalent of Decca's Perfect Fool in tailoring recorded sound to a specific performance of a specific work -- but I had never heard it so at once clearly defined and so warm in ensemble as through the C5.
A less exemplary recording in respect to sonics, but similarly memorable for the music and its performance, is the Grumiaux Trio's 1967 recording of Mozart's towering Divertimento in E-flat for string trio, K. 563 [Philips set 454 023-2], from which I chose the fourth of the six movements, an exalted set of variations. Until now, I assumed Grumiaux's violin was given too much prominence, at the expense of the cello, but the C5 sorted things out beautifully, placing Grumiaux to the left, Georges Janzer's viola to the right, and Eva Czako's cello centered a bit behind them, just as they would be positioned on a stage. Each instrument was fully in its own character and the clarified interaction among the three was revelatory and exciting.
Big chorus-and-orchestra material fared similarly well. Sir Thomas Beecham did not approve the release of his stereo remake of the "Polovtsian Dances" from Borodin's Prince Igor, apparently because of some congestion in the recording, but EMI nonetheless put in on CD in its "Great Recordings of the Century" series, as filler for Beecham's account of Rimsky-Korsakov's Scheherazade [5 66598], and, while those occasional spots of congestion can't be expunged, there is enough really great sound (for 1956) to justify that. The blend of voices (Beecham Choral Society) and orchestra (Royal Philharmonic) were at once powerful and subtle, with the bass drum thwacks properly distanced to allow us to enjoy the quasi-flatulence of the bass trombone, and the glockenspiel and triangle making themselves felt against the wonderful cushion of all that's going on around them.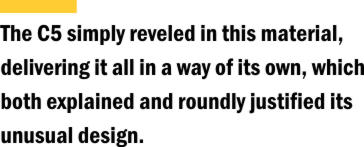 Similarly happy results came from everything I chose for listening. While recordings that may have been challenges for the equipment were transformed into shining opportunities for showing it off, those that had always been of demonstration class gloriously reconfirmed that status: a Chopin etude played by the pianist Frederic Chiu on Harmonia Mundi [HMU 907201]; Lorin Maazel's super-virtuoso performance of Rimsky-Korsakov's Russian Easter Overture with the Cleveland Orchestra, on Decca [Decca Eloquence 480 0023]; Vernon Handley's amazing realization of Granville Bantock's Pagan Symphony, with the Royal Philharmonic, on Hyperion [CDA66630]. A wonderfully rumbustious realization of Malcolm Arnold's overture (actually tone poem) Tam o' Shanter, on Reference Recordings [Reference Recordings RR-82CD] showed conductor Eiji Oue, the Minnesota Orchestra, the HDCD process, and "Professor" Keith Johnson at their formidable best. In all instances, and in all sorts of repertory, warmth and clarity went hand in hand. The C5 simply reveled in this material, delivering it all in a way of its own, which both explained and roundly justified its unusual design.
ne feature, sometimes associated with headphones of this size but which I hadn't seen before on any of this musical/sonic quality, is compatibility with Apple's iPod, iPhone and iPad. No additional hardware is required for this. The inconspicuous control is attached to the left-ear cable, and it's a simple enough procedure to take this with you when/if you do want to use it with one of these devices.
Additional hardware that comes with the C5 is limited to two adapters for connection to such entertainment sources as provided on airplanes. The 3.5mm-to-6.3mm adapter provided by Shure and Etymotic is not part of the B&W package, but this is not really a hardship. Anyone using the C5 as part of a serious audio system is going to need an extension cable anyway, and the adapter, if not incorporated into such a cable and not among the unused accessories most of us have lying about, does not represent a major expense.
A less-than-stellar feature here is the connecting cable itself, whose wiring is reassuringly visible through the transparent insulation but which is only 1.2 meters long. Again, one needs an extension cable anyway to connect to a headphone amp, but one ought not need one for connecting to a desktop computer. One hopes that in subsequent production runs B&W will provide a longer cable -- say, 1.5 meters, as on most other in-ear 'phones--even if it means a slight rise in the price.
B&W is curiously stingy with ear-tips. While Shure and Etymotic, among others, provide a good helping of spare tips in various sizes and configurations, B&W provides exactly one pair in each of four sizes -- extra small, small, medium, and large -- and not a word on how, or at what price, additional tips may be obtained.
One's choice among those tips, of course, as on all such instruments, can make quite a difference. In my own case, the extra-small was too loose a fit and gave me a thinnish response, while the large tended to be boomy. The small, which comes installed on the C5, happens to go a tad deeper into the ear canal than any of the other three sizes, and it proved to be an excellent default choice, providing exceptional clarity, exemplary natural balance, and reassuring solidity, with no apparent distortion throughout the range. Using the medium tips brought a somewhat richer, pleasantly "creamy" low end, with no discernible diminution in the highs, but with a tendency toward inflating the actual proportions of this small ensemble -- replacing that very clean sound of a string trio with something resembling the sound of a much larger body of strings. Different listeners, to be sure, may experience the respective tip options in different ways. I vastly enjoyed what I heard with both options, but I eventually settled on the crisper, more transparent character of the factory-installed small.
hese complaints are few in number and relatively minor (or at worst easily dealt with in future production runs), while the musical performance of the C5 is something quite out of the ordinary and can hardly fail to register and sustain a strongly positive impact. In inviting musician friends, some of whom are skeptical of all audio devices, to try out the pair sent to me, I have seen their jaws actually drop, and have heard them express the sort of enthusiasm usually avoided by sophisticated professionals. They simply couldn't help themselves.
Associated Equipment
Analog: Denon DP-2000 turntable, Denon DA-401 tonearm, Denon DS-1 moving-coil cartridge.

Digital: Bryston BCD-1 CD player, NAD M5 CD/SACD player, Denon DCD-1650AR CD player, Adcom GDA-700 DAC.

Headphones: Sony MDR-7506, Ultrasone PRO-750, Etymotic Research ER-4S.

Headphone amp: PS Audio GCHA.

Headphone extension cable: Kimber Kable GQ-MINI-CU.

Interconnects: Kimber Kable KCAG and KCTG.

Speaker cables: Kimber Kable Bifocal XL.

Digital cable: Kimber Kable AGDL.

Power conditioner: PS Audio AV 5000.

Power cords: Kimber Kable PK-10.