CES 2016 • Hot Product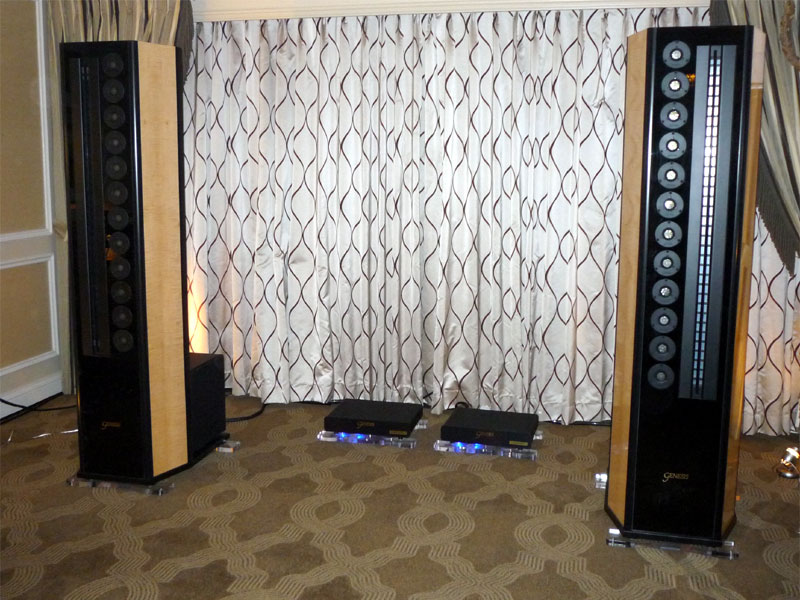 Light and airy wouldn't be the first words that come to mind when you see the 230-pound Genesis Advanced Technologies Forte loudspeakers ($140,000/pair), but these big, beautiful towers sounded nimble and really could disappear, driven by Genesis Reference mono amps ($22,000/pair). The bass was strong -- the speakers use two 12" aluminum woofers with their own 500-watt servo amps -- and had no trouble filling the smallish room. Other drivers were a dozen front-mounted circular ribbon tweeters, a ribbon midrange that covers 120Hz to 3500Hz, and three rear-facing ribbon tweeters. The constrained-layer front baffle is 1 1/2" thick.

Gary Koh of Genesis played vinyl exclusively during both of our visits, and we particularly liked Eva Cassidy's "Night Bird." Gary's choice of music with triangles and small cymbals played right into the strengths of the large midrange ribbon and multiple tweeters. All wires and racks were from Absolute Fidelity, which is part of the Genesis parent company.
© The Audio Beat • Nothing on this site may be reprinted or reused without permission.