CES & THE Show 2014 • Best of Show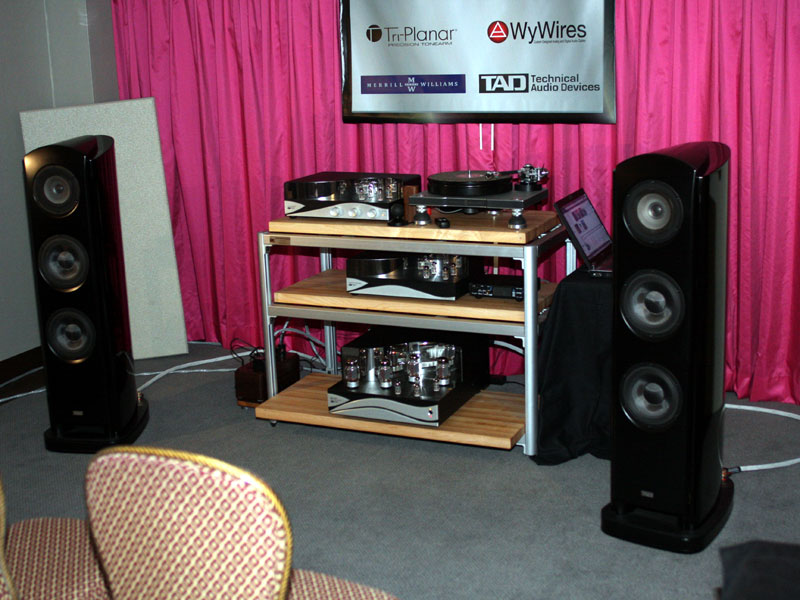 The system Zesto Audio, TAD, WyWires, et al. assembled in one of the rooms at THE Show gave the immediate impression of level-headedness and good taste. Instead of trying to shoehorn too much speaker into too little room, these companies chose a speaker appropriate for the space, and the results were both highly detailed and instantly musical.
The speakers were TAD Evolution Ones ($29,800 per pair), a medium-sized floorstander that could still move some serious air.
The electronics were Zesto Audio's Andros PS1 phono stage ($4300), Leto preamp ($7500) and BIA 120 stereo amp ($12,500), all tethered with WyWires Platinum interconnects ($1399 or $1599 per meter pair, depending on connection) and speaker cables ($2299 or $3999 depending on configuration). The analog source was a Merrill Williams REAL 101 turntable ($7200) with Tri-Planar Mk VII UII tonearm ($6200) and Dynavector XV-1s cartridge ($5450). The digital system was a MOTU UltraLite Mk 3 DAC ($600) along with a Toshiba laptop running J River Media Server 19. The rack was from Steve Blinn ($1899) and the power conditioning from WyWires, the Power Broker Silver Series ($2499).
As the picture shows, Steely Dan's Gaucho was the music of the hour, on LP no less. It sounded as smooth and powerful as ever. We stayed for the entire first side and could have made it the entire record.