CES & THE Show 2014 • Best of Show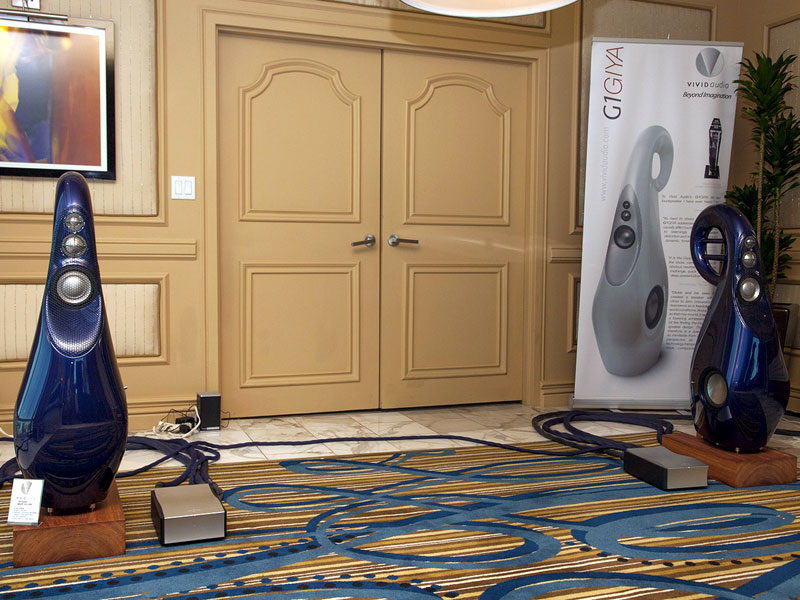 Over in the luxurious and hushed environs of the Mirage, Philip O'Hanlon of On A Higher Note was entertaining visitors with DSD recordings he made from his favorite vinyl. The system consisted of a MacBook, Luxman D-06 DAC ($4990), Mola Mola Kaluga preamplifier ($10,000) and Mola Mola Makua monoblocks ($15,000/pair) driving the new Vivid G4 Giya speakers ($33,000/pair). The G4s are 60% of the size of the G3 Giya launched last year and incorporate a new Vivid-made lower-midrange driver. This one has a 4" long-throw cone in a 5" chassis. The G4's upper-mid and tweeter are as found in the rest of the Giya range, as are the 5" side-firing bass drivers in the composite sandwich enclosure. Apparently, at a meter tall, this is as small as a Giya model is going to get. The cables in this system were Kubala-Sosna Emotion for the most part, but the USB cable came from Transparent Audio.
The system sounded totally effortless and immensely revealing with a range of music. We were particularly taken with "Royals" by Lorde --apparently a pop song by a 17-year-old, but she must have found a great producer to make such a sound. We managed to play a piece on this system, Samuel Yirga's "The Habasha Sessions" (from Bowers & Wilkins' Society of Sound), which was simply transporting in its realism. The speakers plain disappeared, leaving the piano and band, solid and engrossing, behind.