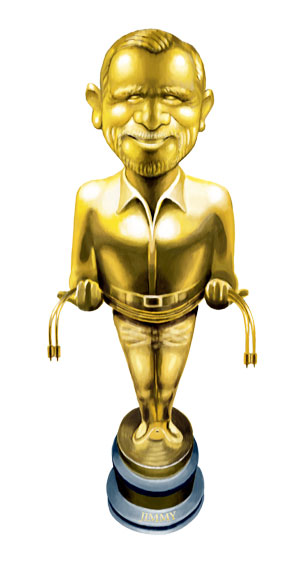 he good news from the 2014 Consumer Electronics Show is that high-end audio is thriving. The happy faces of factory reps suggested handsome December bonuses or prospects for raises in the fiscal year ahead. System MSRPs, some equivalent to yacht or helicopter price tags, proved a logic-defying fact: a huge number of filthy-rich buyers are out there. Otherwise, why develop $100,000 tube amplifiers or loudspeakers at $450,000 the pair?

The bad news, for me at least, is that dimensionality is losing out to extreme detail as a loudspeaker design brief. For as long as I can remember, there have been two different goals to high-fidelity playback: (1) bring the performers into the room or (2) bring the listener to the performance. Both aims are noble, but each can be overdone. For instance, I think the otherwise wonderful MBL speakers surpass goal 2. To my ear, they give the illusion that, rather than being in the concert hall, I am standing in the corridor outside listening through an open door. Nevertheless, I consider MBL's distant Midsummer Night's Dream holography more seductive than the virile, "in your face" presentation of studio monitors.

Apparently, many if not most people disagree with me. Some of the most impressive rooms in Las Vegas featured loudspeakers that excelled at microscopic detail at the cost of the illusion of "seeing" musicians in 3D. I'm not saying the soundstage in Wilson, Marten or YG Acoustics rooms was flat. In fact, they all featured a lovely sense of depth. I am merely suggesting that the classic "trapezoid" of image placement, as imagined by the legendary editor Harry Pearson, has given way to a more focused perspective. Those who love nearfield detail and dynamics might question the rankings of the following awards, while those who value farfield depth and dimensionality may agree with them. Sometimes the line of demarcation is unclear. I will entertain argument.

The Most Up-Front Sound at the Show winner featured solid-state amplification ($42,000 in total) and M1 speakers ($120,000 a pair) from Daniel Hertz S.A. of Switzerland, a company founded by the legendary Mark Levinson. A Chinese drum ensemble played at 120dB peak levels launched a wave of woofer wind that rearranged my thinning hair. A Tower of Power track lifted me out of my seat -- almost literally, as I fought the urge to escape, lest the three-digit decibels damage my eardrums. Nevertheless, all the power and resolution on display were diverting while they lasted. For wives who question hubby's activities in the listening room, a Daniel Hertz system played at "live" studio levels will convince them to butt out.

The Golden Age of Excess Award goes to Sweden's Marten, whose Coltrane Supreme 2 line-array towers at $450,000 per pair (!) revealed every nuance of a saxophonist blowing his horn in front of a microphone. The tone of the Marten speakers, driven by $120,000 worth of Pass Labs amplification, was as faithful to vocals and billowing bleats as I've heard them in jazz clubs. If the Supreme 2s cost even $200,000, I might recommend them to a rich pal (if I had one). At nearly a half-million simoleons
The prize for Most Intriguing Demonstration goes to the Magnepan, in whose room the renowned marketing manager Wendell Diller showed. . . nothing! Instead, a speaker system was hidden behind a ghostly curtain of white scrim cloth. The main purpose of this legerdemain was humanitarian, as Magnepan's show handout explained:
Magnepan takes inspiration from the Make-A-Wish Foundation

Maggie's have always been a favorite of middle class audiophiles. But, the middle class is struggling. We have friends or family that have lost jobs or homes (or health). You have the opportunity to make at least one unfortunate audiophile's life a little more enjoyable.

The press member that comes closest to guessing the retail price of the new speakers Magnepan will demonstrate at CES will have the privilege to select the person that will receive that dollar amount in Magneplanars of their choosing. All attendees…are invited to submit possible recipients of Magnepan's donation.
The sound of the veiled transducers stretched from wall to wall, was microscopically detailed and had a manly timbre on choir music -- a hugely likeable presentation, even if a bit loud at times. In light of the inflation in speaker prices, overestimating the speakers' value at ten times the actual cost was easy to do, and I did. After the show I learned that the wizard behind the curtain was the Super MMG with two Bass Panels and the Tri-Center configuration using the MMG W and MMG C, all retailing for at a total price of $2375. Astounding!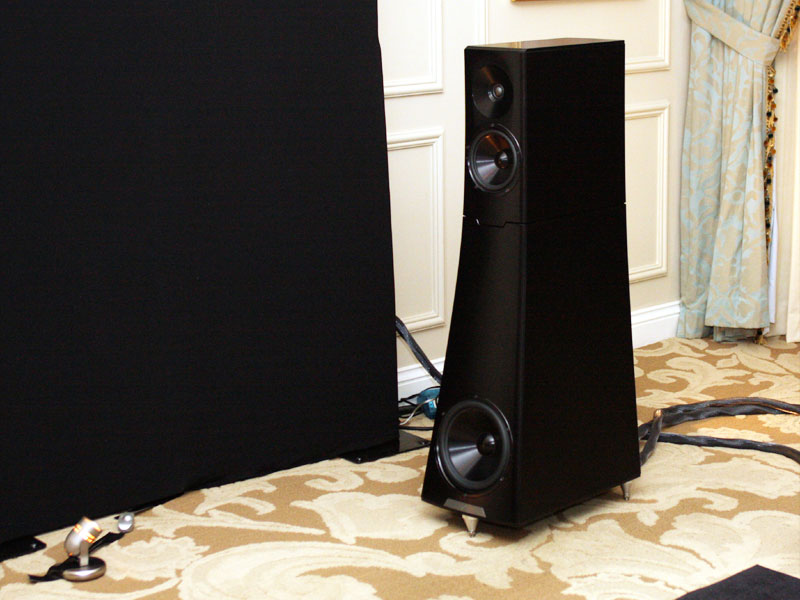 The Less is More Award goes to YG Acoustics for their "wetter is better" Hailey speakers ($42,800 per pair). Unlike a few years ago, my time in the YG Acoustics room was not foreshortened by a strong flee-factor. Perhaps $200,000 worth of D'Agostino Momentum electronics and dCS digital gear played a beneficial role. Since both the Wilson and the YG Acoustics rooms featured similar partnering components, a comparison between the princely Hailey and the regal Alexia is inevitable. If I were a "monitor" man, I might even consider one of these two exhibits the best sound at the show, but such speculation begs the issue.
Is the winner of the Best Ambience Retrieval System at the CES a hit or a miss? The BSG room featured their qØl Signal Completion Stage ($2395) which is said to "extract information already present in the recording, but otherwise hidden in conventional reproduction." My ears detected added loudness when the device was inline, eliciting a noncritical "wow." There also seemed to be an increase in dimensionality. But I recall a last-decade invention that claimed to recover harmony but was eventually discredited as a mere step-up device. In a review by the preeminent magazine editor John Atkinson, the author asserts he derived "better sound" from using the BSG product. Until Mr. Atkinson's experience is challenged by an ear more golden than mine, I will consider the qØl Signal Completion Stage a hit.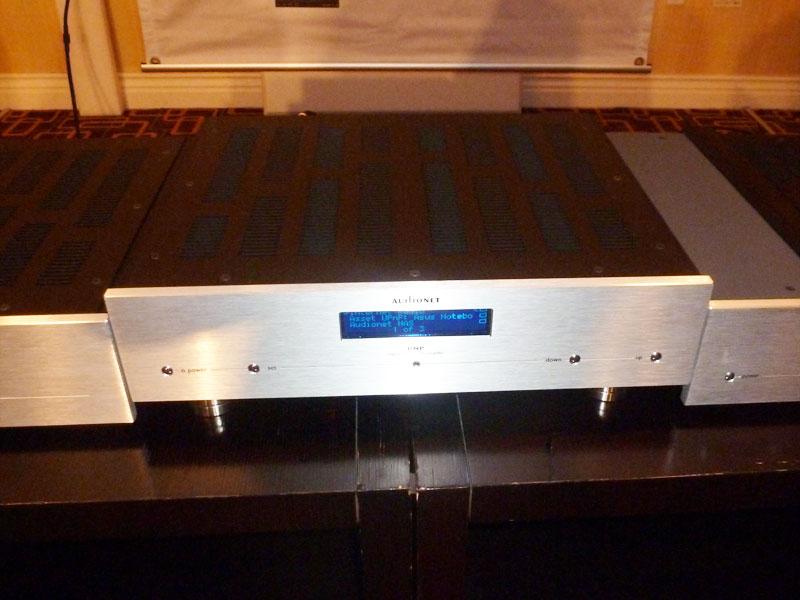 The centerpiece of the Best European System was a German-made Swiss Army knife of preamp/processors. The jam-packed Audionet DNP (Digital Network Preamp, $18,000) includes a balanced analog line stage, high-bit DAC with asynchronous upsampling clock, bass management with active frequency crossover, electronic room compensation, an equalizer, a delay manager, and an FM tuner for good measure. To cite a preamp for excellence under show conditions is difficult, but I imagine that the DNP contributed immensely to Audionet's edgeless and expressive music display. Kudos to the principals of Audionet who dared to select unfamiliar but emotive tunes, making their room a welcome oasis from the unchallenging, commonplace material used in many rooms. How often can a man listen to "Isn't She Lovely" without committing some terrible crime?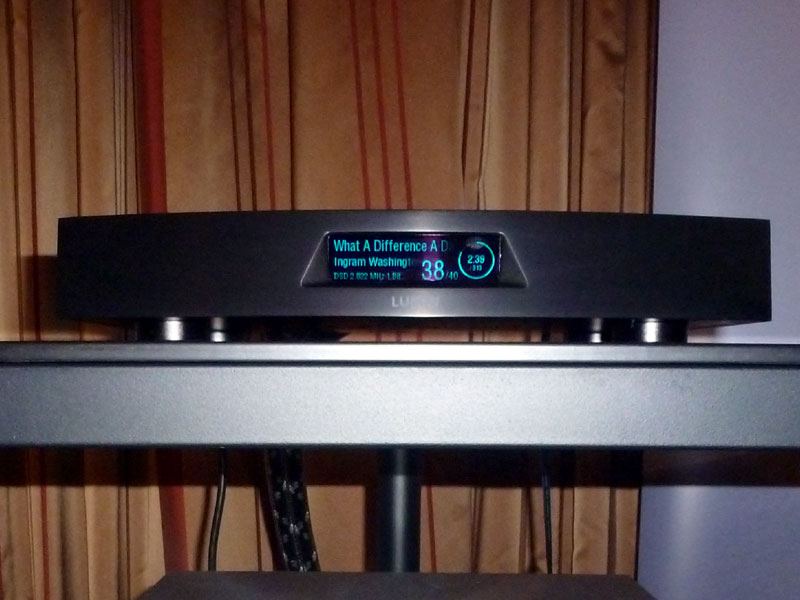 While on the subject of digits, the Lumin A1 network music player ($7200 in silver, $7800 in black) caught my ear. Partnered with Revel speakers and assorted electronics, the Lumin S1 played a selection from "The Wilhelm Scream" by James Blake. The results were rhythmically compelling. According to the literature, the S1 supports 32-bit/384kHz PCM and 5.6mHz DSD128. But be forewarned: installing a Lumin S1 requires a "working knowledge of Network Attached Storage (NAS)." I do not have working knowledge of NAS; I've never even heard of it. Nevertheless, for its sturdiness (machined from a solid block of aluminum) and "enhanced external dual-toroidal power supply," (see below) the Lumin S1 takes honors for Brick House Build Quality.
The Best Phrase in Promotional Literature Award goes to MSB Technology, home of the iconic digital designer, founder Larry Gullman. Mr. Gullman, who specializes in power supplies with astonishingly low noise floors (-138dB, for starters!) has a word of advice to anyone who designs, or buys, hi-fi gear: "Power always makes a difference!"
The Not Your Grandpa's CD Player award singles out a product for those who still insert silver discs by hand. A discouragingly low percentage of CD players sport tube output sections. Those that do take the edge off digital, but often fail to shake the booty, dynamically speaking. Aesthetix promises to change that with their beefy Romulus Signature tube CD player ($6500), which offers a lot more than merely a glass output. The DAC section, for example, is fully specified for DSD files. Unlike many DACs that claim to play DSD but actually convert to PCM, the Romulus uses an "advanced Xilinx gate-array that enables pure DSD operation from input to output." Though the Romulus faceplate won't win any beauty awards, the internal architecture is a joy to behold.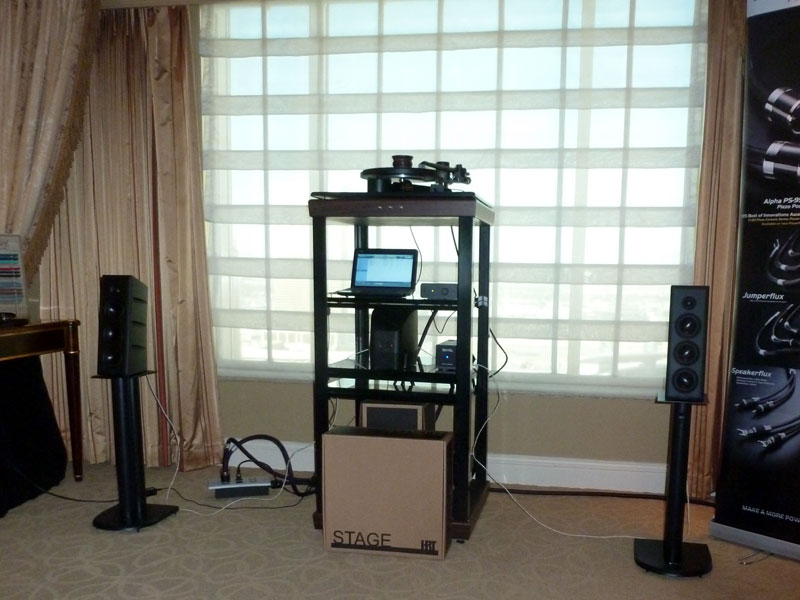 The award for the Best Space-Saving Hi-Fi System goes to High Resolution Technologies for its STAGE system ($1250). The STAGE partners a pair of diminutive powered speakers with an amplifier/DAC housed in a squat black box (or a squat white box, if one prefers). The system takes up almost no space and performs with élan. For the real-estate-impaired or seekers of a set-it-and-forget-it system, the STAGE is a hotshot performer, better than many component-rich systems at the show. Flanking a smart TV, the STAGE could be the ultimate YouTube playback system.
If like a surprising number of audiophiles you run stereo components off a power strip attached to a duplex wall outlet, Shunyata Research has a pair of products you must install immediately. The Venom PS8 power distributor ($695) offers "high capacity performance" due to maximum power transfer from breaker to component. Plug a Venom Defender pocket power conditioner ($195) into the wall socket nearest the PS8 and gain the crucial benefits of surge protection and noise filtration. For Approaching the Pinnacle of Price and Performance with essential power products, Shunyata Research deserves a round of applause as well as an award.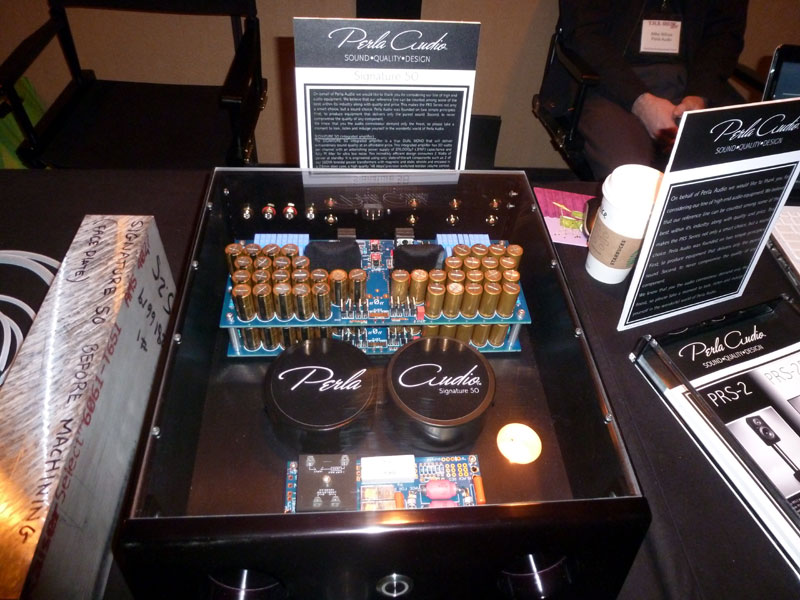 Perla Audio wins the Most Promising Newcomer Award for its Signature 50 integrated amplifier ($9000), which consumes at idle less than 6 watts! This is an amp one can turn on in the morning and sit down to at night without suffering guilt or major expense. The sound of the Signature 50 driving Perla's own 90dB-sensitive PRS-2 speakers ($8800 per pair, with "mandatory" stands adding $2250) was crystal clear with moderate layering -- an enticing performance despite the beryllium tweeter. Someone should review this gear, if they haven't already.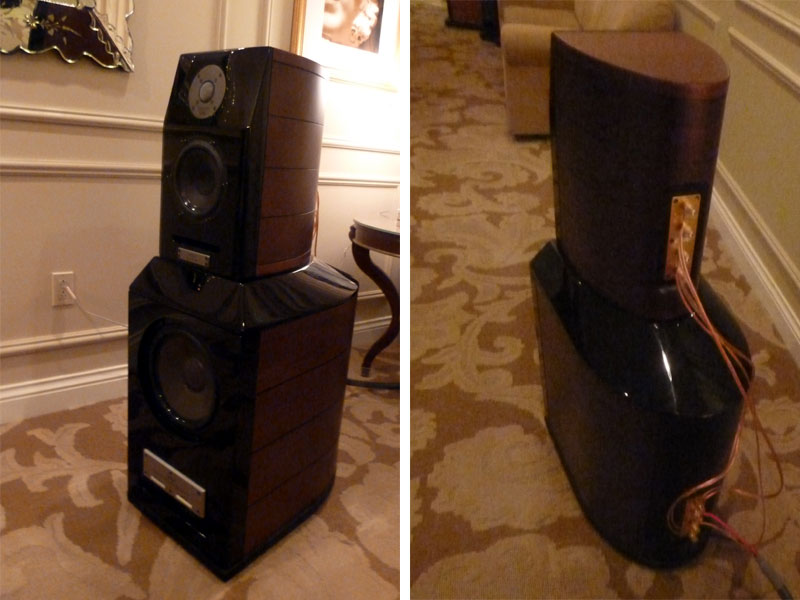 The Best Scalable Speaker Award goes to Taiwan's Usher Audio Technology whose X-Tower ($14,700 per pair) outshone similar offerings from several other manufacturers. The X-Tower results from docking the bookshelf-sized Mini X Diamond (a pair of diamond tweeters costs $720!) to a hefty, separately wired bass module. I learned of the X-Tower from none other than the venerable loudspeaker designer, Joseph D'Appolito, who was manning the Usher Grand Tower room, and thereby hangs a tale.
After reading his name tag, I introduced myself with an overly familiar "Hey, Joe, how you doin'?" as if we were long-lost pals. Luckily, Dr. D'Appolito is one of the most down-to-earth persons one will meet in high-end audio. Somewhat tactlessly, I asked the good doctor why he never patented the widely used MTM (midrange-tweeter-midrange) array famous as the "D'Appolito configuration," a staple of many flagship designs. Joe repeated a story I once heard almost word for word from his old friend, patent attorney Jim Bock, who advised him against it for practical reasons. Although Dr. Joe never got rich off his design, his engineering skill and burgeoning reputation brought him choice work assignments over the years. A flourishing physical appearance attests to his solid success. As I marveled at the Grand Tower's ($37,900 per pair) performance, the doc gave me one of those nudge, nudge, wink, wink signs that I should check out a humbler speaker next door. And he was right. The 44" tall X-Tower can fill a large room with glorious music, but, unlike the Grand Tower, it would be equally at home in a bedroom-sized listening room.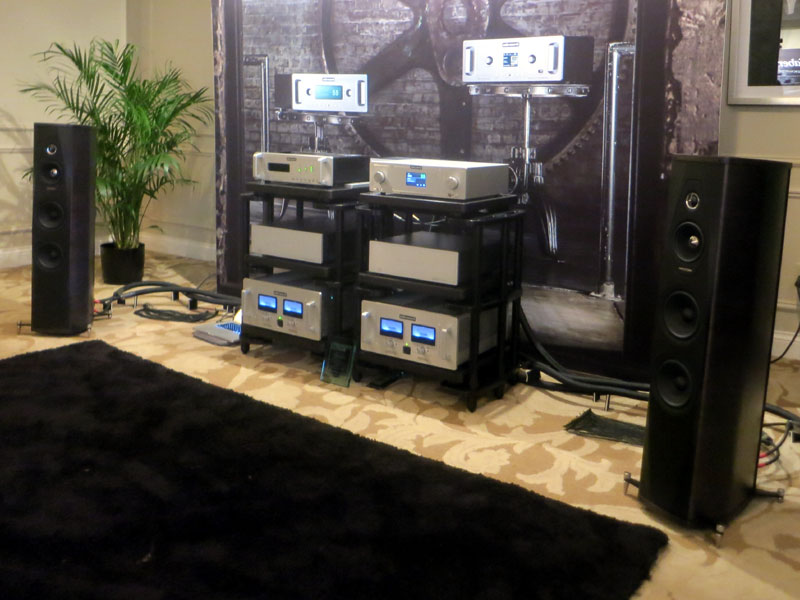 The fine gentlemen from Audio Research unveiled the Best System Under $50,000. The lineup consisted of the CD6 CD Player/DAC ($9000), SP20 preamplifier with juicy Reference 10-like display ($9000) and handsomely appointed Olympica III loudspeakers ($13,500 per pair) from sister company Sonus faber. The speakers were biamped with a stereo Reference 75 ($9000) on each channel. By the last day of the event, the Audio Research room was singing almost as well as last year but with a system one-fifth as costly.
The Second Best Sound at the CES, as well as the Best System at a Real World Price, was provided by the noble Robert Lee of Acoustic Zen. His voluptuous Crescendo Mark II speakers ($18,000 per pair) simply disappeared, leaving an invisible vocalist in the room to caress the ears with velvet pleasure. Powering the Crescendo Mark II were single-ended triode monoblocks from Triode Corporation of Japan. Their Reference Series TRX-M845 ($22,500 pair) must be one of the sweetest-sounding amplifiers on the planet. With Acoustic Zen cabling throughout, the system imparted a feeling of total cohesion, a gestalt that few other exhibits came close to attaining. For those seeking to regain their first love of hi-fi at a sane price, I recommend the Robert Lee formula for happiness.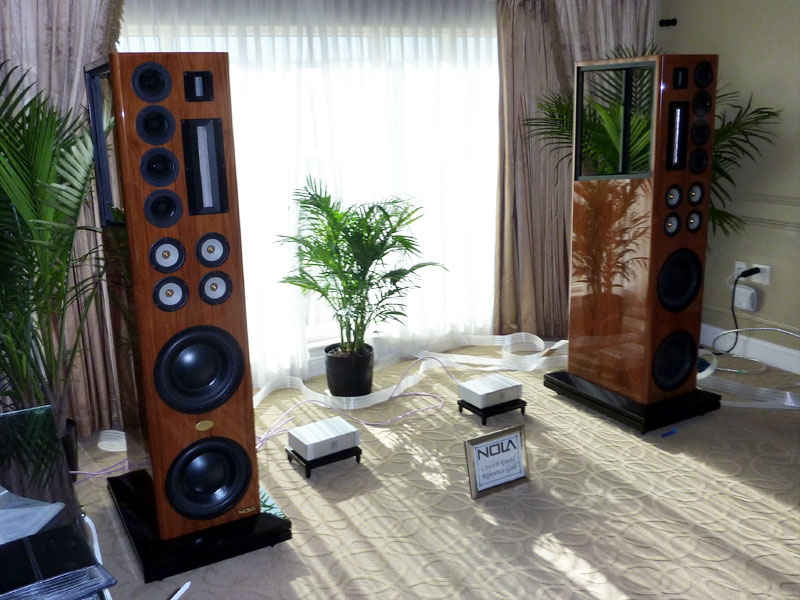 For the second year in a row, the award for Best Sound at the Show goes to Accent Music Technology Ltd., makers of the Nola Concert Grand Reference Gold ($198,000 per pair). On the third day of the gathering, legendary loudspeaker designer Carl Marchisotto, assisted by Audio Research electronics and a United Home Audio Phase 11 ($28,000) master tape player, put on the sonic equivalent of a Fourth of July light show. Voices and chords appeared all over the place: Michael Jackson called from offstage way over there; Santana toted his wailing guitar from deep right-center to main microphone; a member of an African chorus hovered spookily over Paul Simon's shoulder; previously unheard saxophone toots emerged from deep in the mix of "Black Magic Woman"; Stevie Ray Vaughn's guitar chords exploded and then wafted overhead. The whole time, my eyes were as wide as Little Joe's watching Shane unload a six-shooter.
A million thanks to Uncle Carl for disdaining audiophile-approved lute and bodhran recordings. The Nola system played everyday music, with volume cranked up to 11. Amazingly, Carl and I were able to converse without shouting because the distortion was so low. We discussed how the imaging aspects of high fidelity have fallen behind close-up clarity as a goal of loudspeaker design. Minimonitors are winning market share, but is the thrill of hi-fi lost in the process? I recall hearing a pair of Quad ESL63s for the first time forty years ago. A jazz ensemble was standing behind, in front of and alongside the speakers. I was smitten for life and vowed then and there to "see" concerts at home. Over the years, however, I seem to have lost the way. As advanced digital processing churns out more and more information, the imagination is left to idle. Musical events are less viscerally entertaining than before. Imaging has shrunk to a highly revealing but flattened panorama.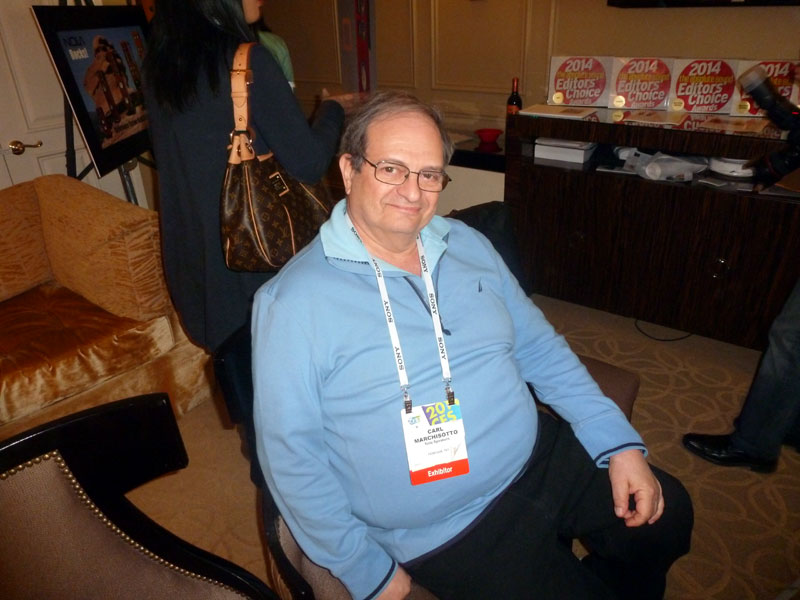 Brave-hearted Mr. Marchisotto is out to change the tide. Not only his Concert Grand Reference Gold but all of the speakers in the Nola line project a high degree of holography. While some dimensionality is common to all good loudspeakers, the CGRG goes a lot further by constructing a sonic diorama. If the Holy Grail of hi-fi is the perception of a three-dimensional performance, Nola speakers assuage the mind's eye better than any others at this time.