CES & THE Show 2013 • Hot Product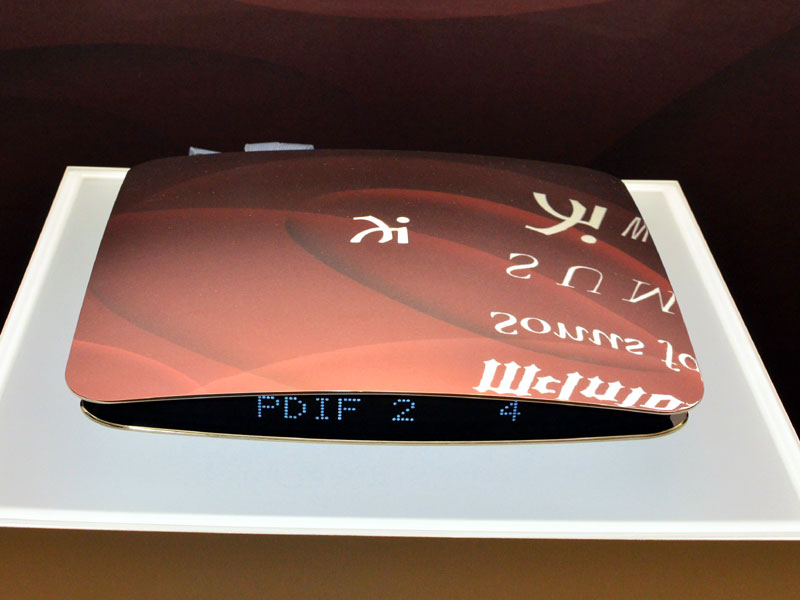 One of the biggest surprises at CES this year was the redesign of Wadia's product line -- functionally and cosmetically. For now, the only new product to sport the sleek new look (minus the reflected lettering) is the Intuition 01, a 350Wpc class-D integrated amplifier with a built-in DAC that features 24-bit/192kHz resolution for coaxial, optical and AES/EBU digital input and 32-bit/384kHz resolution for USB. Wadia has managed to squeeze in a lot of connections into a very small space: seven digital and two analog inputs, two sets of outputs, and an IEC receptacle. The supplied power cord has a 90-degree angle to keep it out of view.
The Intuition 01 uses the algorithms from Wadia's CD players, with decoding from an ESS 9018 Sabre DAC. This lightweight package barely tips the scales at 12 pounds and measures as a 15" square and 2 3/8" at the thickest central point.
Wadia plans to offer the new styling for future products, so it will be interesting to see how this manifests itself in products requiring more real estate than the Intuition 01. The base price for the unit is $8500, with custom colors offered for an additional charge (standard finishes are silver or black anodized, brushed chrome and nickel).