CES & THE Show 2013 • Best of Show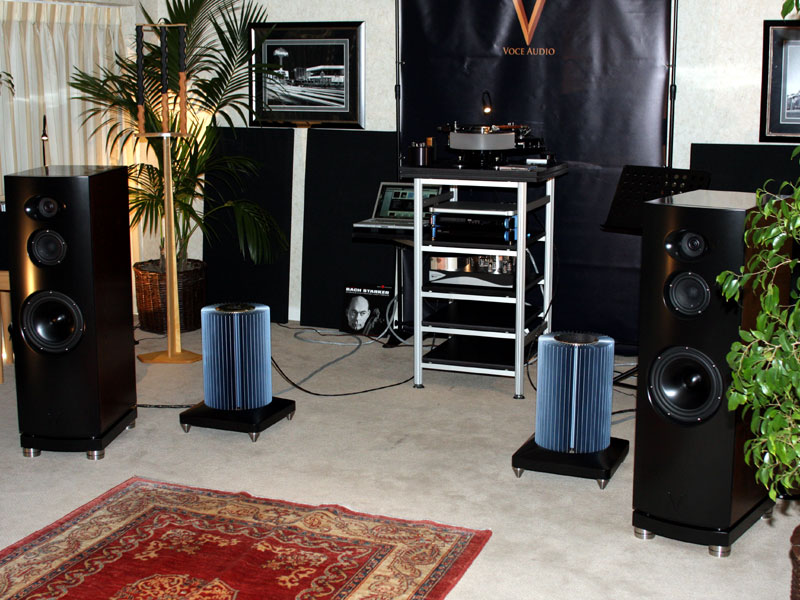 In the room featuring Voce Audio's new VA-3S loudspeaker, "new" really meant new, as in a company so brand spanking new as to have no dealers and no sales -- yet. But never mind that: this Voce Audio room offered some of the very best sound we heard all week.
The VA-3S is a full-range, three-way, ported floorstander with a relatively benign sensitivity of 89dB and a relatively amp-friendly nominal impedance of 6 ohms. Drivers come from the Scan-Speak Revelator series and they attach to a hefty, custom-machined phenolic front baffle that's 2" thick, providing a knuckle-knocking black hole for resonance. The speaker's rear baffle and base use the same thick material. Layers of Baltic birch built up to a 1-3/8" thickness completed the rest of the multi-wall cabinet.
Voce guru Vincent Solbes, a former singer in the San Francisco opera who not coincidentally chose the Italian word for "voice" as the name of his company, showed us some serious footage of the tonnage-rated presses and heavy-duty CNC equipment required to create the materials and machine the cabinet. At 44 1/2"H x 14"W x 20 1/2"D, the VA-3S is not a huge speaker, but it looked more massive than its 235-pound weight suggested, while the total absence of cabinet bling gave it a serious, "I'm here for the music" cast. Given all of this, we expected the VA-3S's price -- $29,575 per pair -- to be higher. When Voce adds eight Stillpoints Ultra 5s between base and floor, the tab jumps to $35,635 per pair.
Each VA-3S was driven by 200-watt MSB power amps wrapped in 360 degrees worth of heatsink fins. These amps, at a cool $27,500 per pair, looked a bit like cylindrical air conditioners. Digital sources likewise came from MSB: the Analog DAC ($7990) and Data CD IV disc player ($7490). Analog chores were handled by a Scheu Analog Premier Mk III turntable ($4425) with 9" Tacco ($3995) and 12" Classic tonearms, and a pair of Soundsmith Hyperion OCL cartridges ($7500). The Zesto Audio Andros PS1 phono stage ($4300) provided gain. Wywires cables and power products were also used.
The voice of the Voce VA-3Ses was big, balanced, and open. Hearing as many speakers at the show as we did, it became quickly evident which had the self-confidence and muscularity not only to present themselves in grand scale, but to pull it off in grand style. The VA-3S was clearly in this exclusive group. It spoke with an easy, natural assurance that showed no fear as it handled whatever music (at whatever dynamic) came its way. The attack of the bass on Keith Richards' "Words of Wonder" was ambient, taut and timbral. The Voce speakers never blinked as they tossed off this tune with aplomb while scolding the room about its resonance point, which was physically located somewhere in the wall-ceiling junction. The well-focused and dimensional imagery of Lucia Popp and Dame Kiri Tekanawa singing Mozart's "Letter Duet" had a theatrical scale befitting the inner strength and control of these all-star sopranos on a big stage.
All in all, music from the Voce Audio VA-3S evinced a rare combination of harmonic nuance and solidity meted out across a spectral balance that was very, very right. It's encouraging to discover new companies that hit all the right notes during the opening measures. We look forward to hearing more from "the voice."