CES & THE Show 2013 • TABlog
by Dennis Davis | January 18, 2013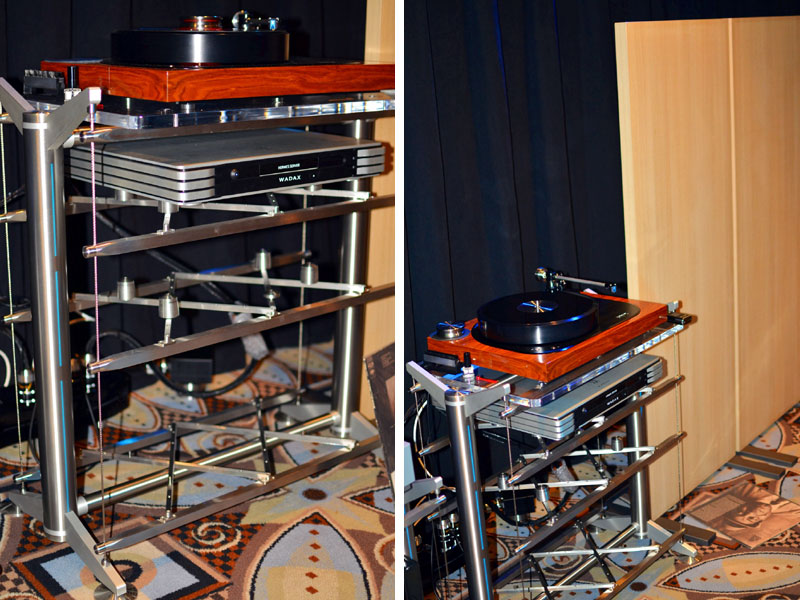 Paul Wakeen and his company, Stillpoints, are not letting any grass grow under their feet.
At last year's Munich show, Paul was so taken with the new room-treatment panels from Steven Elford's Leading Edge brand, reinforced by their stellar performance at the Rocky Mountain Audio Fest (RMAF), that he took on the role of US distributor for the product. These acoustic panels (far right) are said to function in the velocity domain, and they are highly portable -- easy to move about. Their effectiveness was demonstrated during the seminars Roy Gregory presented at the RMAF. The panels will be available in three different colors and should be under $2000 each. They can be supplied with feet or, for wall or ceiling mounting, without them. Stillpoints has also become the American distributor for EntreQ products, mentioned in these e-pages by Roy Gregory. EntreQ's boxes and cables provide signal-ground solutions that improve system noise-floor performance and transparency. US prices are yet to be determined.
Not to be consumed by other products, Paul has also been busy developing improvements that can be retrofitted to the Stillpoints ESS rack, one of the most-exceptional racks ever devised. The rack originally supported devices on acrylic shelves. Later the shelves were dispensed with in favor of the components resting directly on Stillpoints devices attached to the front and rear rails of the ESS rack. Now, Paul has incorporated cross-hatched grids forming two X shapes attaching to the rails, each point of which is supported by Stillpoints technology. The grids in turn support other Stillpoints devices such as the Ultras, which make contact with the supported component. The grids cost between $370 and $390, depending on the size of the rack they are fitted to. Add to that the cost of Stillpoints Hard Hats or Ultras in a mix-and-match scheme too detailed to go into here. This is something I'm looking forward to hearing all put together in a known environment.