Las Vegas 2013: A Moveable Feast
by Paul Bolin | February 8, 2013
here was an uncharacteristic chill in the air of Las Vegas this year as I arrived for the annual Consumer Electronics Show. CES provides me with an enjoyable excuse to abandon often-frigid Minneapolis in early January, and while the temperatures were decidedly more pleasant than those back home, it felt a little more Minnesotan than I am accustomed to. For all of that, there was more warmth at CES itself this year than I can recall in recent years. While there may not have been as many exhibitors as at some past shows, the slightly smaller size made it a bit easier to at least try to hear as much as is feasible in the short space of four days.

This was the first CES at which The Audio Beat had a team of writers, so Marc Mickelson and I were spread a bit less thinly. The addition of Tim Aucremann and the irrepressible Jim Saxon made for a great group of lively, opinionated writers, and it was a genuine pleasure to make their acquaintance.

In my very limited time down the Strip at The Flamingo, site of THE Show, several rooms caught my ear, the first of which was the Atma-Sphere/Classic Audio Reproductions room. I know I always write about these guys, but they always bring something well worth hearing, and this year Ralph Karsten was demonstrating the recently reissued Novacron Mk.3.2 amps ($12,000/pair, 60 watts each), which had been on static display at the Rocky Mountain Audio Fest. I coveted this amplifier back in the 1990s when Ralph built somewhere between 20 and 30 pairs. It's drop-dead gorgeous in a very retro way and features a quartet of 6C33C output tubes as well as Atma-Sphere's signature output-transformerless topology. Their sound is typically Atma-Sphere -- fast and silky, with gorgeously saturated tonal colors. Atma-Sphere is not going to be making the Novacron for all that long, so see your dealer now.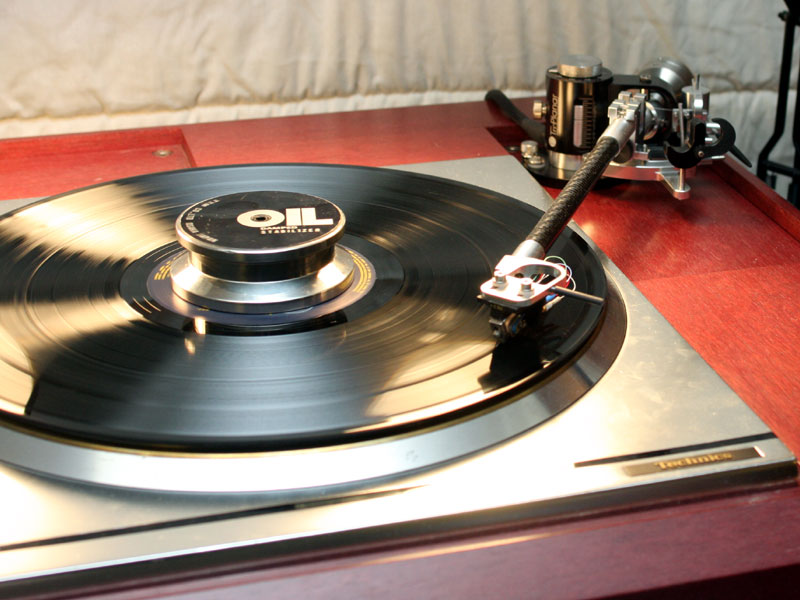 John Wolff works tirelessly to refine his Classic Audio Reproductions loudspeakers, and wood Tractrix horns for the midrange drivers are the latest development for the T3.4 ($44,950/pair). Ralph's MP-1 Mk 3.2 ($15,000) provided full-function preamplification (it includes an excellent phono stage). Digital was provided by a laptop feeding a Stahl-Tek Ariaa DAC ($12,900), and LPs spun a turntable found by the redoubtable Tri Mai somewhere in the densest jungles of eBay, an original Technics SP-10 Mk III, fitted into a truly gargantuan plinth courtesy of Custom Plinths by PorterHouse. Tri's latest creation, the Tri-Planar Ultimate 12 'arm ($9800), held pride of place on the Technics and held a van den Hul Grasshopper cartridge. According to Tri, these old Technics beasts were singularly stable record-spinning platforms, primarily because they weighed as much as a decent-sized boat anchor, and allegedly had enough torque to nearly crank over a small motorcycle engine. While I can't verify that, I will note that this system produced solid, stable images in a deep, cleanly drawn soundstage and had crushing dynamics on "A Sailor's Tale" from a demo pressing of King Crimson's Islands from the Karsten collection.
Steven Norber was for years the friendly public face of Edge Electronics, but changes in ownership led him to strike out on his own with Prana Fidelity. The focus of his room at the Flamingo was the Prana Fidelity Fifty90 loudspeaker ($3500/pair). Steven has designed speakers in his spare time for years, so this is definitely not his first rodeo in terms of speakers. Steven drove the Fifty90 with a Kuzma 4Point tonearm and Denon DL-103R cartridge on Kuzma's Stabi Reference turntable, and the Wyred4Sound DAC-2 decoding the digits from his own kludged-to-the-moon Pioneer Elite CD player, which was used as a transport. Amplification was Prana's Purna full-function preamplifier (pricing to be determined) and 400Wpc stereo amplifier ($8950), and cabling was from Audio Conductor. The Fifty90 is no midget stand-mounter, being what veteran audiophiles would call a "bookshelf" system, but neither is it a behemoth, except when it speaks. The Fifty90 showed genuine prowess in the lower bass reaches and a lithe, inviting sound which was unperturbed even when Steven was playing music at rock-concert levels. This is a speaker well worth going a good distance out of your way to hear and a monumental bargain to these ears.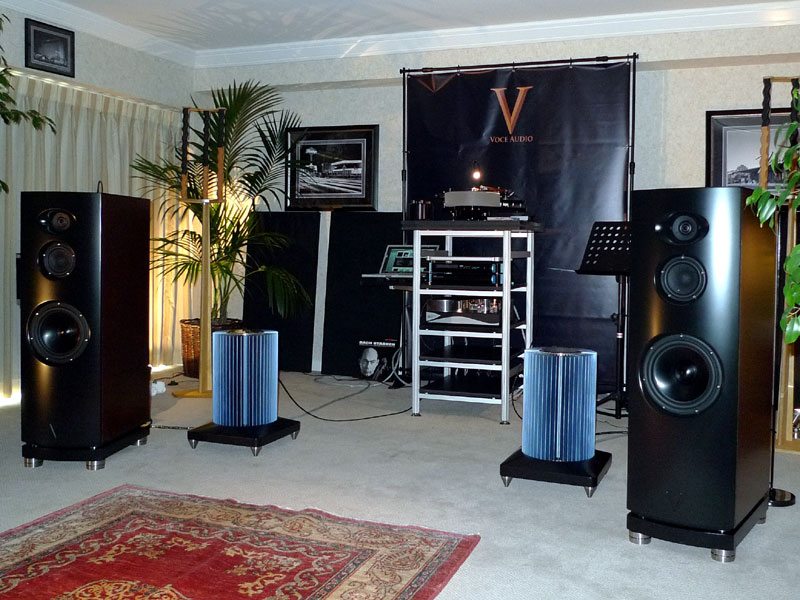 Marc Mickelson and Tim Aucremann buttonholed me at the Flamingo and informed me that I had to hear the Voce Audio room, which was definitely fortuitous. The Voce VA-3S speakers -- approximately $35,000 per pair with Stillpoints vibration isolation in their bases -- were well worth the trip. This unflashy, businesslike speaker is a built like a tank and sounded big and bold in front of a Scheu Analog Premier Mk III turntable outfitted with 9" and 12" Scheu 'arms fitted with Soundsmith Hyperion OCL cartridges ($7500). The excellent Zesto Audio Andros PS1 phono stage ($4300) handled the turntable and MSB's Data CD IV digital player ($7490) and Analog DAC ($7990) -- which can also be used as a preamp control unit -- handled CDs, and MSB's M203 power amplifiers ($27,500/pair, 200 watts) supplied the muscle power. WyWires cabling and power products completed the system.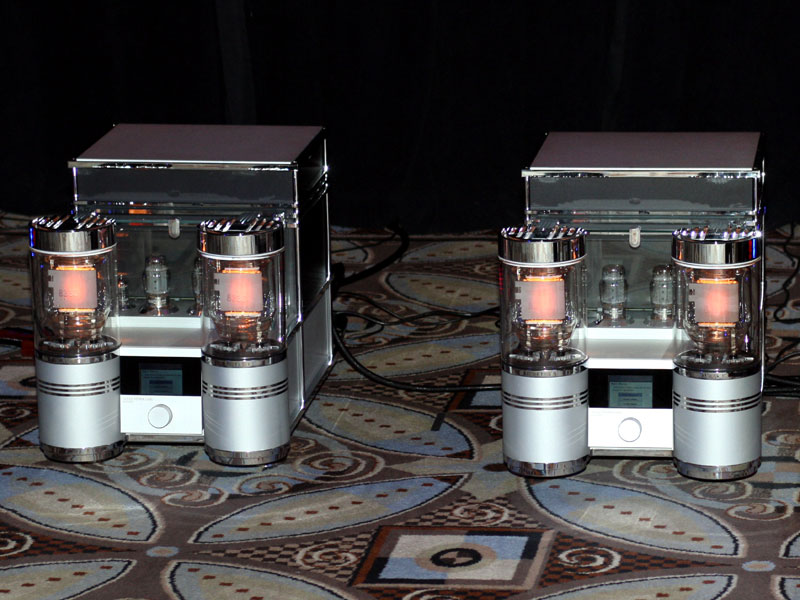 HiFi One, located in Carlsbad, California, is the American distributor of the Spanish WADAX electronics and Fono Acustica cabling, speakers from Germany's Kaiser Acoustics and the unique power amplifiers from Ohio's Audio Power Labs. At the Flamingo, HiFi One's Rick Brown genially presided over a striking assemblage of gear: WADAX's Hermes digital music streamer/server ($4500-$11,055 depending on configuration), Pre Mk II digital preamp with DIVIN phono stage ($34,000), Audio Power Labs 833 TNT 200-watt class-A triode power amps (above, $175,000/pair) and Kaiser Kawero speakers ($56,000-$68,000 per pair depending on finish). Fono Acustica's precious-metal cabling made the connections and Stillpoints isolation devices were used throughout.
The APL 833 deserves some description. I have seen big, beautiful tube amplifiers before, many of them in fact. The '833 is something other than else. Yes, it is huge and staggeringly expensive, but I have no frame of reference for this amplifier. The 833C tubes were originally developed in the 1940s for use in audio applications but found their way into AM-radio transmitters. The tubes themselves are enormous, and the plates within are the size of credit cards, emitting a ferocious glow. The chassis is a gorgeous piece of Art Deco industrial design, and each pair of these beautiful monsters is built to order.
Rick played me John Carter's "Clarinet Summit" from an original India Navigation LP which was digitized, completely invisibly in sonic terms, by the WADAX Pre I and immediately had my attention. Playing a couple of my own tracks did nothing to diminish the impression. On power orchestral music the overdamped nature of the large room came into play. The Kaiser Kaweros are unquestionably first-class speakers, but this was a bit too much of a dead room for them to comfortably energize with big music. I've heard the Kaweros in a friend's purpose-built listening room, which is itself a very large space, and they are perfectly capable of handling such music in more acoustically friendly surroundings. All in all, this was a fascinating system that bristled with the best of old and new technologies.
Though I was most taken with the Legacy Audio Aeris at the Rocky Mountain show, it was a triumph of the speaker's intrinsic merit over its surroundings, where they were set up as a part of one of multiple systems in a ballroom with portable walls. At the Flamingo, the Aeris ($17,750/pair) had a good-sized room all to itself, and I was even more impressed. The speakers feature 1000 watts of internal ICEpower amplification for the integral subwoofers and midwoofer, while the midrange driver and air-motion tweeter and supertweeter are mounted to an open baffle. Twenty-four-bit signal processing for room correction is also a part of the package. The Aeris was shown with Ayon's CD2S digital player ($6350), which sports a class-A tube output stage and 24-bit/192kHz upsampling, and the CODA 07 FET preamplifier ($6500) and 15.0 stereo amplifier ($10,000, 150/300Wpc into 8/4 ohms). Cabling was from Morrow Audio: MA3 ($199/meter pair) and MA6 ($899/meter) interconnects, SP7 speaker cables ($1499/two-meter pair) and MAP3 power cords ($369/meter).
The sonics here were decidedly better than in Denver, with a top end that had detail, sweetness and tremendous extension. Bass had great power when called for; instrumental decays and reverb trails were lengthy and natural. The Aeris is a wonderful-sounding system combining power and finesse in equal measure and a decided bargain. In other words, it is a typical Bill Dudleston speaker.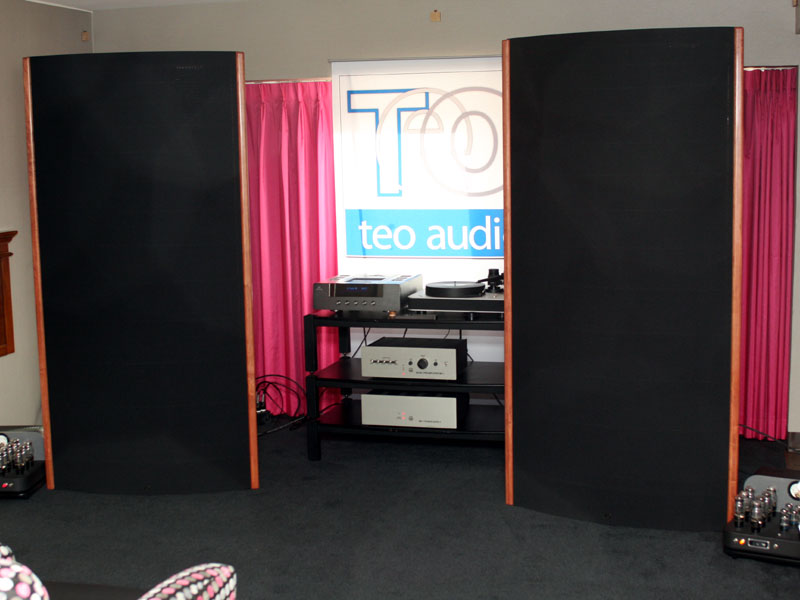 The last room I visited at THE Show was that of a name I haven't heard in many a moon, Sound Lab, the venerable manufacturer of full-range electrostatic loudspeakers. It's hard to communicate the sheer size of the Millennium-1 PX speakers ($25,170/pair). They are huge at a couple of inches short of seven feet tall and nearly 40 inches wide. Teamed with Atma-Sphere's MP-1 Mk. 3.2 preamplifier and MA-1 Mk. 3.2 amps and an AMR CP77 CD player, they had all the transparency and speed one would expect, though having those two huge panels facing me down in a small room was a little unnerving.
Meanwhile, back at the Venetian Electrocompaniet once again had a wonderful-sounding room, featuring the new $3995 EMP 3 universal disc player, which appears from the spec sheet to be capable of playing any digital disk that has ever been invented, with the ECD 2 Reference DAC ($3099), which upsamples to 24 buts/192kHz and features an asynchronous USB input, EC 4.8 Reference line stage ($5129), mighty AW-600 Nemo monoblocks ($19,600/pair, 600 watts each and doubling down all the way to 2400 watts at 2 ohms) and the final version -- at last! --of the Nordic Tone 1 loudspeaker ($31,500/pair), which first knocked my socks off some three years ago. MIT supplied the cabling. The EMP 3 is based on the Oppo universal player, though Electrocompaniet basically tosses everything but the transport mechanism, substituting its own DAC components and analog output section.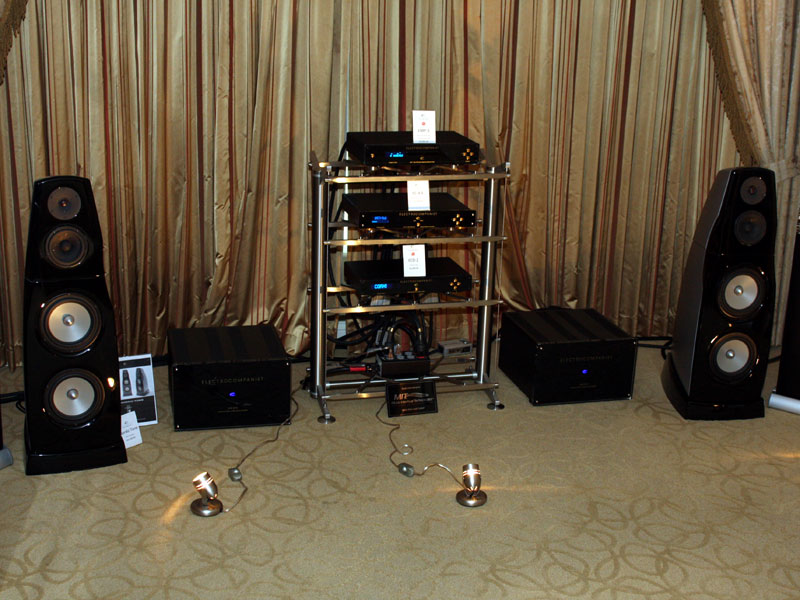 The Nordic Tone has a most interesting back story. Originally, Electrocompaniet bought out the inventor of the speaker's basic concept, intending to bring the speaker to market within a year or so. As Peder Beckman, chief of Electrocompaniet North America, explained to me, it turned out to be a much longer road to turn the concept into the sort of product Electrocompaniet believed was commercially viable and consistent. The long and short of it is that the Nordic Tone's cabinet is "made of a thin, light, stiff material, shaped with spherical surfaces. Spherical surfaces are very important as the shape increases the stiffness hundreds of times compared to flat and tenfold compared to extruded-aluminum profiles." The inner walls of the "thin, light, stiff" cabinet are then treated with proprietary damping materials, and the entire cabinet is "pre-stressed" to diminish further internal resonances. The result is a speaker with tremendous dynamic authority, an ability to start and stop on the proverbial dime and give you back nine cents change in the bargain and which provides molecular-level resolution without so much as a hint of untoward aggressiveness.
Every couple of years I seem to bring a track or two along to shows that everyone flips over, and this year it was the title track from Under a Violet Moon by Blackmore's Night (German CD [Edel 0044732]). This band is the project the former Deep Purple/Rainbow lead guitarist has been pursuing with his wife, singer and lyricist Candice Night, for the last decade-plus. Heavy metal it is not; the band's sound is acoustically based and heavily influenced by Renaissance and Eastern European music. Night has one of "those" voices that seizes you at the first note she sings, and Blackmore's guitar chops remain as masterful as ever.
When I played it in the Electrocompaniet room it was spacious and profoundly resolved, with a very spacious and neatly defined soundstage. The sibilants of Candice Night's voice were dispatched without a hint of edge or harshness. When I played Above and Beyond's potent and sweeping remix of Ayumi Hamasaki's "M" (Ayu Trance 2 [Cyber Trance AVCD-17200]), Geir Frode Skjaeveland (the company's sales director from the Norwegian mothership) literally hit the dance floor with a great deal of enthusiasm and later demanded labels and catalog numbers for both of my demo tracks. I have long admired the Electrocompaniet sound, which has always embodied the best of what solid state should be, with clarity, effortless power and a bracing transparency that never shortchanges the natural richness of the midrange or unnaturally accents the top end. The Nordic Tone is a stone-cold killer of a loudspeaker and one of the few I've heard that could possibly seduce me away from my long-term reference, Wilson Audio Sasha W/Ps.
Manley Labs almost always has something interesting and out of the mainstream to hear in Vegas, and the system here was no exception. A Music Hall MMF2.2LE turntable carrying a Scheu Ruby 3 cartridge ($2950) spun the vinyl, while Manley's Chinook phono preamp ($2250), new Jumbo Shrimp line stage ($3660) and Snapper 100-watt monoblocks ($7250/pair) drove a pair of Neat Acoustics Ultimatum XLS loudspeakers ($8100/pair, stands $1595). Cardas cabling connected everything together in this enjoyable and musical smallish system, which didn't sound terribly small at all. Also on hand was a prototype Manley Labs DAC called the Turbot, about which the usually ebullient EveAnna Manley was not terribly talkative other than to say that when it's done it's going to be a world-beater. Given her track record, I am more than inclined to give EveAnna the benefit of the doubt.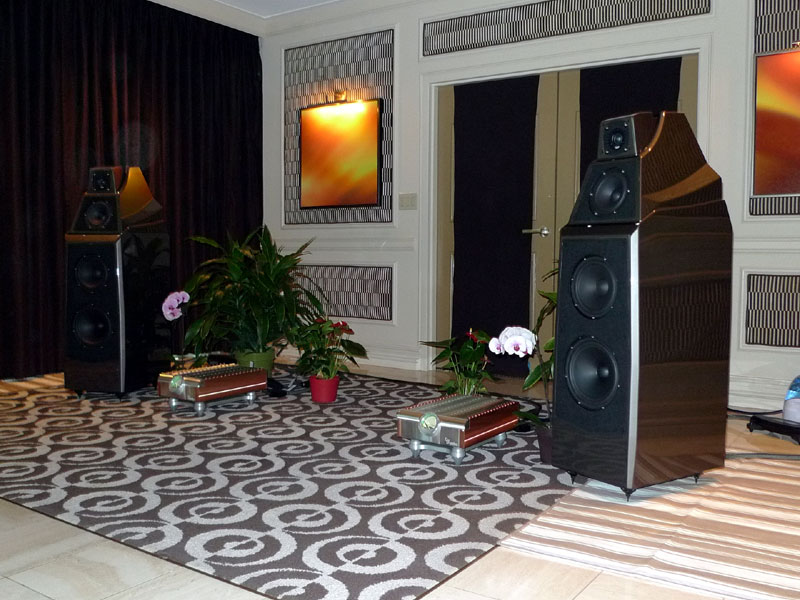 After Marc and I visited Wilson Audio to present David Wilson with the Product of the Year award for the Alexandria XLF, we were directed by the Wilson crew to another room at the top of the Mirage in which dCS was demonstrating their full Vivaldi stack of digital playback gear ($110,000, give or take a few thousand) in company with Dan D'Agostino's Momentum monoblocks ($55,000/pair), Wilson's sensational Alexia speakers ($48,500/pair) and Transparent Audio Opus cabling. The sound of master tapes -- er, files -- recorded by Wilson's Peter McGrath was, as usual, quite glorious.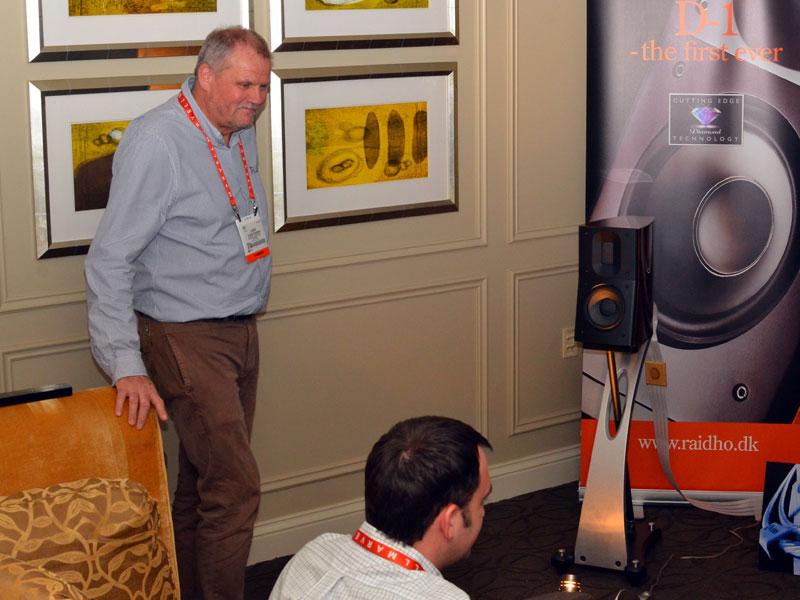 Denmark's Raidho has been showing boundary-breaking stand-mounted loudspeakers at every audio show I have been to for the last several years, frequently in Nordost rooms and on their own. Therefore it isn't especially surprising that Lars Kristensen, formerly of Nordost and an enthusiastic proponent of Raidho's speakers, has joined the Danish firm. The Raidho C1.1 has done things I have heard no other stand-mounted speaker do, and Michael Borreson has not been standing pat. The new D1, teamed with a Hegel CD player used as a transport, and Jeff Rowland Design Group's excellent Aeris DAC ($9800) and 330-watt 725 monoblocks ($29,800/pair), along with -- surprise -- Nordost's Odin and Frey cabling, took Borreson's winning design concept to heights previously undreamed of.
The whys and wherefores of the D1 revolve around a manufacturing process in which the carbonite midwoofers are literally put into a particle accelerator (the scientific term for what we laypeople used to call an atom smasher) and bombarded with pure carbon atoms. The result is that the carbon hits the ceramic so hard that the cone is transformed into a carbonite/diamond sandwich of exceeding stiffness and lightness. The D1's electrostatic-like speed and resolution left me a bit nonplussed on the Blackmore's Night track, as did its ability to nearly bowl me over with serious bass dynamics on Janine Jansen's rendition of Prokofiev's Violin Sonata #1. Piano dynamics like that simply should not be able to emanate from a box this size. The only thing that gives me the slightest pause is that the D1 costs $28,000/pair, albeit with stands, which puts it in squarely in competition with truly full-range designs like the Rockport Avior ($29,500/pair), Wilson Audio Sasha W/P ($27,900/pair), and Electrocompaniet Nordic Tone One ($31,500/pair). That said, the Raidho offers striking overall performance and is well worth considering if you have this kind of scratch to spend on a loudspeaker, particularly if you have a smallish listening room. It really is that good.
Canadian distributor Bluebird Music came bearing the new Chord Red Reference CD player ($25,000) in the company of Chord's CPA-5000 preamp ($20,000) and SPM 1400 350Wpc stereo amplifier ($14,000), Peak Consult Incognito XII speakers ($28,000/pair) and wired with van den Hul MC 3T Mountain interconnects ($2990/meter pair) and Nova Cumulus 3T speaker cables ($6995/pair). The sound had the understated brawn and smooth refinement that is Chord's traditional calling card.
TAD's exuberant Andrew Jones demonstrated a system very similar to the one debuted in Denver, spotlighting the Evolution One loudspeaker ($30,000/pair), C2000 DAC/preamp ($29,000) and M2500 250Wpc stereo power amplifier ($24,000) with an Aurender music server. TAD's trademark sound -- bold and dynamic -- was very much in evidence, though the finesse it showed was definitely top-shelf.
The ever-opinionated Tim de Paravicini himself was holding court, as only he can, in the EAR room along with US distributor Dan Meinwald, who also handles Marten loudspeakers and Jorma cabling, both Swedish products. Tim de Paravicini has forgotten more about recording, mastering, and tube-audio design then most people will ever manage to know, and he is a world-class raconteur. Dan consistently puts together a show system that is both reasonable in footprint and sonically engaging. This year Dan brought EAR's Discmaster turntable ($28,000 and a visual stunner) with a pair of Helius Omega tonearms ($3100 each) carrying mono and stereo Dynavector XV-1s cartridges ($5450 each). Digital source was a MacBook feeding the EAR DACute 24-bit/192kHz converter ($6595), and amplification chores were handled by EAR's 912 preamplifier ($13,000) -- which combines deliciously retro looks with utterly modern tube sound -- and 890 power amplifier ($8295, 70Wpc). The new Marten Django L speakers ($9000/pair) and Jorma's Prime interconnects ($9900/ first meter per pair, $4100 each additional stereo meter) and Origo speaker cables ($7000/first meter per pair, $2200 each additional stereo meter) rounded out the system.
This was a system that made me a very happy listener and convinced me of the true musical value of mono records when played with a first-rate mono cartridge. Everything made musical sense and had the roundness and finesse that lush older LPs should have. Calling this system musically pleasing is rather like saying Halle Berry has pleasant features. You can definitely find bigger and louder, but this was one of the show's understated pleasures.
Another system in a similar vein was the one I found in the DeVore Fidelity room. For some reason I had never managed to hear a DeVore loudspeaker before, and I am now chastising myself for my failure. At CES John DeVore introduced the Gibbon X ($11,000/pair in a very lovely bamboo finish) in the company of a Well Tempered Versalex turntable ($4400), van den Hul Frog Gold cartridge ($3650), and Phono Master SE phono stage ($4995) and Digimaster DAC ($4750) from Germany's Acoustic Plan, and a Naim Nait XS integrated amp ($2795, 60Wpc), which was backstopped by Naim's FlatCap XS power supply ($1445). After a few tracks had played, John asked me what I thought. I replied that "this is a happy-making system." Which really was the best way to describe it.
This was not a system that actively tried to show off, which is often the quickest road to disaster in a hotel room at an audio show. The Gibbon X hit paydirt with a balanced and natural presentation that consistently drew attention to the music and deflected it from the equipment. That's pretty much the short description of genuinely engaging sound. I could have happily sat and listened to this system all day long. By the way, Eugene Hi-Fi, of Eugene, Oregon, strangely enough, is the new North American distributor for vdH's cartridges, which have been missing in action on this side of the pond for a while.
After hearing what BMC's gear was capable of at importer Brian Ackerman's home back in September, I was keen to hear it again, and Carlos Candeias brought the full monty again in Las Vegas: BDCD1.1 belt drive CD player/transport ($5990, one is currently spinning discs in my system for review), DAC1 PRE (HR) digital converter/preamplifier ($6290), AMP M2 monoblocks ($15,980/pair) and Arcadia loudspeakers ($36,300/pair). Stage III cabling ($41,600 total), an HB Design Power Slave Acrylic AC distributor ($6995) and Tandem Statement Series equipment racks ($20,600 total) rounded out the system.
Everything I heard at Brian's was there in full force at the Venetian. The BMC gear has world-class transparency and resolution, astonishing speed and well-rounded, vividly delineated timbres. While the BMC gear is in no way inexpensive, it stands toe-to-toe with the finest solid state I have heard, at much lower prices. BMC is a company that will be heard from, and loudly, in the future.
Rogue Audio took the wraps off of a perfectly wonderful little 100Wpc hybrid integrated amplifier, complete with phono stage, dubbed the Sphinx. Costing a meager $1295, the Sphinx was debuted with the latest iteration of the EgglestonWorks Nine ($18,000/pair) and acquitted itself very admirably, punching well above its price class with music from a MacBook feeding an Ayre QB-9 DAC. If people are going to grumble about a great-sounding integrated amp that costs as little as the Sphinx because of its "high" price, the high-end audio hobby is done.
I must be the last audio writer in the US to meet Ken Stevens, the one-man brain-trust behind Convergent Audio Technology, and it was a pleasure to make his acquaintance in Las Vegas. CAT introduced a prototype of the upcoming JL5 amplifier in a chassis cannibalized from the well-established JL2 amp. The circuit, however, was complete, and the smaller CAT -- might one call it a kitten? -- outputs 100Wpc from a quartet of KT120 pentodes per channel, but wired in triode mode. The JL5 was fronted by a Simon Yorke Designs S9 turntable/'arm combination ($10,000) with a van den Hul Frog Gold cartridge ($3650) and Audio Aero Capitole CD player, CAT's own SL-1 Renaissance full-function preamplifier ($10,000), and Wilson Audio Sasha W/Ps ($27,900/pair) performed the speaker honors. The JL5 will sell for between $10,000 and $12,000 when it hits the dealers in a couple of months. The sound in this room was elegant, spacious, and extremely engaging.
There are some who seem to have the whole show thing reduced to a science and get dependably excellent sound year after year. Certainly tube stalwarts VTL and Audio Research Corporation (ARC) stand tall in that number.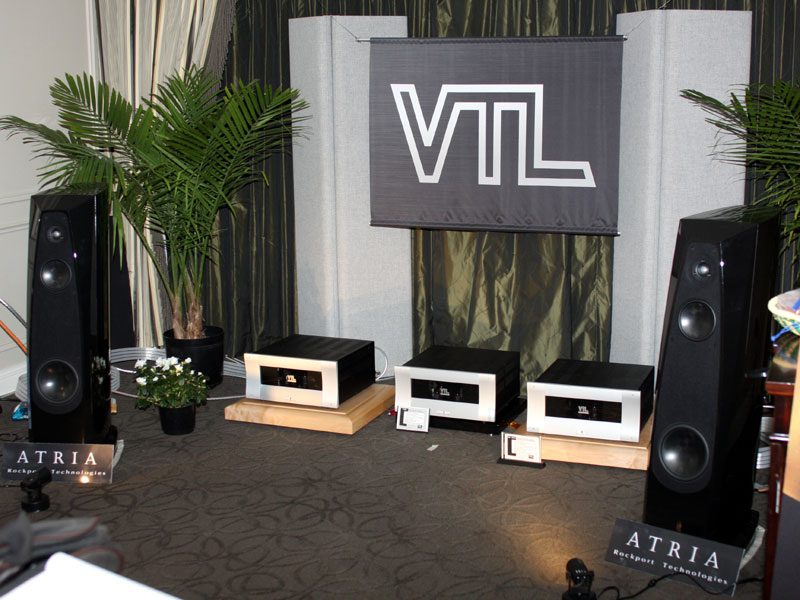 VTL assembled a pair of systems, the larger featuring the TP-6.5 Signature phono stage (with MC step up, identical to the one currently holding pride of place in my reference system, $10,500), the recently revised TL-6.5 Series II Signature line stage ($13,000), which incorporates many of the updates made to its big sibling, the TL-7.5 Reference Series III in a single-chassis format, MB-450 Series III Signature monoblocks ($18,000/pair and review in the works), and the new S-200 Signature stereo amplifier (200Wpc, $10,000). Just as the S-400 Reference stereo amp is a single Siegfried II monoblock reconfigured as a two-channel amplifier (a task that is nowhere near as easy as it sounds), the S-200 is an MB-450 given a similar makeover. Speakers were the new Rockport Technologies Atria ($21,500/pair).
A smaller system, based around the IT-85 integrated amplifier ($4750) and the sweet new TP-2.5 phono stage ($2500), and Avalon's wonderful Mixing Monitor loudspeakers ($12,995/pair), was also shown. A Spiral Groove SG-2 turntable with a Centroid 'arm ($21,000) carrying a Dynavector Te Kaitora cartridge and dCS's Puccini transport/DAC and U-Clock ($24,998 for the pair) provided the actual tunes for both systems, and all wiring and power products came from Nordost.
The sound from both VTL systems was of the effortlessly involving, "put your feet up and relax with the music" sort. The Rockport Atria proved a better match, in terms of bass power, than the Rockport Avior in VTL's room last year, as the Aviors were just a bit too much speaker for the room. Highly resolving but utterly relaxed, immediately involving sound was the order of the day here.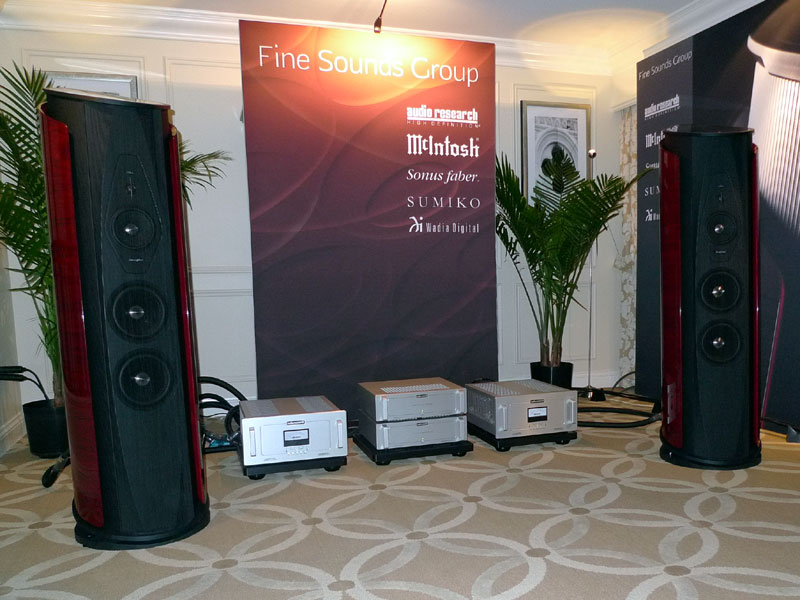 Audio Research brought everything but the kitchen sink, including their Reference Phono 2SE phono stage ($13,000), Reference 10 dual-chassis line stage ($30,000), flexible new Reference CD9 digital player ($13,000) and Reference DAC ($16,000), which seemingly handles every sort of digital music imaginable, driven by a MacBook. Records were spun on an SME 20/3 'table with SME's Series V 'arm ($18,500 for the package) and a Sumiko Palos Santos Presentation cartridge ($3990).
Oh, and they also brought along the Aida loudspeakers ($120,000/pair) from their Fine Sounds affiliate, Sonus faber, the woofers of which were driven by a pair of ARC's DS450M amplifiers ($11,000/pair) with Reference 250 amps ($26,000/pair) handling the mids and tweeters. Cabling was Shunyata's latest Anaconda Zi-Tron series, and all power conditioning was also from Shunyata.
This was one of the best-sorted and most refined systems in the Venetian. Playing an EMI LP of the Barbirolli/Jacqueline du Pre performance of the Elgar Cello Concerto, when things were fully settled in on the last day of the show, I was absolutely captivated. This system did a remarkable job of doing what a great audio system ideally should do -- get itself out of the way and allow the music to flow unimpeded in full measure.
Carl and Marilyn Marchisotto of Nola took the wraps off the spanking-new Concert Grand Reference speaker ($197,000/pair) and did so to spectacular effect. No, there was no fancy room treatment, no exotic racks, just Audio Research's Reference 10 and Reference CD8 digital player sitting on a table and a Reference 75 amp ($9000, see my preview) between the speakers, all wired up with Nordost Odin cabling and Quantum power products. The Marchisottos held a sneak preview on the Monday evening before the CES began for a handful of audio critics, and after an hour or so Carl was playing highlights from The Who's Tommy from a perfectly ordinary 16/44.1 CD for Stereophile's John Atkinson and me.
John and I are both, shall we say, veteran bass guitarists, and we were paying particular attention to the lines laid down by the late, great John Alec Entwistle, in which we both found ourselves stunned to hear things we simply had never heard before. During one passage in "Underture," I had always believed the Ox to be playing a straightforward "bum, bum, bum-bum-bum" line. Wrong. Entwistle was actually playing a triplet on the first note: "badabum, bum, bum-bum-bum." We looked up at exactly the same moment with looks of joyous amazement on our mugs. Everything Carl played with the Concert Grand had the breath of life, tremendous resolution, and almost shocking dynamic power when called for. And remember, that is with 75 watts per channel.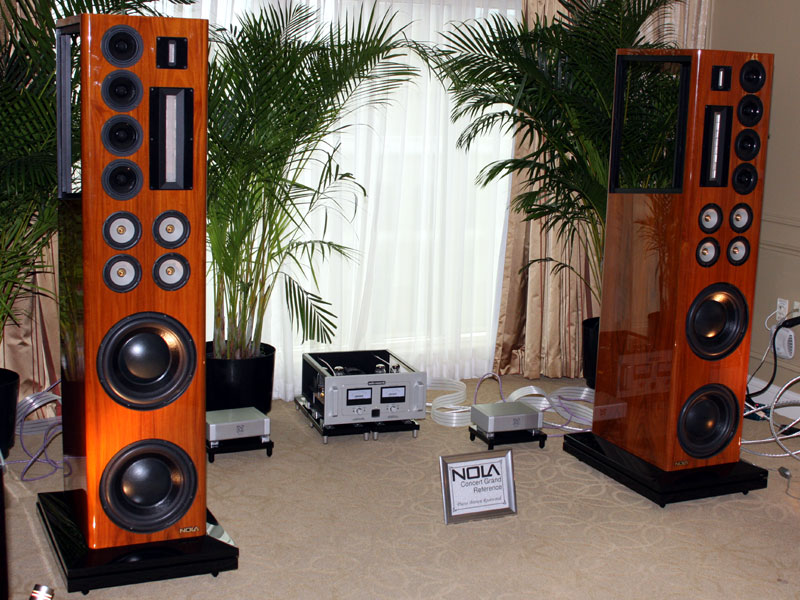 The Concert Grand is not a simple speaker system. The bottom cabinet holds a pair of 12" subwoofers and four 4 1/2" magnesium-cone woofers, while the remainder of the drivers -- four 4 1/2" cone midrange drivers, a 12" true ribbon tweeter and a true ribbon supertweeter -- reside on a baffle that is open on three sides. All drivers save for the ribbons feature Alnico magnets, which Marchisotto is convinced offer the highest possible performance. The speaker is finished like a Steinway, internally wired with Nordost Valhalla, and features Nola's proprietary Unison crossover technology. Marchisotto says the Concert Grand delivers the goods down to 18Hz, and everything I heard tends to confirm that claim.
Carl is a very unpretentious fellow, ready and willing to explain all of the particulars of why he designs the speakers he does and why they work. That they work, and very well, from the smallish, stand-mounted Boxer at $1500 per pair, through the $9800 KO, which I raved about in my coverage of last fall's Rocky Mountain Audio Fest, through the Grand series, is as plain as a pikestaff. Exceptional sound is now, for me, as expected in a Nola room as the always-warm welcome from Carl, Marilyn and their daughter Kristen. CES provided a most auspicious debut for the Concert Grand, which certainly has to be regarded as one of the very finest loudspeakers in the world.
Another room which never fails to please is that of Acoustic Zen and Triode Company of Japan (TRI). Acoustic Zen's Robert Lee and TRI's distributor Santy Oropel time and again assemble a system that embarrasses far more costly assemblages of gear. This year, with the same system they exhibited at the Rocky Mountain show save for the TRX-M300 Reference mono SET amplifiers ($14,000/pair, 8 watts each), Robert and Santy did it yet again. I have yelled at the top of my editorial lungs telling people how wonderful this room always, always sounds at audio shows and will keep doing so until it gets the attention it deserves. The Acoustic Zen Crescendo speakers may well be the most cost-effective large loudspeakers out there these days. This handsome $16,000-per-pair transmission-line marvel is so consistently good -- and musically consonant -- from show to show, regardless of the room, that it deserves vastly more recognition than it receives. My compadre Jim Saxon was right on the money in presenting a Jimmy Award to this exceedingly satisfying room. Oh, Acoustic Zen's cables continue to provide a level of excellence that directly challenges cables that cost five to ten times their price.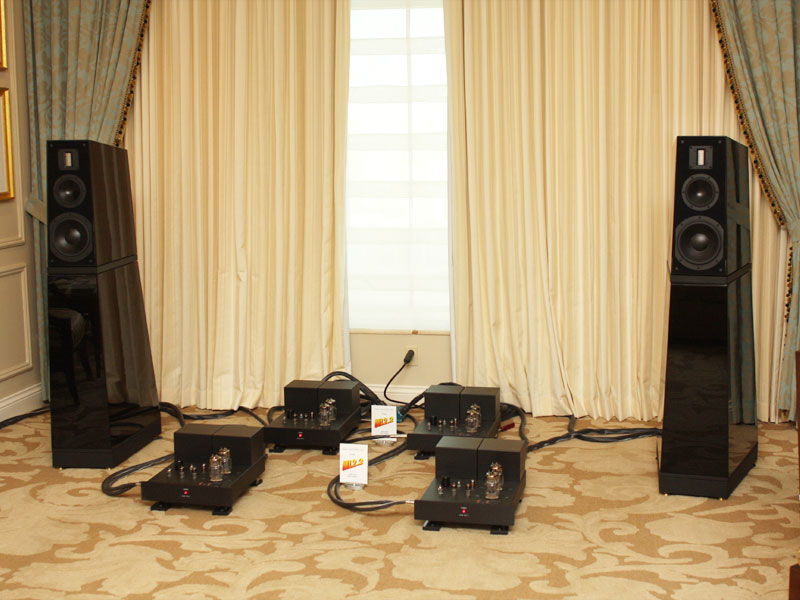 Lamm Industries is as another exhibitor that always manages to impress in new ways every year. The smaller (though still bigger than most) of Lamm's two rooms featured Lamm's LP2 Deluxe phono stage ($7790), L2 Reference line stage ($15,970) and two pairs of ML2.2 amplifiers ($37,290/pair) at work between a turntable as fascinating as last year's Kronos, the Tech DAS Air Force ($79,500), and the new Verity Audio Lohengrin II S speakers ($120,000/pair). A Mark Levinson No.31.5 transport fed a Tech DAS D-7i DAC ($7600) on the digital side of things.
The Tech DAS 'table is about as exotic and complex a piece of engineering as can be imagined. Designed by veterans of turntable legend Micro-Seiki, it features an air-bearing platter, vacuum LP hold-down, an air/liquid suspension system and other leading-edge technologies. As shown, the Air Force was equipped with two 'arms, with a 12" Graham Phantom Elite ($8500) and a Zyx Universe II cartridge ($8495) at the plate when I was in the room. The new Lohengrin was, to my ears, more solidly integrated from top to bottom than the earlier model shown last year, with a substantially more coherent blend between the rear-facing woofer module and the forward-firing mid/tweeter cabinet.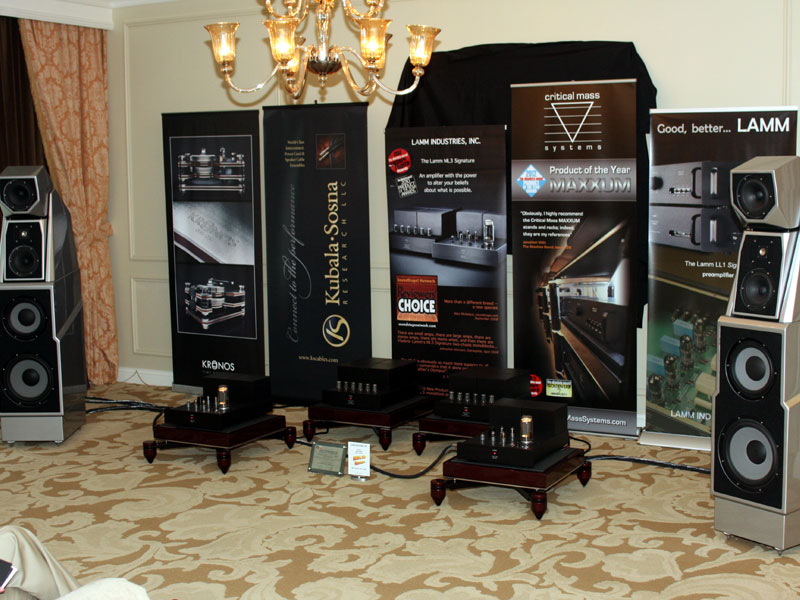 This year the larger of the two rooms featured Lamm's new LP1 Signature three-chassis phono stage ($32,790), which comprises a pair of power supply units and a third box that handles connections and switching. The new LP1 was joined by Lamm's LL1 Signature dual-mono -- quite literally, as it is contained in four chassis -- line stage ($42,790) and always-extraordinary ML3 Signature amplifiers ($139,490/pair). All of this exotica spoke through Wilson Audio Specialties MAXX 3 speakers ($69,500/pair), rested upon Critical Mass Systems MAXXUM racking ($67,800) and amp stands ($22,600 for the four needed for the ML3s), and all tied together with Kubala-Sosna Elation-series signal cabling and power cords ($88,400 total).
Sources were two of the most impressive pieces of kit I have heard. The Kronos turntable ($32,000) carried a Graham Phantom II Supreme 12" 'arm ($6000) and a Zyx Universe II cartridge. Kronos's Louis Desjardins has been singing the praises of the Universe II to anyone who will listen for the last several months, and his high opinion of the cartridge is more than justified. It combined the sort of lusciously developed midrange timbres one associates with cartridges like the top-end Koetsus with a bewitching ability to reveal the finest lowest-level details on even familiar recordings like Duke Ellington's Indigos (a reissue from Jazz Track Records, and an LP I know like the back of my own hand). Paul Gonsalves' breathy, luscious tenor sax on "Where or When" was enough to make the steeliest audiophile swoon.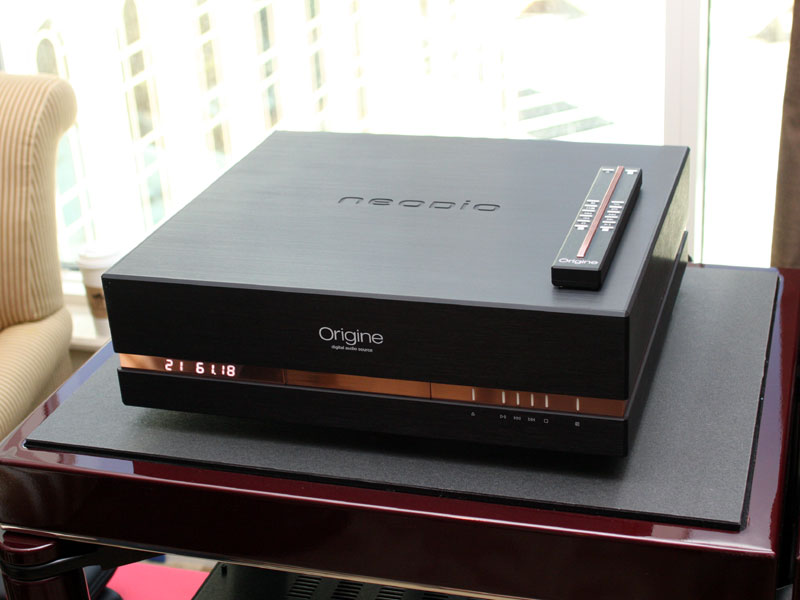 In ordinary circumstances it would be nearly unfair to compare this stellar analog front-end to any digital playback equipment, but this was no ordinary room. Digital gear from France's Neodio has been prominently featured in Lamm's rooms for the last several years and has been consistently impressive. This year, Neodio's president and chief designer, Stephane Even, was present for the debut of the new Origine "digital audio source" ($27,000), which can either function as a conventional CD player or accept virtually any input for use as a standalone DAC. It takes a certain amount of confidence or foolhardiness to bring a one-box digital source to a system like this, but I can say with confidence that the Origine is something very special and that Even's confidence was fully justified. It had a completely natural sweetness that immediately disarmed me and made me forget that it was a digital source. Candice Night's voice was absolutely enchanting on "Under a Violet Moon." Now that Neodio is being distributed in North America by Precision Audio/Video, which also handles Venture electronics and speakers, it should start getting some of the attention that these remarkable components merit. Stephane has already told me that an Origine will be coming my way in the near future.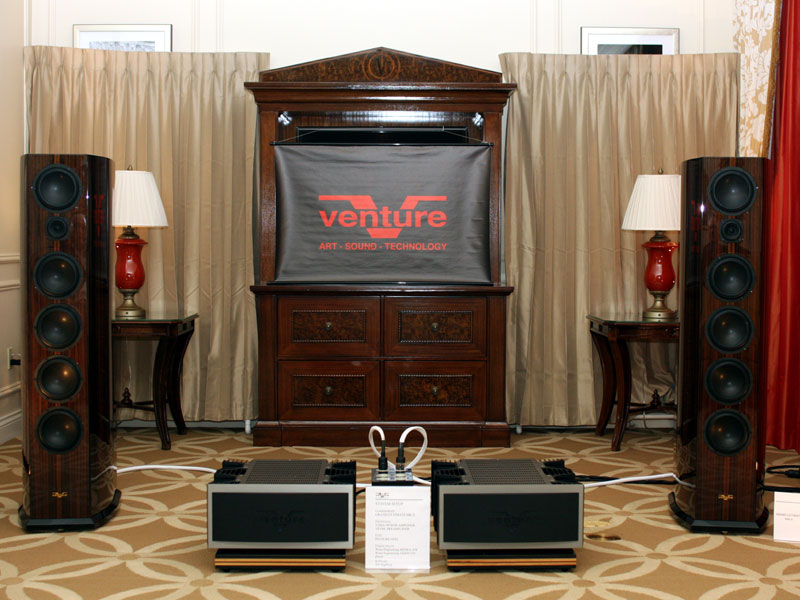 Venture's distributor Mike Slaminski of Precision Audio/Video and Venture's main man Njoo Hoo "Didi" Kong were on hand with the Venture Grand Reference Ultimate Mk II speakers ($98,000/pair), which were driven by the company's new V200A monoblocks ($120,000/pair, 200 class-A watts) and VP100L preamplifier ($36,400). The digital front-end at the time I listened was a Windows 7 laptop playing XXHighend's software player ($99), feeding the Phasure NOS1 USB DAC ($4500), which accepts native inputs up to 768kHz and also upsamples to 24 bits/768kHz. The room was a bit overdamped, but the sound was very much what I have come to expect from Venture: vast bandwidth, capacious soundstaging, and a high degree of musical consonance.
If mbl of North America came loaded for bear at the Rocky Mountain show, they came gunning for elephant, or perhaps even mammoth, at CES. In a very large room they demo'd their 1621 A CD transport ($28,000) and 1611 F DAC ($28,700), together with the 6010 D preamplifier ($26,500) and 101 X-Treme Radialstrahler loudspeakers ($263,000/pair, 3600 pounds net weight -- yes you read that right) with their immense 9011 monoblocks ($106,000/pair, 440 watts into 8 ohms, 840 watts into 4 ohms) on the midrange drivers and very slightly smaller 9008 A monoblocks ($60,600/pair, also 440/840 watts, though with marginally less ultimate output amperage) on the high-frequency drivers. The woofer towers, which are fitted with six 12" woofers each, are internally powered by who knows how much juice, though I daresay it probably approaches, or exceeds, a kilowatt per side. Cabling was from Transparent, surely top of the line, and it would be safe to say that this entire assemblage probably came to at least $700,000 at the checkout window.
So how can this kind of craziness be explained, much less justified? In this case by immersing the listener in an absolutely full-range, three-dimensional soundfield where each and every image was as large, and astonishingly close to as dense, as life itself. The soundstage on "Under a Violet Moon" was literally life-sized -- yet every image was focused in a way beyond the realm of any hi-fi reproduction. All in all it was very much a "you are there -- and how" presentation with every piece of music I heard. I have never had an audio experience quite like this one and for once words nearly fail me. This is something that should be heard by anyone interested in the furthest limits of reproducing music, in spite of its brain-boggling cost and supreme impracticality.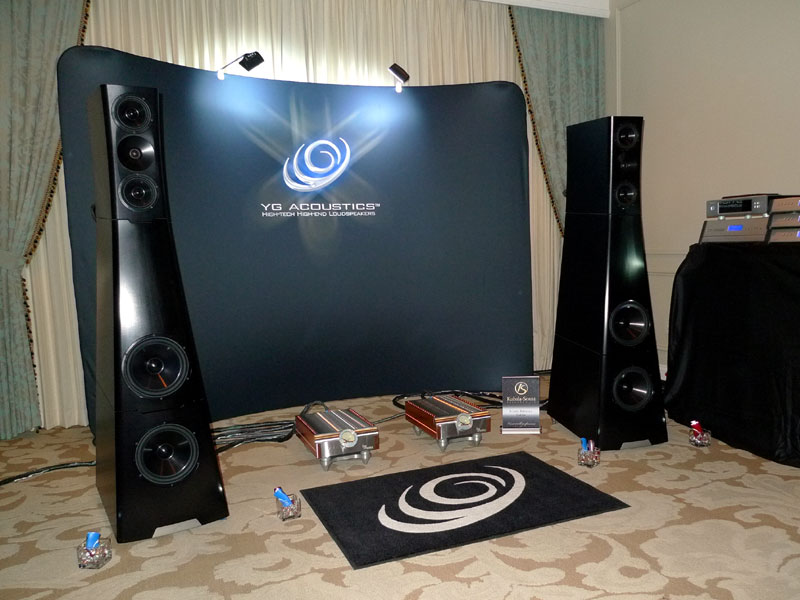 As for the best and biggest surprise of the show, I must nominate the utterly wonderful YG Acoustics room, where Yoav Geva, Dick Diamond and Kerry St. James unveiled the new Sonja 1.3 ($106,800/pair), which replaces the former flagship Anat III Signature. The Sonja was accompanied in extremely high style by Veloce's LS-1 line stage ($18,000) and Zanden Model 1300 phono stage ($13,750), D'Agostino Momentum monoblocks ($55,000 per pair, and which have been profoundly fine each and every time I have heard them). Sources were a four-box dCS Scarlatti digital system ($80,000) augmented with an Aurender S10 music server ($6990), and a Scheu Analog Das Laufwerk 1 turntable ($8330) with 12" Tacco tonearm ($4995) and Ruby 3 cartridge ($2950). Cables were all from Kubala-Sosna's Elation family ($85,000 in total).
The final result was something I can only regard as sonic greatness, and I was definitely not alone in that judgment. I have heard various YG speakers at shows over the last few years and have very much admired their effortless dynamics, state-of-the-art bass punch and control and ear-opening definition/resolution, which compared with any line of speakers produced on this planet. What I have not admired, to be frank, was the very fine-grained and persistent powdery dryness in their upper octaves. It has not been universal, but over many shows I have heard it, and been irritated by it far more often than not with electronics that ranged from the merely excellent to the truly stratospheric.
Forget all of that, and now. The Sonja, modular like its predecessor, retains every previous virtue of YG's speakers and adds a silken but supremely extended top end and a delicious, rounded touchability to everything played through them. I have a sneaking suspicion that this is the result of YG's new approach to driver manufacture, as detailed by Marc Mickelson in his extensive report on his visit to YG's Colorado headquarters, and the subtle sculpturing of the cabinets. The Sonja sports sleekly contoured aluminum casework and is, if you pardon the expression, a very sexy speaker system. Marc will be receiving a pair of Sonja 1.2s, to be upgraded with subwoofers to full 1.3 status at a later date. Lucky dog.
Not content with that, YG had yet another room, featuring their Kipod II speakers ($38,000/pair) with the same Veloce line stage, here paired with D'Agostino's stereo Momentum amp ($29,000). MSB's Diamond DAC IV and Universal Media Transport ($42,825 for the pair) and a full harness of Kubala-Sosna Emotion cables ($30,000). While the scale was rather smaller -- the Kipods are about half as tall as the Sonja 1.3s -- the family resemblance could not have been more apparent. This was one incredibly successful show for YG Acoustics.
For me, the biggest disappointment -- and puzzlement -- of the show was the much ballyhooed Magico Q7 ($185,000/pair) as driven by Constellation's Virgo II line stage ($24,000), Cygnus digital file player/DAC ($24,000), Centaur monoblocks ($56,000/pair) on the speakers' woofers and Centaur stereo amp ($28,000) on the midranges and tweeters, with MIT cabling and Shunyata Research power conditioning. Whether it was the room, the electronics, the speakers, the cabling, the music, or some singularly inauspicious combination thereof, I was monumentally underwhelmed. This was a system that could reproduce every aspect of sound, no doubt about that, but what I heard was somewhat icy and remarkably unmusical, however sonically impressive. The music -- which one has to take as one finds it in Magico rooms, as visitors are most definitely not invited, nor even allowed, to play their own recordings -- never got off the speakers for a second. All I know is that this vision of music reproduction, which represents a cryonic notion of "neutrality," matches nothing I have ever heard in life -- in any rock bar, jazz club or concert hall.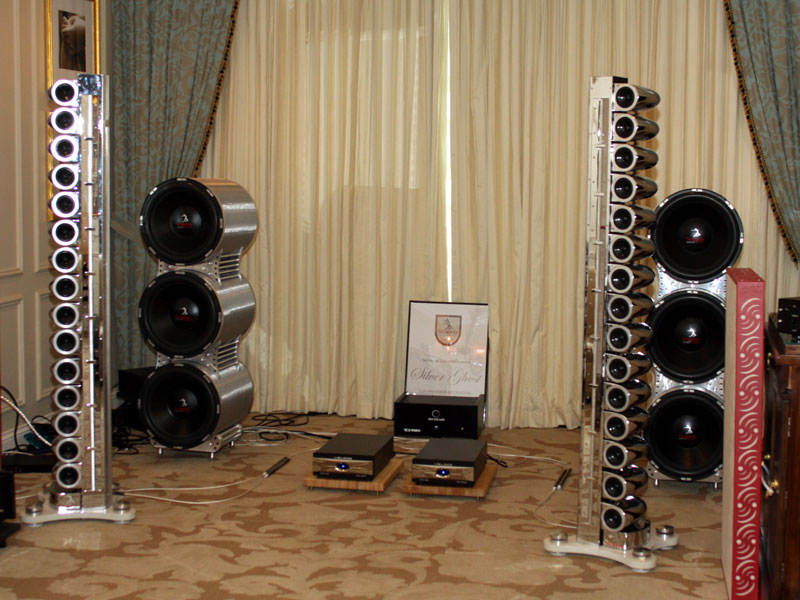 Every time I have heard them, I have been blown away by Scaena loudspeakers, and CES was no exception, though to an appreciably lesser degree than previously. The visually stunning Scaena Silver Ghost 10th Anniversary speaker system ($153,000 for the complete system of two 15-pod towers, a stack of three subwoofers per side, the crossovers and immensely powerful QSC power amplification for those woofers, all of which is also available for $83,000 without the genuine silver finish) can throw holographic images that are seldom rivaled by any other speakers. The Silver Ghosts were teamed with the Kronos turntable ($32,000), Dynavector DV507 Mk 2 'arm ($5350) and a Zyx Universe II cartridge ($8750), and a music server built by Scaena's Sunny Umrao. (Sunny, like Silverline Audio's Alan Yun, is the sort of fellow who undertakes ridiculously daunting design/engineering challenges for the sheer fun of it; I tend to prefer a fine cigar and a glass of brandy or well-aged single-malt Scotch for relaxation.) Veloce Audio's battery-powered Lithio LS-1 line stage ($18,000) and Saetta 400-watt monoblocks ($16,000/pair) along with the much-buzzed-about High Fidelity magnetic cables finished the system.
In years past Scaena has used very powerful and highly refined tube power amplifiers such as the McIntosh MC2301 and Conrad-Johnson ART monoblocks -- do try some big ARC or VTL amps sometime, fellas, I guarantee you will be very happy -- to drive the towers to spectacular effect. Given that, I cannot but conclude that the responsibility for the less-than-celestial sound in this room lay squarely with the Saettas. The LS-1 line stage has consistently produced very fine sound at shows, including in the fabulous YG Acoustics room described above. The Saetta is a thoroughly capable amp, but Scaenas demand nothing less than the best of the best. There was a quality that can best be described as dynamic and spatial flatness, at least comparatively speaking, here that is certainly not the true character of the Scaena loudspeaker itself, with which I am very familiar indeed. The distinct impression that one can walk amongst the musicians -- something Scaenas have always done before -- just wasn't there.
Stars of the show
Of my thirteen shows, I have never had a more difficult job in trying to determine a Best of Show, and was nearly ready to throw up my hands at the prospect. YG Acoustics' new Sonja 1.3 was so good, and such a surprise, that it was an instant contender for top honors, and the system was so skillfully assembled and set up that there was nothing to question and much to inspire awe.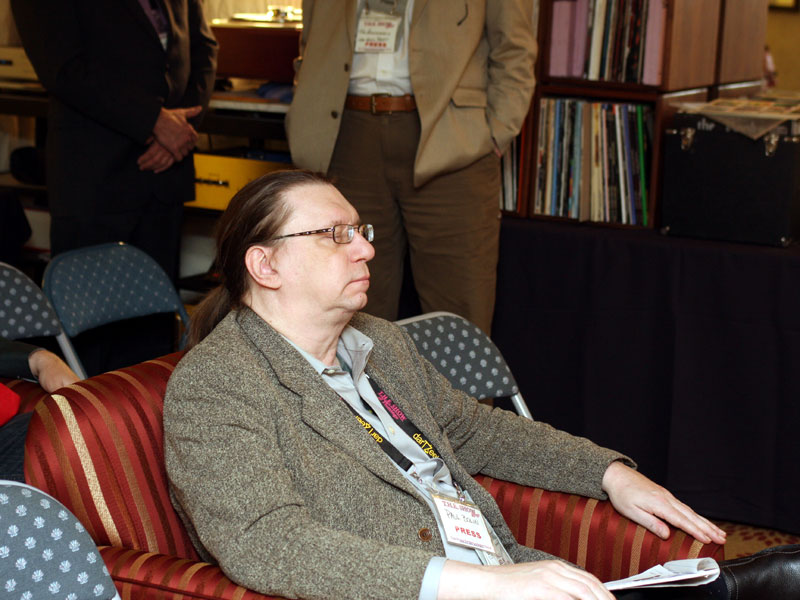 As I noted above, the ARC/Sonus faber room was, by the show's closing day, one that brushed aside hi-fi concerns the way royalty ignored the peasantry in days of old and spoke only pure music. Likewise, Nola's introduction of the Concert Grand was one of those events that will live long in my memory. Any discussion of the best speakers in the world must include the Concert Grand. The Lamm/Wilson/Kronos/Zyx/Neodio room presented two of the finest sources I have ever experienced in the context of the stratospheric standards I have come to expect from Lamm systems.
However, if I must choose one of the really all-out systems as the single show standout, it will have to be the overpoweringly lifelike assemblage of excellence provided by mbl. I had never heard the Radialstrahler Extreme before, and their presentation in mbl's very large room was nothing short of mind-blowing in the Star Trek - The Next Generation holodeck sense. There is really nothing else to which this system can be compared, and it stands alone, technologically, aesthetically and sonically. "Under a Violet Moon" -- and everything else I heard there -- was rendered utterly true to life in terms of dynamics, scale and timbre. Spaces were as big as life, yet each individual image was superbly, almost impossibly, well-focused. Superlatively engineered loudspeakers and several kilowatts of wildly over-engineered amplification can do that. The idea of measuring this kind of muscle in actual horsepower rather than watts did cross my mind. You will need the sort of room one might find in a castle and exceedingly deep pockets to accommodate this system, but this was as good as reproduced music is capable of being, at least right here and right now, and that is something mind-expanding indeed. Hats off to Jeremy Bryan and the mbl North America team for a magnificent presentation.
In the land of the relative financial sanity, the Manley Labs, EAR/Marten and Devore Fidelity rooms offered conclusive proof that a standout system need not cost as much as a new Bentley to offer true high fidelity. But I will remember that mbl system for the remainder of my days.