Peak Emotions: The 2013 Jimmy Awards
by Jim Saxon | January 30, 2013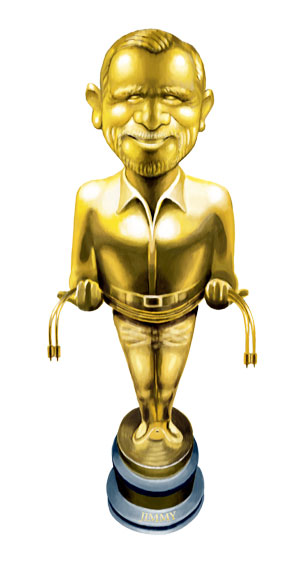 The purpose of the Jimmy Awards is to honor new hi-fi products unveiled at the yearly Consumer Electronics Show. Since 1998, when they were introduced as a spoof of the Oscars, the Jimmy Awards have become a coveted designation, identifying worthy contributions from many companies, not all of which have remained in business. Although initiated within a humor column, the Jimmy Awards are now deadly earnest. Any drollery contained in the following article is for visual purposes only.
Also, please be forewarned that the emotions described herein are positive only. In this regard, the Jimmy Awards stand above Oscar Night, when people are often mean to each other. The life of a hi-fi reporter is far too short for raspberries and Bronx cheers.
A point about methodology: Much of my listening involved the use of a compilation CD-R that Marc Mickelson created. My approach was to duck into a room, listen for awhile, and if the presentation tickled my ears, ask the exhibitor to play the first track of Marc's disc, Tom Jones singing Bob Dylan's "What Good Am I?" from the album Praise and Blame. The song's poignant appeal to a sense of humanity is instructive of an ability to convey gut-wrenching compassion. Not many rooms earned, or survived, an audition. Consequently, several Jimmy Awards go to exhibits based on looks and logic rather than sheer performance.
he last Consumer Electronics Show I attended two years ago was about as much fun as being water-boarded. This year's CES was like a summer day at Kennywood. Partly responsible for the salubrious change were the gentlemen rankers with whom I had the opportunity to fraternize. The Audio Beat's intrepid editor, Marc Mickelson, provided hospitality and guidance second to none. Fellow scribes Paul Bolin and Tim Aucremann were convivial and insightful pals. Seldom has riding to and from the show been as entertaining and yet so business-like. The implicit challenge of one's peers is a prime motivator.
Furthermore, stereo equipment has never sounded better. Since leaving the blighted field of surround sound, high-end audio manufacturers have refocused on stereo playback with the force of an earthquake with tsunami chaser. Industry old-timers have found new tricks to play while young designers have turned brave ideas into robust sound. If today's geniuses are merely midgets standing on the shoulders of giants, their vast number suggests that they are pushing and shoving for solid footing.
Fittingly, the show began on an emotional plateau with an award-winning breakfast buffet at the Mirage. Nothing like a bellyful of caffeine, protein and fructose to produce a sense of wellbeing. Eminently pleased with the order of things, I asked my peers for synonyms of the word "happiness," to which they responded with trivial and meaningless suggestions. I therefore had to think all this up for myself. Despite the latent competitiveness of the gentlemen rankers, I never felt better about a show. Consequently, I decided to define the Jimmy Awards within a range of emotions the winning products produced in this savage breast.
Delight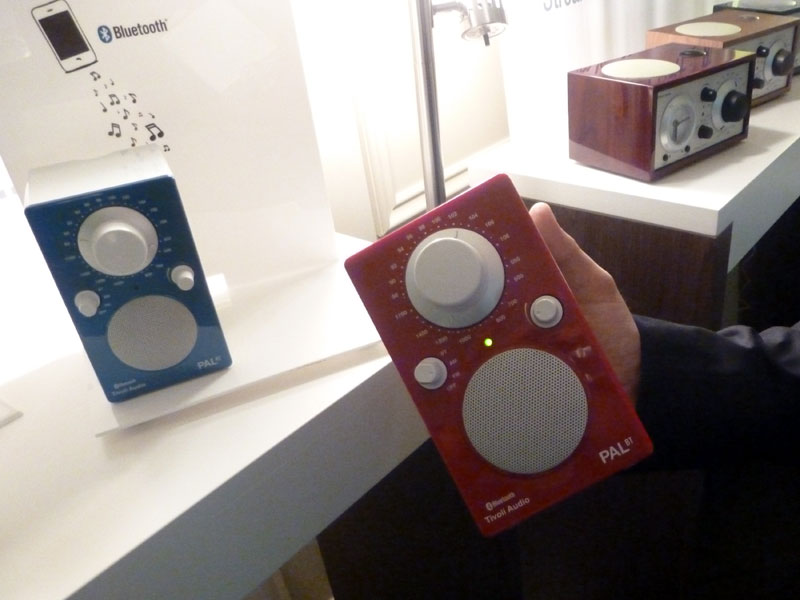 Smart phones house a zillion times more songs than most people realize. Big biz has bet that buyers will come to hi-fi out of a desire to hear better sound from their peripatetic music libraries. The Tivoli Audio Portable Audio Laboratory (PAL) would be a place to start. The PAL ($300) is an amplified wireless loudspeaker that shapes a stream of Bluetooth airborne information into plausible musical sound. Weighing less than two pounds, the PAL can be kept in a glove compartment or a handbag. A headphone input and an optional AM/FM tuner are additional enticements. If young women, who seem addicted to smart-phone music, want better sound for a song, the PAL (and its ilk) might be a painless upgrade.
For those wishing to fill a room with phone tunes, ConVox Audio has a solution. Their Crystal Matrix Tower powered speaker ($3000 per pair) boasts two front-firing woofers and six tweeters arrayed on different horizontal angles to widen the sweet spot to gargantuan proportions. Just dock a phone in the ConVox Audio XRD-800 optional wireless roaming device ($300) and voila -- wall-to-wall MP3 playback for hours on end. If I were a smart-phone music lover landing my first job, this system might have strong appeal.
Glee
Ever wondered why loudspeakers aren't shaped like musical instruments? No? Well, maybe you should chat with Lawrence Liao about it. His company, Lawrence Audio, builds angular loudspeakers that resemble mandolins, violins and cellos and he's been in business for thirty years. Despite their unique looks, the line's specifications and components suggest serious performance goals. For instance the Lawrence Audio Cello (below right, $5500 per pair) claims a frequency response of 32Hz to 40kHz! A pair of Air Motion Tweeters with 120mm diaphragm front the speaker, while an aluminum ribbon tweeter fires out the back. Two 8" non-woven carbon-fiber woofers reach a cello-like lower midrange at 700Hz. Since the speakers were on silent display, I have no idea how the Cello sounds. However, the speaker's winsome looks and promising specs deserve an award for the glee they incited.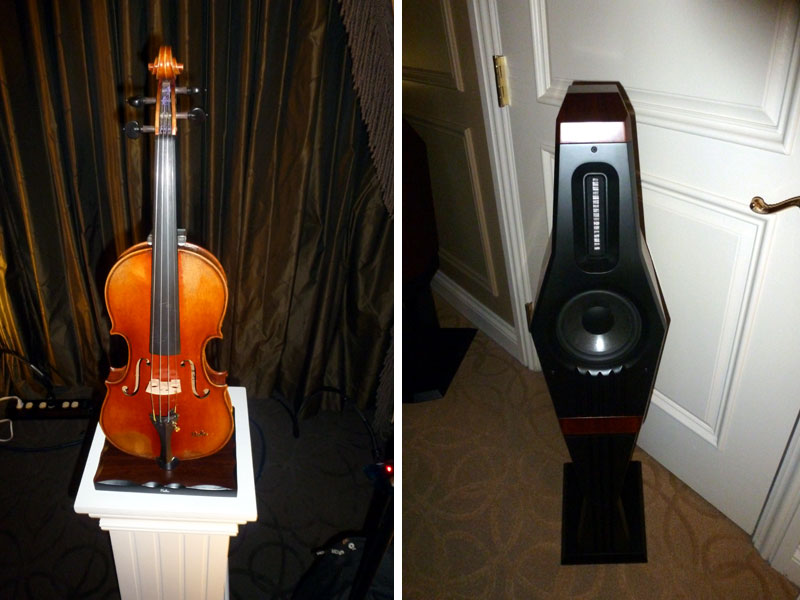 Of course, there's a huge difference between a violin and a loudspeaker that resembles a violin. Lawrence Audio's Violin model is an avatar. The Juno Violinspeaker (above left, $7800 per pair) is actually a violin! At least, it looks like a Stradivarius. The Roman-column stand that supports the violin contains a woofer, but the company's brochure is vague about how the violin itself propagates sound. Perhaps the secret to this charming mystery is best kept discreet. Played at low volume, music in the Juno room was good enough for lifestyle purposes. I doubt a grizzled old hi-fi veteran would enjoy their hesitancy, but on a coolosity scale of 1 to 10, the Juno Violinspeakers are a 16.
Mirth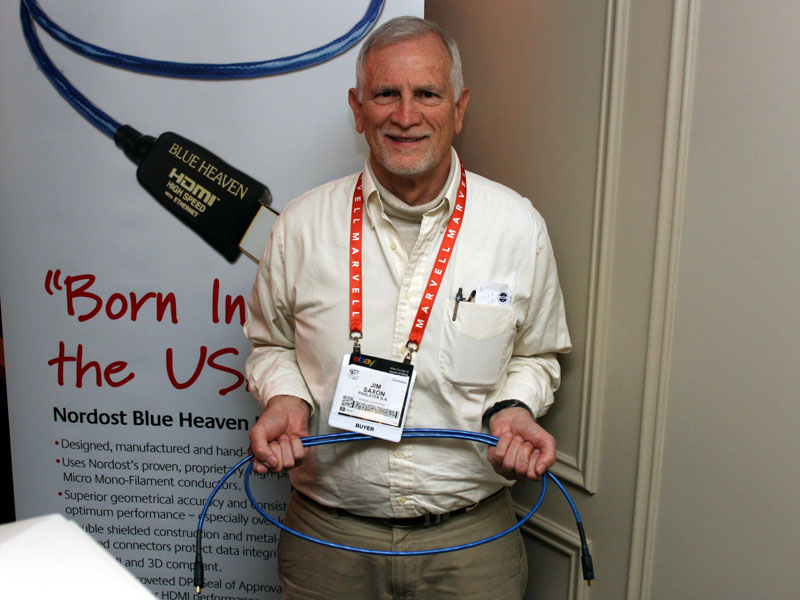 The venerable cable company Nordost wins a Jimmy award for their Blue Heaven HDMI cable, the only such cable made in the USA. Consider that sobering thought for a moment. Nordost also showed how interconnect-sensitive the excellent Nola KO speakers are. As I entered the Nordost room, I was greeted by the sound of bloated bass. Then someone from Nordost replaced Brand X interconnects with a pair of their entry-level Blue Heaven cables and the sound swung over almost to bass-light. Apparently, the resolving power of the Nola KOs will tell a lot about a system's cabling -- and everything else in a system.
The most stunning cable demonstration occurred in the OBravo room, where the Taiwanese company was playing an MP3 source. An OBravo rep substituted their iWaaPrime cable (price to be determined) for a well-known American brand and the sound level increased by at least a decibel, with an apparent increase in tonality. The cable runs through a metal cylinder (shades of True Dimensional Sound!), boosting the signal. Could this be all gain, no pain or simply a gimmick? Until we know for sure, anyone seeking to hook up a smart phone to an amplifier should look for an OBravo iWaaPrime interconnect.
Elation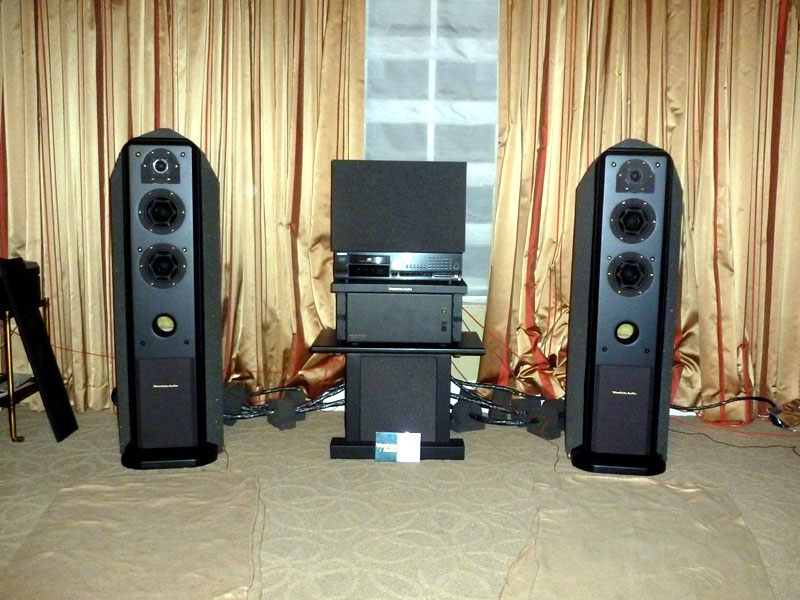 Glenn Phoenix of Westlake Audio and Bill Conrad of Conrad-Johnson are two of high-end audio's distinguished elder statesmen. Both gentlemen share my appreciation of the emotional aspect of music reproduction. Mr. Phoenix is also famous for discovering the "Phoenix Effect," a force-field that surrounds all passive parts through which a current flows. This field is parasitic and needs to be drawn off, lest it corrupt the signal. To that end, the Westlake Audio floorstanders were attached to "drain cables" that ended in coils under blankets. While listening to Tom Jones sing, I became lost in the plaintiveness of the song's message. For doing pathos so well, the Westlake Audio Tower 5 ($20,000 per pair) earns a Jimmy.
I jotted down Bill Conrad's observation that too many hi-fi manufacturers ignore the "intimacy of the musical experience" in search of accolades. This was exactly the case at the CES, where so often the cost of a product was inversely related to how well it captured musical intimacy.
Conrad-Johnson paired its ARTsa stereo amp (KT120 tubes, 140Wpc, $18,000) with Penaudio's SinFonietta loudspeakers ($20,000 per pair). Lacking bombast but perfectly evocative, the sound of the Conrad-Johnson/Penaudio system was ideally suited to living-room listening. For staying faithful to the mission over a span of five decades, Conrad-Johnson wins a Jimmy Award.
Enchantment
There were two serious bargains at the CES. The hands-down winner among loudspeakers was the Sonus faber Venere 2.0, a two-way stand-mounted monitor. Hooked up to a monster McIntosh solid-state amplifier, the little 2.0 came out with drum kit blazing: rock music wall to wall, the way you kids like it. To "see" such dynamics swirl around, behind and in front of these miniature transducers, caused listeners to grin and shake their heads. On top of that was the price: $1699 the pair -- for Sonus fabers! Fit and finish of the 2.0, like that of all Sonus faber loudspeakers, were of cabinet-maker quality. Even one's significant other would perceive high value in the 2.0s. In this happy instance, the sound more than justified the ritzy appearance, which is other-worldly.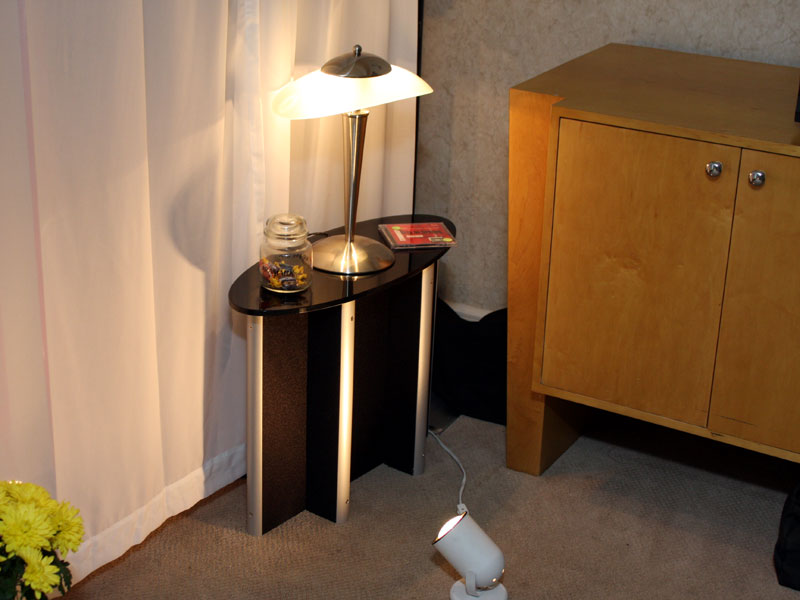 For some reason I've never owned a pair of Magnepans. I'm ready now. The reason for the sudden interest is the arrival of the DWM Bass Panel ($795), which converts a well-mannered introvert into a rakish crowd-pleaser. For Magneplanar owners who need bass that matches the speakers' inherent speed, the DWM Bass Panel is a must. If you have a large room and you're budgeting for a pair of 3.7s, I say wait until you have enough money to add a DWM -- maybe even two of them. Then, you'll have a Jimmy Award-winning speaker system.
Exuberance
Hegel Music Systems, an ingratiating Norwegian company, aims to please with a robust line of seminal designs. Their new HD25 digital control center has a touchable front panel, obviating the need for a remote control. Hook up a tablet, PC, cable TV or music center and enjoy the benefits of 32-bit capability. All inputs are impedance matched, a neat trick, and costly silicon germanium transistors help attain a noise floor of -145dB, which yields high resolution. For Extremism in the Defense of Fine Sound at a ridiculously low price ($2500), Hegel Music Systems wins a Jimmy for Norway.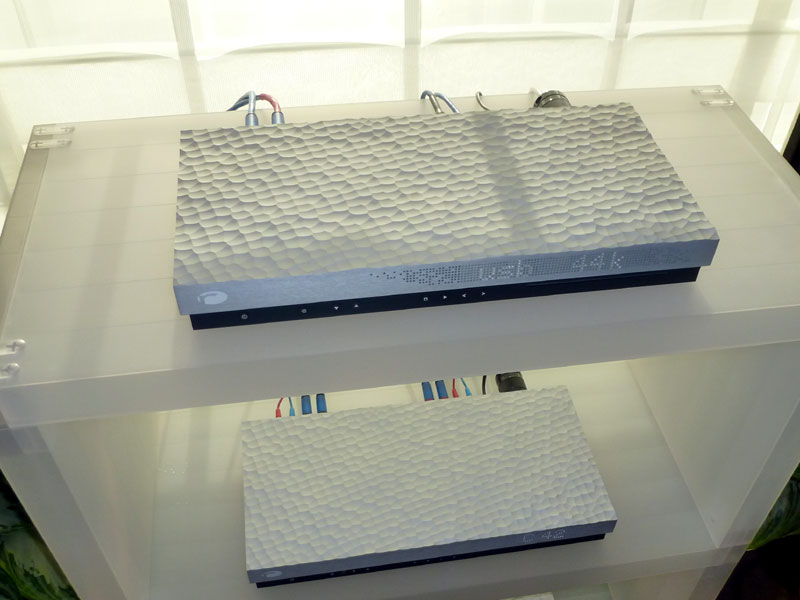 Winner of the It Doesn't Have to Look Like It Was Designed by Trappist Monks Award goes to Resolution Audio, whose Cantata Music Center (top, $6000) is two inches high and has a scalloped top plate that begs to be caressed. Resolution also showed a matching integrated amplifier, the Cantata C50 (below, $4000), which seemed to sound as good as it looked. Isn't it about time the dour Cold War mentality that influenced the founders of high-end audio be put to pasture? Resolution Audio shows that optimistic industrial design can produce sonically pleasing products that stand toe to toe with Druid-built assemblages.
Joy
MSB's DAC design is as competent as any on the planet. The company's new The Analog DAC is said to be an advance in terms of input choices, user-interface capability and price. At $7000, it offers unprecedented "time performance," which makes the sound silky and analog-like without the microscopically detailed harshness that many digital processors create. Two neat features are interface upgrades, which can be done by downloading from the Internet via a mobile device, and MSB's excellent analog stepped attenuator, which allows a digital music lover to save on the cost of a preamplifier. Having been a longtime fan of MSB products, I am glad to see that the company continues to careen from strength to strength.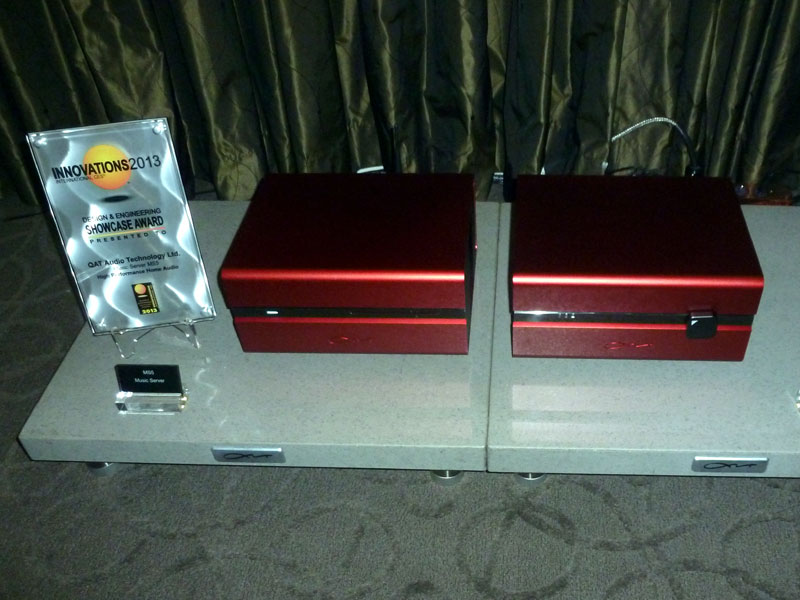 The Qat Music Server ($3000) accepts CDs through a slot on the front panel. What could be a simpler way to download and store music? Wish I had a Qat so I could stop searching for CDs. Maybe if I keep my fingers crossed someone will send me one. My birthday is coming up soon. Just thinking out loud, but it would be a nice gift if anyone's paying attention.
Delirium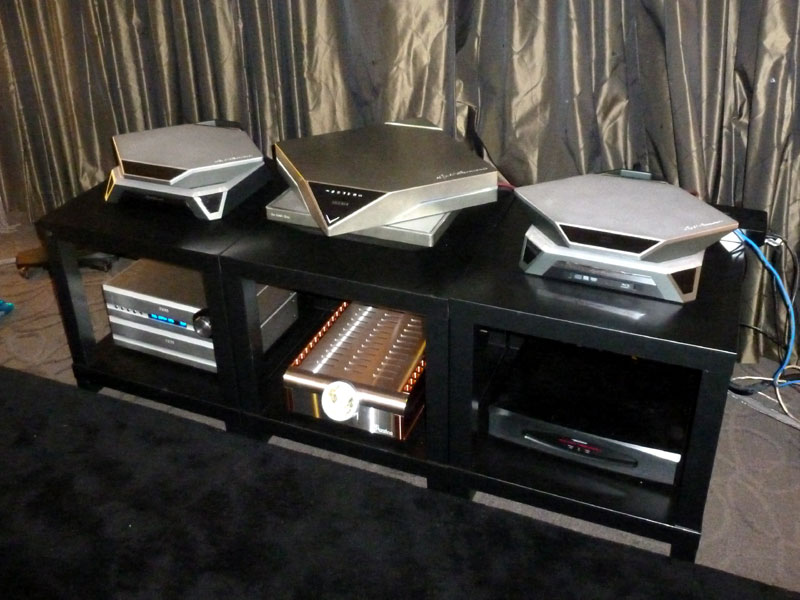 If I lusted for state-of-the-art industrial design and had $30,000 to assuage my desire, I would invest in a Light Harmonic DaVinci 384K USB DAC. The DaVinci was on display in several rooms, and its presence always elicited a smile of admiration. Besides its space-ship appearance, the DaVinci boasts "bit-perfect audio, perfect timing, cleanest power, and vibration control." Although I suspect MSB's The Analog DAC would be a tough out in a head-to-head comparison, having the DaVinci in my system would prove I was a man of wealth and taste. The Light Harmonic DaVinci takes home a Jimmy for showing the quest for sonic excellence can be accompanied by stunning appearance.
Since many is the slip twixt prototype cup and production lip, a working mockup from a startup company could not win a Jimmy Award. However, when applied to two old-line companies of established credibility, the rule is senseless.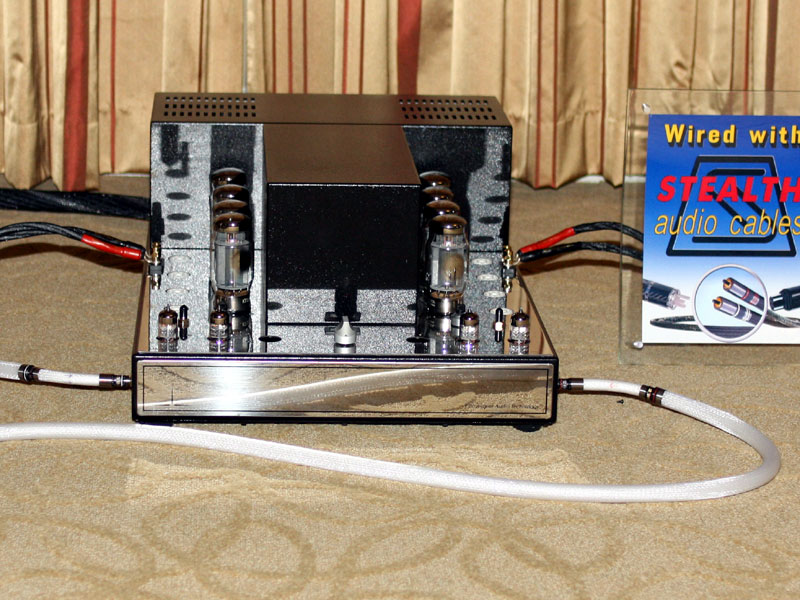 In the case of Convergent Audio Technology, the new JL5 stereo amplifier was playing, although it was housed in a much larger JL2 chassis. The JL5 uses four KT120s (a great tube) per channel, putting out a very conservative 100 watts per side. The price of a deluxe JL5 is penciled in around twelve grand, a basement bargain for a CAT amplifier. Ken Stevens' designs always sound good, but this year's lash-up, with Wilson Sasha W/P loudspeakers, sounded especially warm and luxurious. Assuming it will sound as regal in production, the CAT JL5 wins a Jimmy Award for Second Favorite Prototype.
The First Favorite Prototype Award goes to Vandersteen, which showed a cross-section of a new high-pass (!) amplifier with sprung suspension and liquid cooling similar to a .30 caliber machine gun. Although the amp will not sell separately (that I know of), it should prove a perfect match for the Vandersteen Model 7, which already has built-in bass amplification. The amplifier uses a tube front-end and a single-ended transistor (!) output stage, which should produce spectacular results. In over 40 years, King Richard Vandersteen has taken few false steps. The springy high-pass amp should not only perfectly complement his speakers, but at $30,000 it could also give good value in the process.
Bliss
If you believe, as I do, that concert-like realism resides in a loudspeaker's upper-bass response, there is good news for you. Two loudspeakers convey music's foundation as well as any I've heard, and they do it at eminently reasonable prices.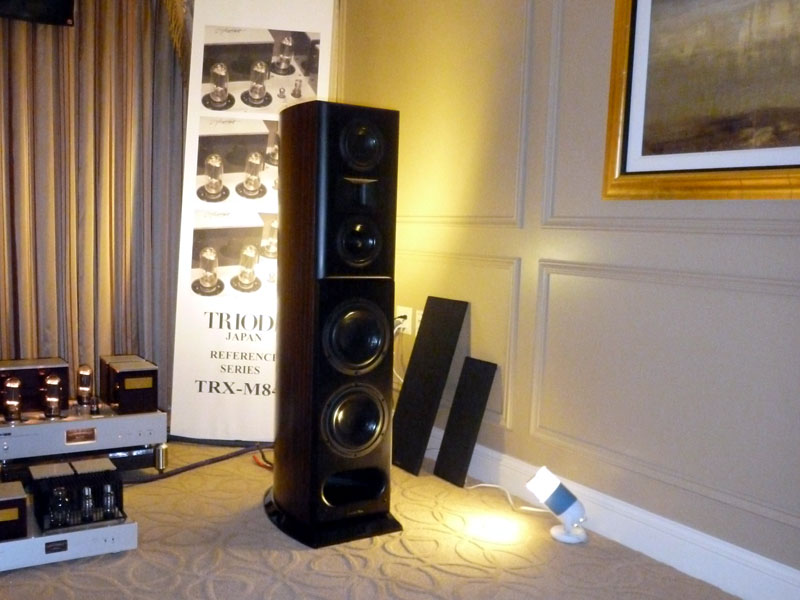 Cable manufacturer Acoustic Zen has been quietly building speakers for almost a decade. It's time for the company to roar about this. Designer Robert Lee has taken the venerable transmission-line design to its theoretical limits. Not only does his five-driver Crescendo ($16,000 per pair) give tight, tuneful, airy bass, but it also provides a midrange timbre that seems close to the truth. The Crescendo is quick to respond, almost anticipating the flow of notes. This is loudspeaker as musical instrument. Many speakers at the CES cost over $30,000 but are mere pretenders compared to the Crescendo. Acoustic Zen receives one Jimmy Award for Sane Pricing and a second for Insane Performance at the Price.
The best loudspeakers under $10,000 were the Nola KOs ($9800 per pair), partly because there were so few floorstanding speakers under $10,000, not serious ones, anyway. Cable manufacturer Nordost smartly chose to show with the KOs. As mentioned above, the KOs revealed a huge difference between rival cable products (Nordost won, of course). But besides being a cable junkie's delight, the KOs had a see-through quality that riveted one's attention. On "What Good Am I?" the KOs captured the drum-skin bounce better than many behemoth speakers did. I could wax turgid in audiophile terms, but since this song is about emotion, let me say that the Nordost/Nola room was one of two that had me welling up, and the other room featured much more expensive gear. For forcing me to pause and wonder what good I am, the Nola KOs win a Peak Emotion Jimmy Award.
Euphoria (German, Euphorie)
In years past, few German manufacturers made the JA list. To my ear, the sound of Teutonic gear was brassy and strident, as if designed to give traditional "oom pah pah" music extra bite. This year a new group from Deutschland brought mellower stuff to the show, producing three standout rooms.
The Podszus family of Germany has been perfecting rigid-foam-diaphragm technology since 1935 (a date which elicits newsreel memories). Their flagship, the Zellaton Grand, is an unassuming loudspeaker in terms of size and number of cone faces. However, the back of the cabinet is open; the upper 7" driver is full range to 8kHz and a 10" down-firing rigid-foam-diaphragm woofer hidden on the speaker's bottom is a bass beast. Adding to the price of the Zellaton Grand ($40,000 per pair) is a huge number of Grade A parts and fanatical manufacturing procedures: e.g., all metal parts are machined from a single work piece to ensure the absence of "transition resistance." The sound of the Zellaton Grand was high, wide and gut aussehend. For being the first non-horn German speaker to force a sit-down, the Zellatron Grand earns a Jimmy Award.
In addition to the Nordost/Nola room, the other system that choked me up was in the Dynaudio suite, where handsome German tube gear from Octave was motivating a pair of Evidence Platinum loudspeakers ($85,000). There, the stage was softly lit, like a yellow bulb in a hallway. The result was to rivet one's attention on Tom Jones's brittle baritone and less on the drum/guitar accompaniment. In a way the Octave MRE220 mono amplifiers ($23,000 per pair) and Jubilee tube preamp ($36,000) reminded me of old EL34 tube amps, where detail to the sides was overshadowed by the center image, making the he sound in the middle more intense than that of more detailed transistor gear. However, the spectacular Octave equipment did it the other way around, providing so much harmonic detail in the center that one's attention did not stray to the sides as much as with other systems. That a German manufacturer could express warm feelings rather than cold precision was a first for this observer. To Octave (and to Dynaudio), a Jimmy Award for Most Riveting Performance of a Ballad.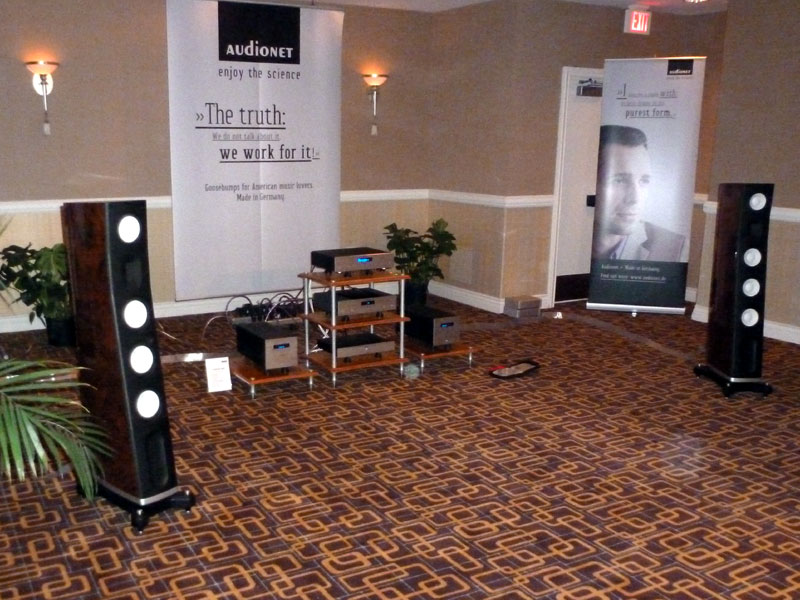 An even bigger surprise than Octave was finding a German manufacturer of solid-state electronics that sang with a mellifluous voice. A company called Idektron from the Ruhr industrial region builds Audionet, a brand which includes amplifiers to music servers. The company's literature mentions the word "passion" several times and with good reason. The presentation in the Audionet room was passionate in a way that many six-figure systems did not come close to matching. For me, the soul of the presentation was the DNA Digital Network Amplifier ($17,000), a 160Wpc integrated amplifier that accepts .WAV, .FLAC, etc. and decodes up to 24 bits/96kHz. Despite being DSP-based (or because of it?), Audionet's equipment had a musical "rightness" that held my attention for three whole tracks (an eternity to spend in one room). Ironically, Audionet, which uses digital design as the moving force for every piece of equipment, wins a Jimmy Award for Most Organic-Sounding Solid-State Electronics.
Ecstasy
The search for Best Sound at the Show involved a three-round Battle of the Titans. The first round went to the Nola/Audio Research room where Carl Marchisotto displayed his Concert Grand Reference loudspeakers ($197,000 per pair) with about fifty grand worth of Audio Research electronics. In years past, a pair of loudspeakers costing as much as a house existed outside my universe. This year, though, I was forced by inflated price tags everywhere to recognize the viability of ultra-dear gear. Besides, listening to the best that money can buy is always educational and sometimes fun.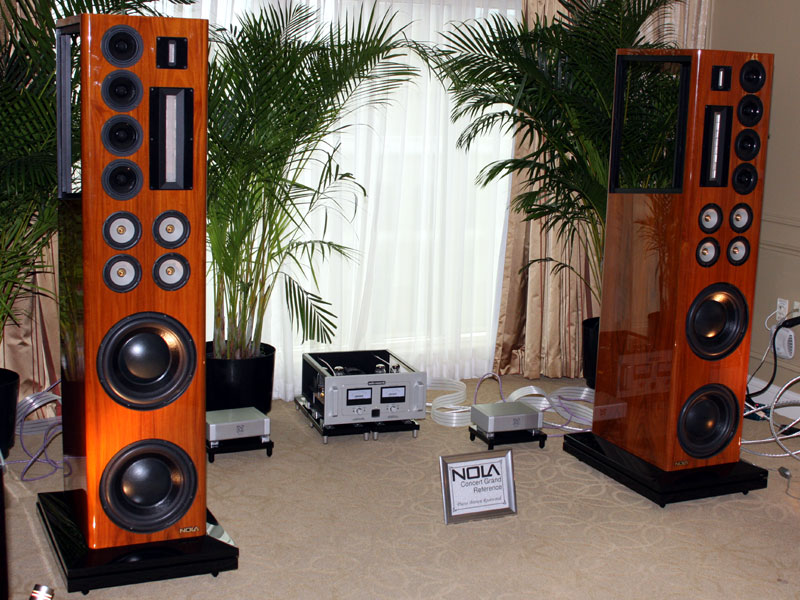 The Concert Grand Reference, a massive 275-pound loudspeaker wedged into a barely-large-enough room, convinced me by its rhythmic drive, harmonic richness and realistic sound pressure levels. Driven by a "mere" 75 watts, the Concert Grand produced the most explosive drum kit I have ever heard. It reproduced Santana's "Black Magic Woman" with an uncanny amount of inner and harmonic detail that I had never heard a thousand times before. The sound of a piano was full-bodied and in-the-room. As anticipated, the big Nolas also did a superb job of conveying Tom Jones's wrenching lament. I left my first encounter with the Nola Concert Grand Reference dazed by the verisimilitude of the various performances and convinced that no system would top its sound.
I was forewarned, however, that Audio Research was gunning for Best Sound at the Show by using a pair of beautifully be-robed Sonus faber Aida speakers ($120,000). Since to my mind the prime candidate for Best Sound was the Nola/Audio Research system, I was mighty curious whether ARC could beat its own electronics with a different loudspeaker. Round Two found me parked in front of, and alongside, $96,000 worth of ARC electronics. I loved the looks of the Aidas (nobody does better cabinets than Sonus faber), but the performance was not to my liking. I heard a driver discontinuity in the upper bass, lower midrange area. Perhaps, the biamp arrangement -- tubes on top and transistors on the bottom -- did not mesh. Or possibly the drivers needed more break-in. After all, this was day one of the CES. As if reading my mind, Dave Gordon of Audio Research suggested that I come back later in the show and take another listen.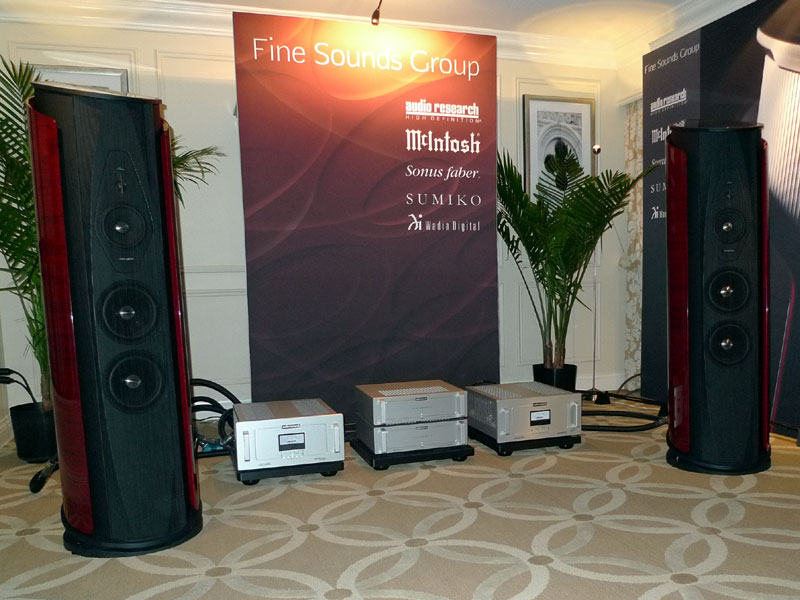 Round three began on the final day with another visit to the ARC/Sonus faber room. By now the benefits of four days of continuous play were easy to discern. The Aidas' frequency response was no longer lumpy but linear. With all drivers meshing, the Aidas, despite their size, got out of the way. Quite clearly, the gap between the Audio Research/SF and Nola/ARC rooms had narrowed dramatically. Were the Aidas dead even with the Concert Grand References? Nonplussed but without much time to "plus" myself, I raced back to hear the big Nolas again. After spending another forty minutes under the spell of the Concert Grand Reference, I was convinced -- but not before a moment's pause. This time, I detected a slight "golden" tonal balance on female voice, but which could easily have been the CD, an older recording of a live pop concert -- hardly the basis for tonal neutrality. When the music was switched to studio-recorded orchestral music, my original lofty opinion was reaffirmed.
For presenting a reproduced musical experience as close to "real" as I've ever heard, Nola and Audio Research win the 2013 Best Sound of the Show Jimmy Award.
Nirvana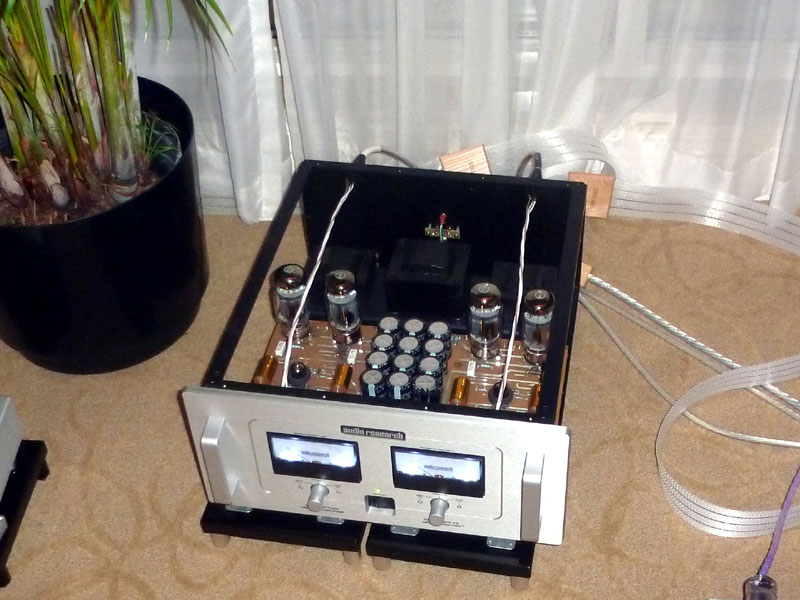 At the risk of sounding like a shill for Audio Research, I must identify one more award: Top Bargain at the CES was the Audio Research Reference 75 stereo amplifier. Its power rating (75 watts per channel) and price ($9000) might seem modest by today's overkill standards, but this "little" amplifier has a huge heart -- among other anatomical parts -- that enable it to slaughter bigger competitors. Driving the Nola Concert Grand Reference to rock-concert levels, the Ref. 75 maintained a poise and clarity that redefined the concept of high-value hi-fi. With only a matched pair of tubes per channel and a mammoth Reference-grade power supply, the Ref. 75 may be the most natural-sounding amplifier Audio Research has ever built. For anyone considering spending $40,000 on an amp and preamp, I would highly recommend pairing ARC's amazing Reference 10 preamplifier ($30,000) and Ref. 75 amplifier (the setup in the Nola/ARC room), rather than Ref. 5SE and Ref. 150, which cost almost as much. If you get a chance to try the Ref. 10/Ref. 75 combo, please let me know what you think.